MRC's Vazquez Still Laughably Thinks George Soros Dictates Wikipedia Articles
Topic: Media Research Center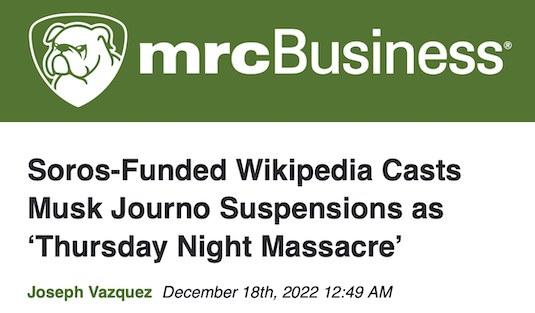 We documented how the Media Research Center's Joseph Vazquez is under the bizarre delusion that Wikipedia accepting money from George Soros means it also takes dictation and editorial direction from him -- which completely ignores the fact that users write and edit Wikipedia articles, not Soros or even what paid editors Wikipedia has. He clearly remains under that delusion, as demonstrated in a Dec. 18 post that advance the MRC's hypocritical glee that Elon Musk suspended the Twitter accounts of several journalists:
Leftists at the George Soros-funded Wikipedia attempted to paint the elitist journalists who shared the real-time flight location information of Twitter owner Elon Musk as victims of a "massacre."

Yes, you read that right.

A Wikipedia article was published with a babbling headline that needed no explanation: "Thursday Night Massacre (Twitter)." The article's logic was just pure nonsense: "The 'Thursday Night Massacre' is a term that refers to the December 15, 2022, account suspension of several high-profile journalists from the Twitter platform." The article mourned: "At least nine journalists who covered the social media company and its owner, Elon Musk, were all suspended without warning. This included 'reporters' Keith Olbermann, Steven L. Herman, and Donie O'Sullivan, and journalists from The New York Times, The Washington Post, CNN, and The Intercept." Soros committed at least $2 million to Wikipedia in 2018.
Vazquez is apparently too young to understand what metaphors are, or to know that the term is actually an allusion to the infamous "Saturday Night Massacre," in which President Nixon order the attorney general to fire the special prosecutorlooking into the Watergate scandal (he and his chief deputy resigned rather than do so, leaving the third in command, future failed Supreme Court nominee Robert Bork, to do the dirty work).
Vazquez also uncritically quoted Musk saying that "They posted my exact real-time location, basically assassination coordinates, in (obvious) direct violation of Twitter terms of service." As we've noted, Musk had previously promised never to censor the Twitter account that tracked Musk's plane, to which the journalists were referencing (which hardly makes them "elitist," as Vazquez claims). Ironically, a couple days later, Musk tweeted out his own assassination coordinates by posting a real-time photo of himself at the World Cup final in Qatar; Vazquez and the other boys at the MRC were completely silent about that.
Vazquez concluded by ranting:
The irony is that Soros said at the time of his endowment to Wikipedia that his gift "represents a commitment to the ideals of open knowledge—and to the long-term importance of free knowledge sources that benefit people around the world." Apparently the "ideals" Soros' Wikipedia funding supports are only those that cater to leftist propaganda.
Remember, Vazquez is the MRC's current point man in its dirty war against Soros. Vazquez is obviously so consumed with irrational hatred of Soros that he doesn't understand that its Wikipedia articles are written by website users, not Soros himself.
Posted by Terry K. at 12:52 PM EST