Newsmax's Hirsen Gushed Over Kari Lake -- But Silent On Their Shared Love Of Election Denierism
Topic: Newsmax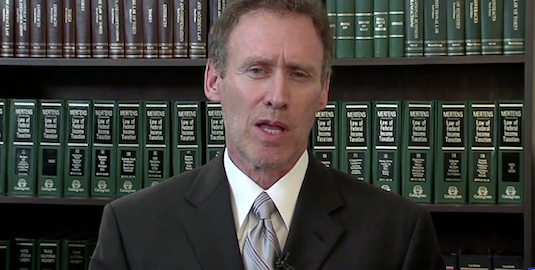 Before the midterm elections, Newsmax columnist James Hirsen churned out an embarrassingly gushy Oct. 18 profile of right-wing Arizona Republican Kari Lake. It started out this way:
Kari Lake has been garnering quite a bit of national attention of late.

As Arizona's GOP gubernatorial nominee in the upcoming 2022 election, she has made a name for herself as a dynamic candidate, expert communicator and truly affable individual.

Illinois was her birthplace and Iowa was the state where she grew up, in a family with eight other siblings.

Fortuitous byproducts of her early life experiences were her solid mid-western roots and down-home values.
After a few more paragraphs of biography and resume recitation, Hirsen transitioned to how Lake won her Republican primary with the help of an endorsement from Donald Trump, then touted her shining prospects in the general election:
Mainstream news outlets recently reported that Democrats are becoming increasingly concerned about Kari. They evidently have good reason to be.

Axios featured a story, "Democrats fear Arizona Republican Kari Lake will be a big star."

The sub-headline of that piece is "Democratic Party Strategists are Watching Arizona's Kari Lake with Growing Alarm."

"Some of Katie Hobbs' supporters are concerned MAGA firebrand Kari Lake is outshining her low-key campaign," one NBC News blared.

[...]

Kari's ability to relate to people and clear delivery of her policy positions are strengths that her opponent seems to lack.

Democratic Party operatives appeared to panic when Kari's opponent, who is Arizona's former secretary of state, declined to debate Kari.

Instead her opponent arranged a one-on-one interview with a local PBS affiliate.
Hirsen censored Hobbs' rationale for refusing to debate Lake, that Lake is "much more interested in creating a spectacle and having the spotlight than actually having a substantive discussion about the issues." And, yes, that was a controversial strategy. But Hirsen is here to slobber over Lake, especially when he can inject religion into it:
Arizona's GOP gubernatorial nominee actually has more going for her than the Democrats realize.

She has re-discovered the faith that makes for strength.

In an interview with The Arizona Sun Times in June 2021, Kari recounted the manner in which her faith was re-ignited, which led to a renewed connection with God.

It was in the summer of 2019 that she was confronted with the sheer anger of the woke mob. "Two years ago, I got canceled — as they say — now I laugh at it.

"It was painful at the time and really frightening. At the time, it was horrible," she said.

"Something had been recorded at work, and somehow [was] put out in the world and became a really big story and I immediately was attacked for it and was canceled for it."
Hirsen won't tell you the details, but this is apparently a reference to an incident in which she slagged a local alternative paper in Phoenix as "a rag for selling marijuana ads" (adding, "fuck them") after her TV station's managment feared the paper writing up Lake tweeting a reference to far-right social media site Parler. The incident got her taken off the air for a week, which apparently counts for being "canceled" in the world of Lake and Hirsen.
And "suffering" too! Her "suffering" as a result of being held accountable for her own behavior is apparently the thing that made her embrace far-right politics:
As is often the case, suffering brought blessing.

"It really brought me to my knees. I was praying to God to just get me through this," Kari revealed.

During the pandemic lockdowns, while working from home she had the opportunity to embrace the Scriptures once again.

"I don't know how people didn't return to their faith during COVID," she remarked. "I started reading the Bible. I hadn't been reading the Bible for decades – since I was a kid!"

After immersing herself in The Word, Kari yearned for regular church attendance. Some friends invited her to come and worship with them.

She went and it changed her life.

"I had the most beautiful church epiphany, and found a church that just stirred my soul. I've never missed a week, except when I'm out of town," she said.

"It just brought me so much closer to where I have an intimate, good relationship with Jesus. I feel as if I have a connection with Jesus."

This is the kind of connection that makes for success in any direction the road may lead.

Even a political one.
Since Hirsen's gauzy profile was all about vagueness, he didn't mention that Lake is an election denier who believes Trump actually won in 2020 -- which you'd think he would mention since he too is a Trump election denier (who still won't apologize for the denier lies he spread). And despite her (and Hirsen's) confidence that she would win, Lake lost -- ironically, in part because she became a Trump clone who obsessed about nonexistent voting fraud. And like Trump, she's mentally incapable of handling her loss and has become a denier who files lawsuits that get tossed out of court for lack of credible evidence.
Hirsen hasn't written about Lake since -- perhaps because he doesn't want to deal with the truth about his own election denier activism.
Posted by Terry K. at 5:43 PM EST