MRC Bashes Pelosi Again, Lashes Out At Anyone Saying Nice Things About Her
Topic: Media Research Center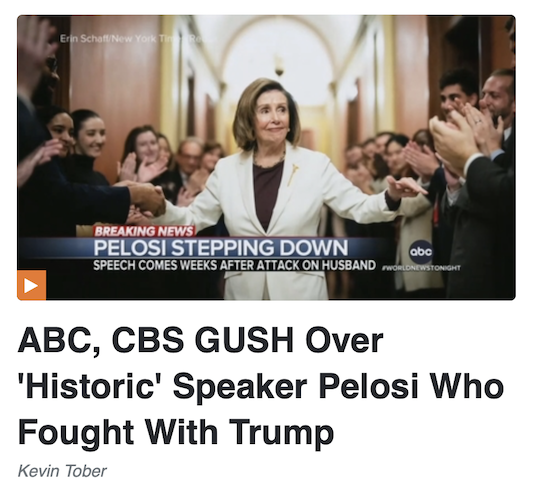 Fresh off trying to deny that the violent attack on Nancy Pelosi's husband could possibly have been inspired by right-wing vitriol toward her, the Media Research Center greeted Pelosi stepping down from House leadership as her stint as House majority leader end with, unsurprisingly, more right-wing vitriol. Alex Christy complained in a Nov. 17 post:
From Nancy Pelosi herself to her white suit to her relationship with former President Trump, MSNBC's Andrea Mitchell and her Thursday guests could not stop gushing over Pelosi before and after her speech announcing she step down from House Democratic leadership in the next Congress.

Before the speech, Mitchell had a difficult time keeping it together as she declared, "And [Capitol Hill correspondent] Ali Vitali, we've heard all these scenarios that, you know, there was one report Jon Meacham had contributed to the speech—speeches we should say because they're were different options, but eventually, she was rewriting herself because she knows herself better than anyone, of course."

[...]

After the speech, Vitali also fawned over Pelosi and her clothes, "Pelosi making a nod to all of those as she stood there in that iconic white pantsuit that we have seen her wear time and again at these momentous, historical inflection points, a nod to the suffragettes and the women's movement."

After touching on Pelosi's role in passing Obamacare, Vitali also hyped her relationship with Trump, "And then, of course, the work that she's done over the course of the pandemic, the work that she did on accountability around Donald Trump during the era of his government."

"Accountability" is now less than two months away from being redefined as "obstructionist" or "partisan witch hunts."
Curtish Houck whined even louder:
Just as MSNBC couldn't contain its adoration Thursday for House Speaker Nancy Pelosi (D-CA) as she announced she wouldn't be seeking reelection to House Democratic leadership, CNN was also on Team Pelosi and nowhere near Chris Licht's model of delivering the news as hosts and other supposed journalists swooned over the "spunky grandmother" as akin to "great performer on the stage or a great athlete" walking away.

And despite her being radically pro-abortion, CNN had the gall to insist she's dedicated her "career" to helping "children." That is, the ones she's allowing to live, of course.

[...]

King had more eyebrow-raising moments as he argued "the connective tissue in her career is children and China in the sense that she has always pushed programs to help children, whether education programs, health programs" (minus the whole abortion thing) as well as being "a fierce critic of China."

Cornish stepped in moments later and not content with that. Instead he boasted she's more than "a spunky grandma," but someone who "was there for the most consequential moments of the last 15 years legislatively." Obviously, King seconded her on the "spunky grandmother" line.
Kevin Tober served up more attacks on anyone who committed the offense of saying something nice about Pelosi:
With the news Thursday that Speaker Nancy Pelosi will be stepping down from Democratic House leadership, ABC's World News Tonight and CBS Evening News spent time gushing over Pelosi's "historic" tenure as speaker of the House and highlighted her publicized fights with former President Trump and her infamous temper tantrum after his 2020 State of the Union address where she tore up a copy of his address in anger.

On ABC, Capitol Hill correspondent Rachel Scott dramatically announced Pelosi's "historic passing of the torch." Scott could barely contain herself when she drooled that "Pelosi is a singular figure in American history."

Scott even praised Pelosi's petulant fights with former President Trump: "Pelosi worked with four Presidents, often going toe to toe with Donald Trump."
Tober didn't explain why Trump wasn't the petulant one. Christy returned to whine some more the next day:
The never-ending worship of Nancy Pelosi continued on Friday's Morning Joe on MSNBC as host Mika Brzezinski repeatedly asked House Republicans "who raised you?" in response to the lack of praise from the GOP and demanded they make their mothers proud by reversing course.

Brzezinski's angry rant was in response to reading Sen. Mitch McConnell's statement on Pelosi's decision to step down from leadership and wondered why other Republicans couldn't do the same, "End of an era, first woman to serve as speaker, an amazing career, a mother of five, and by the way, her husband was just attacked as a result of political violence. This would have been the moment to step up and show some grace."

[...]

Pelosi didn't die and contrary to what USA Today Washington bureau chief and Pelosi biographer Susan Page said at the beginning of Brzezinski's diatribe, she isn't even retiring from Congress. She simply decided to become a backbencher. The demand that you praise a hyper-partisan figure for that is one that only goes one way.
Houck also kept up the whinefest:
Following suit from Thursday night, the flagship Friday morning broadcast network news shows were bursting with adulation for the "end of an era" as House Speaker Nancy Pelosi (D-CA) announced she wouldn't seek reelection to House Democratic leadership. On ABC and NBC, they called her a "hero" and "icon" "went toe-to-toe with some of the most powerful men in the world" and whose "reign...was legendary."

ABC's Good Morning America co-host and former Clinton official George Stephanopoulos said his piece, lamenting her absence at the top "marks a seismic shift" before giving way to congressional correspondent Rachel Scott boasting of Pelosi as "the most powerful woman in Washington for decades."

[...]

On NBC's Today, congressional correspondent (and former CNNer) Ryan Nobles couldn't hide his feelings. He told co-host Hoda Kot[b] that "Pelosi's reign over the Democratic caucus was legendary" and that she "went toe-to-toe with some of the most powerful men in the world and rarely backed down, making her a hero in her party and enemy number one for Republicans."

Nobles reiterated moments later that Pelosi was "[a]n icon to Democrats and a villain to Republicans" and, as part of her farewell to leadership, she "paid homage to the presidents she worked with" even though she only touched on three of them.

[...]

And over on CBS Mornings, they too joined in on the "end of an era" laments with co-host and Democratic donor Gayle King boasting Pelosi was "winning rare praise from both sides of the aisle and I understand there were a lot of tears in the room yesterday."
Christy even attacked a historian for issuing a judgment on Pelosi:
Presidential historian Douglas Brinkley joined CNN Inside Politics John King on Friday to talk about Nancy Pelosi's place in history. As Brinkley tells it, Pelosi is the most significant Speaker in American history because she helped pass liberal legislation, mainly Obamacare.

King began by asking, "Nancy Pelosi's place in history will be what?," Brinkley got straight to the point, "It's large. I think she's maybe the most important Speaker of the House in American history."

After running through some of the other contenders, Brinkley gave his reasoning, "Nancy Pelosi has a legacy that is so large not just for shattering the glass ceiling of being a woman but I think the Affordable Care Act."

Brinkley was not content to just label Obamacare as a significant piece of legislation, but had to qualify that it was good legislation as well, "I mean, that really has provided so many people with the ability to pay for operations, surgical procedures, saved lives, and Obama and Harry Reid say it couldn't be done without Nancy Pelosi. That's a big feather in her cap and John, I don't think she's going away."
Bill D'Agostino served up some meta-whining as he recapped some of his co-workers' previous whining:
Nancy Pelosi's (D-CA) second and final stint as Speaker of the House is over, and the establishment media are waxing sentimental. Since she announced her retirement from Democratic leadership, media types have heaped praise and adoration on the Congresswoman: "legendary!" "incredible!" "a towering figure!"

On Thursday, the Washington Post ran a goopy love letter to the Speaker from purple prose enthusiast Eugene Robinson, who went with the subtle headline, "Nancy Pelosi was the most consequential speaker of our time."

[...]

But the grand prize for excessive Pelosi praise goes to MSNBC's Mika Brzezinski. On Friday, the Morning Joe co-host gushed: "Whether you're a Republican or a Democrat, it's sort of hard not to be in awe of what she has accomplished. Unless you're in a cult."

Of course, journalists slobbering all over Democratic politicians is fairly unremarkable. But given the Republicans' rather lackluster performance in the recent midterm elections, now more than ever it's worth noting just how subservient the media are to Democrats.
Says a guy who just demonstrated how subservient he and his employer are to Republicans. And Tierin-Rose Mandelburg didn't want to feel left out, so she contributed her own whinefest:
Boo hoo!

Nancy Pelosi announced Thursday that she will not seek reelection as the Democratic House Leader. Though essentially Pelosi was forced to step down due to the fact that Republicans took back the house and she'll be 127 yrs old any day now, Hollywood celebs and blue check elitists used the opportunity to fawn over her success in office.

Singer Barbara Streisend claimed that the world is going to miss having Pelosi as our speaker … I guess I'm not part of this world then.

[...]

The hashtags #ThankYouMadamSpeaker and #ThankYouSpeakerPelosi also began trending on twitter in honor of her exit.

Legacy media also praised Pelosi likening her to an "icon," "legendary," and "the most important" speaker "in American history." Eat it, Henry Clay!

The fact that blue checks praise Pelosi's every movement and motive is honestly, embarrassing.
More embarrassing than Mandelburg and her co-workers reflexively denigrating Pelosi and lashing out at anyone who dared to say something nice about her just for the sake of a paycheck?
Posted by Terry K. at 11:19 PM EST