CNS Nitpicks Biden Statements -- But Uncritically Promotes GOP Attacks
Topic: CNSNews.com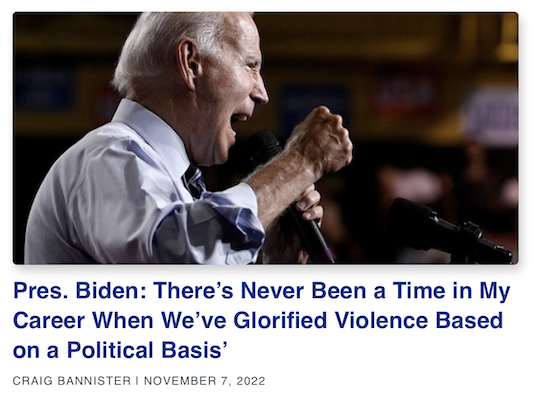 By contrast to its uncritical stenography of Republican attacks on Democrats before the midterm elections, CNS articles on Democrats who criticize Republicans -- and especially articles quoting President Biden -- tended to include criticism and fact-checking. It's something that, as we've noted, CNS rarely did to Donald Trump when he was president.
A good example of how this works is an Oct. 27 article by Susan Jones. First came the complaining:
Who's lying? Republicans are, according to President Joe Biden, who -- according to the Democrat-friendly New York Times -- "spins yarns that often unravel."

In a teleconference fund-raiser on Thursday, Biden said the midterm election is "not a referendum" on Democrat leadership -- "it's a choice," he insisted.

"And this is not your father's Republican Party," Biden said, according to the White House transcript.
When Biden noted the MAGA extremists "who were breaking down the doors — literally, the doors and the windows of the Congress and two cops ended up dying," Jones did a selective fact-check:
The only person killed on January 6 was a protester, Ashli Babbitt, who was shot by a police officer as she climbed through a window. Four other people died of natural causes, including one police officer.

The D.C. Medical Examiner says Capitol Police Office Brian Sicknick died of natural causes following the riot. And press reports say four police officers who were at the Capitol on January 6 committed suicide much later.
Jones ignored that the medical examiner looking into Sicknick's death said that "all that transpired played a role in his condition," or that at least two Capitol Police officers who died by suicide had their deaths declared to be in the line of duty.
Then came the whataboutism:
According to a New York Times article published on Oct. 10, 2022, "President Biden has been unable to break himself of the habit of embellishing narratives to weave a political identity."

[...]

The article adds that Biden's "stories" have been "repeatedly and publicly challenged, as far back as his 1987 campaign for president, when his attempts to adopt someone else's life story as his own, and his false claims about his academic record, forced him to withdraw."
Funny how Jones suddenly considers the Times to be a credible source when it criticizes a Democrat -- even though doing so undermines the agenda of CNS and its Media Research Center parent to portray the Times and other outlets as having a hopelessly liberal bias.
In contrast to CNS' uncritically repeating GOP talking points attacking Democrats, Jones spent a Nov. 3 article whining about the attacks Biden issued against "extreme MAGA Republicans:
In a speech that bounced from warnings about political violence, to warnings about "autocrats," to warnings about election deniers, to warnings about "extreme MAGA Republicans" and to the premise that "democracy" is on the ballot, President Joe Biden seemed to be telling the country Wednesday night that unless they vote for Democrats, they can kiss the republic goodbye.

He echoed Abraham Lincoln; he slammed Donald Trump; and he urged Americans to prioritize "democracy" over "policy."

Biden also contradicted himself on the topic of voter suppression -- giving a nod to the "record" turnout in early voting, but also warning that "extreme MAGA Republicans" are "denying your right to vote."

"Once again we're seeing record turnout all over the country," Biden said in his speech.
Jones then whined that Biden invoked the Constitution and Abraham Lincoln:
Biden also contradicted himself on the topic of voter suppression -- giving a nod to the "record" turnout in early voting, but also warning that "extreme MAGA Republicans" are "denying your right to vote."

"Once again we're seeing record turnout all over the country," Biden said in his speech.

Abraham Lincoln also used the phrase in his First Inaugural Address, noting that "in 1787, one of the declared objects for ordaining and establishing the Constitution was 'to form a more perfect Union.'"

Lincoln was making the point that no state can lawfully get out of the Union -- "that resolves and ordinances to that effect are legally void, and that acts of violence within any State or States against the authority of the United States are insurrectionary or revolutionary..."

Biden also echoed Lincoln by saying, "What we're doing now is going to determine whether democracy will long endure."

(Speaking at Gettysburg in November 1863, President Lincoln said: "Now we are engaged in a great civil war, testing whether that nation, or any nation so conceived and so dedicated, can long endure.")
Unlike with the attacks from Republicans CNS uncritically presented, Jones gave space to a Republican responding to Biden:
In response to Biden's partisan speech, Senate Minority Leader Mitch McConnell tweeted: "President Biden is desperate to change the subject from inflation, crime, and open borders. Now he's claiming that democracy only works if his party wins. What nonsense. Americans aren't buying it. Ask how the last two years have affected your family, and then get out and vote!"
Jones used a Nov. 7 article to hype Biden's response to a question in which he called for "no more drilling" and replacing coal plants with wind and solar. She then blockquoted Democratic Sen. Joe Manchin's "blistering response to Biden's remarks about coal," then added that "As with many of Biden's remarks, the White House tried to walk back the one about coal plants." We don't recall CNS ever promoting walkbacks of remarks made by Donald Trump. We've already noted how Craig Bannister used a diferent Nov. 7 article to criticize Biden denouncing the violent attack on Paul Pelosi by claiming that he was "ignoring times in recent years when prominent Democrats have been criticized" for glorifying violence.
Jones adopted a whining tone in reporting more remarks from Biden in a Nov. 8 article:
Speaking to a group of Democrat [sic] Party officials by teleconference Monday night, President Joe Biden explained what "being a Democrat is all about."

He said Democrats want "power" only to "help people," and he described the opposition as "some of the darkest forces we've ever seen in our history."

"You know, you guys represent everything that's good about our party, the reason why we got into politics in the first place," Biden told the Democrat National Committee [sic] National Finance Committee, according to the White House transcript:

[...]

Biden then quoted "my dad," as he does so often: "As my dad used to say, 'I don't expect the government to solve my problem, but I ex- — I just expect them to understand my problem.'"
Jones somehow refrained from adding her usual huffy commentary to what is supposed to be a "news" article. But she did so stealthily by deliberately getting the name of both the Democratic Party and the Democratic National Committee wrong. It's sad that CNS employs someone who deliberately misspells words to advance a political agenda.
Posted by Terry K. at 12:20 AM EST