MRC Cheers Musk Firing Twitter Employees For Being 'Woke' (Whatever That Is)
Topic: Media Research Center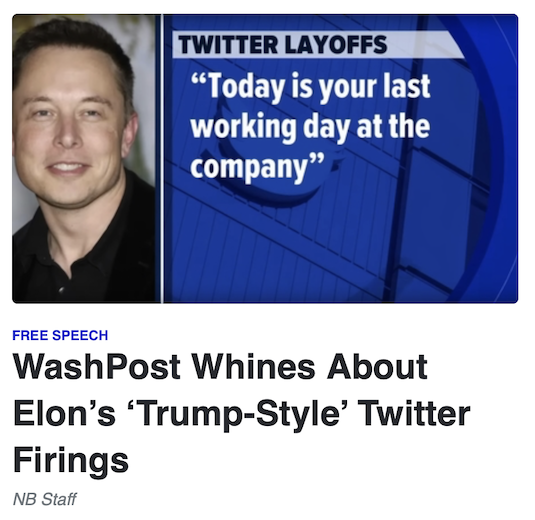 We've noted how pleased the Media Research Center was at reports that Elon Musk would fire much of Twitter's staff if he did what he agreed to do months before and buy the company. Well, when the firings became imminent, an anonymous Nov. 6 post was positively orgasmic at the prospect of Musk ruining people's lives:
You're fired! That's not only a famous shout from Donald Trump's TV celebrity days, it's a sentence that woke Twitter employees are hearing in increasing numbers as Elon Musk takes over the platform. And The Washington Post is furious.

In the article "Musk's Trump-style management rattles Twitter workers awaiting layoffs," The Washington Post whined about the scraps of gossip Twitter employees have collected to discover if massive layoffs are indeed imminent.

"Workers follow new boss's tweets and share rumors on anonymous apps amid silence from leadership on firings, staff cuts and product changes," The Post reported. Twitter employees have reportedly started panicking about reductions in force based on the Google Calendar of "one of their new bosses" as well as through Slack chats and anonymous workplace "gossip" site Blind.

Woke pro-censorship Twitter employees were Blind, indeed, when they targeted any alternative voices on the platform.
The anonymous writer didn't explain when being "woke" was just cause for termination (or even what "woke" means). And, as we've noted, Musk's mass firings were so botched that Twitter had to ask some fired people to return because they did essential work.
A Nov. 8 post by Autumn Johnson sought to blame "left-wing activists" for advertisers pulling their ads from Twitter instead of the more likely cause that Musk has created too much chaos on the platform for advertisers to feel comfortable there:
Several companies have caved to the demands of liberal activists and pulled their ads from Twitter after Elon Musk announced the platform would no longer unfairly censor conservatives.

Last week, the Wall Street Journal reported that Audi, General Motors, General Mills, and Pfizer paused ads on the platform after Musk said significant changes would be made to the company's content moderation standards.

General Motors told CNN that it is "monitoring" Twitter's "new direction" under Musk and will potentially re-evaluate its decision to remove ads from the platform.

"We have paused advertising on Twitter," General Mills spokesperson Kelsey Roemhildt told CNN in a statement. "As always, we will continue to monitor this new direction and evaluate our marketing spend."

Several leftist advocacy groups appear to be leading the ad suspension effort. Among them is one called Accountable Tech.
Johnson censored the fact that Musk threatened to "thermonuclear name and shame" advertisers who paused their Twitter spending -- which doesn't seem like a good way to encourage the advertisers who provide the biggest share of Twitter's revenue.
Johnson penned another press release for Musk in a Nov. 9 post:
Twitter CEO Elon Musk reaffirmed his commitment to free speech in a meeting with advertisers Wednesday.

The Washington Post reported that Musk discussed some of his plans for Twitter in an effort to attract advertisers to the platform. The public broadcast was viewed by over 100,000 people online:

"Musk took questions over the course of roughly an hour from two of his executives and a representative of the advertising industry during a Twitter Spaces meeting, which was broadcast live on the site midday. More than 100,000 people listened live."

Musk suggested that while the platform's content moderation standards have not changed yet, supporting free speech is not the same as amplifying so-called "hate speech."

"We have to be tolerant of views we don't agree with, but those views don't need to be amplified," he said, according to The Post.
Johnson somehow forgot to mention that Musk had spent the previous few days suspending Twitter accounts that made fun of him, strongly suggesting that his purported tolerance for differing views has clear limits.
The MRC even spun one of Musk's failures -- selling blue check marks for $8 a month without considering that people would buy them and masquerade as genuinely certified accounts -- because it helped make one of the MRC's enemies look bad. A Nov. 10 post by John Simmons insisted that Musk had "good intentions" in starting the feature, it was used for "mischievous purposes," one of which was an account masquerading as NBA star LeBron James demanding to be traded. Simmons declared: "hile it is humorous that someone created this headline to cause a stir, it isn't entirely outside the realm of possibility that this could happen."
Jeffrey Clark helped Musk play the victim in a Nov. 10 post:
The pro-China outlet Bloomberg News attempted to defame Twitter CEO Elon Musk by portraying him as a threat to the United States.

"Mister President, do you think Elon Musk is a threat to U.S. national security?" Bloomberg White House reporter Jenny Leonard asked President Joe Biden during a Nov. 9 press conference at the White House.

But she didn't stop there, also pressing Biden on whether the president should use government power to "investigate" Musk's lawful purchase of Twitter. Musk is a self-described "free-speech absolutist" who has taken flack for tweeting in March that "[f]ree speech is essential to a functioning democracy."

But Leonard framed Musk's Twitter deal as a shady partnership with "foreign governments, which include the Saudis."

MRC Free Speech America President Dan Schneider slammed the liberal media for ignoring the obvious question: What about TikTok?
Clark's description of Bloomberg News as "pro-china" is laughable (not to mention unsupported by any actual evidence) because the MRC itself was accusing Musk of being pro-China less than a year ago. Clark was silent about that, of course. And the MRC's TikTok whataboutism lacks credibility because its attacks on the platform are clearly doing the bidding of Facebook, which hired a conservative PR firm to help spread anti-TikTok talking points in right-wing media. Clark went on to grumble:
The liberal media have repeatedly alleged connections between Musk and the Saudis, laying the groundwork for Leonard's pointed question. Axios, Newsweek, CNN Business — and yes — even Bloomberg News all gave sensational coverage to reputed ties between Musk and the Saudi royal family.
Clark didn't even bother to disprove any of that reporting, which tells us he's complaining simply in an effort to distract from it (even though, again, the MRC itself was criticizing Musk's foreign entanglements before he showed interest in buying Twitter).
Tierin-Rose Mandelburg helped Musk slag Twitter employeees in a Nov. 11 post:
Work from home option is ELIMINATED.

ABC News somehow obtained an audio from a Twitter meeting where Elon Musk told his staff that if they don't return to the office full-time, he'll consider their absence their resignation. AKA, COVID-19 is over, get out of your pajamas and off the couch and get your ass to work.

"Let me be crystal clear, if people do not return to the office when they are able to return to the office -- they cannot remain at the company. End of story," Musk told an employee who asked about the company's new expectations.

[...]

Twitter employes are probably like the rest of the world who got used to working from home and are mad that they can no longer half-ass their jobs.
As usual, Mandelburg provided no evidence to prove that was the case. She concluded with the slavishly loyal Musk hero-worship the MRC has become known for:
Why is it "ridiculous" for fully capable employees to — ya know — go to work? Firefighters can't "work from home," surgeons can't operate from their couches, police officers can't catch criminals virtually. They go into work because that's what workers are supposed to do!

Musk realizes this and is not going to take any bs regarding people who simply "want" to work from their homes.
Nobody has ever accused software engineers of being surgeons or firefighters -- which is why most normal companies, especailly in the wake of the COVID pandemic, allow at least some workers to work from home. This tells us Mandelburg is much more interested in doing PR for Musk than trying to understand how the working world works outside her right-wing media bubble.
Posted by Terry K. at 9:20 PM EST
Updated: Monday, November 28, 2022 1:27 PM EST