Welcome To The MRC's COVID Cruise!
Topic: Media Research Center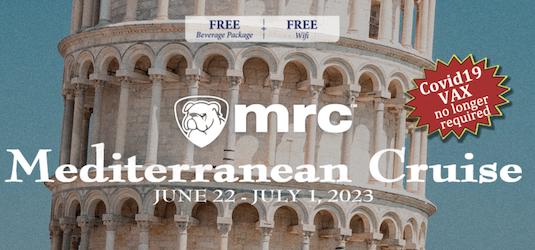 The Media Research Center is sponsoring a Mediterranean cruise next summer, and all the usual right-wing folks will be on this junket. Aside from the MRC's own Brent Bozell, Tim Graham and Terry Jeffrey, other right-wing activists getting their cruise comped include Rick Santorum, Dean Cain, Charlie Hurt, Cal Thomas, Jason Chaffetz and Joe Concha. The one unsusual guest -- in that he's not a prominent right-wing activist like the rest -- is Jim Jimirro, who has actually done something with his life by creating the Disney Channel and running Disney's home video operation, and he has an "impact series" on media issues named after him at the Paley Center for Media. Jimirro did, however, moderate a panel last year in which Graham went off on a New York Times reporter, so maybe that's how he got the invite.
Even though the MRC regularly rants that the "liberal media" isn't diverse enough, there will be no diversity of opinion allowed here. This cruise is all about figid ideological uniformity, as one of the features being promoted is the opportunity to hang out with "like minded fellow cruisers."
But there's another thing these cruisers may share: COVID. A key part of the MRC's cruise promotion is that nobody is required to be vaccinated. Ads promoting the cruise on MRC websites proclaim that "NO VACCINES OR TESTS REQUIRED," and the top of the cruise website has a sticker declaring "Covid19 VAX no longer required."
Actually, it's a little more complicated than that. Celebrity Cruises, which will run the MRC cruise, has protocols that it follows; while vaccines are not required, it does state that "Unvaccinated guests ages 5 and older will need to test 3 days prior to boarding U.S. sailings; and ages 12 and older for select Europe sailings" and that "Boosters are highly recommended, but not required, for those eligible at least 7 days before" (text color in original). It's also noted that "Guests must provide proof at terminal check-in of a negative viral COVID-19 test (PCR or antigen) taken within two days of their embarkation." The protocols further state: "Masks on board will be recommended, but not required, in the vast majority of venues. There may be select venues or certain situations in which masks are required. Celebrity Cruises is currently providing complimentary surgical mask(s) on board with replacements available upon request."
Given the MRC's penchant for spreading misinformation about COVID vaccines and overall hostility to COVID-related health protocols, the number of "like minded" cruisers who will be unvaccinated is likely to be higher than the general population and masking for onboard events will be minimal at best despite Celebrity's protocols, so these cruisers should prepare for a likely outbreak.
Bon voyage!
Posted by Terry K. at 11:27 AM EST
Updated: Thursday, November 24, 2022 11:33 AM EST