WND's Cashill Still Defending George Floyd's Killer Cop
Topic: WorldNetDaily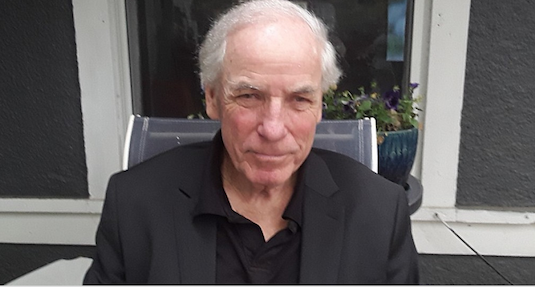 One thing you can say about WorldNetDaily columnist Jack Cashill is that he's ludicrously dedicated to his causes and conspiracy theories, and he'll never admit he was wrong about them despite all the evidence that shows he is. Take, for example, his devotion to Derek Chauvin, the Minneapolis police officer who killed Geirge Floyd who Cashill has been defending as a victim of reverse racism ,or something. Despite a complete lack of credible evidence that Chauvin was not responsible for Floyd's death, Cashill's defense of him is still plodding forward. He played whataboutism with another favored victim in a July 27 column:
Former Minneapolis Police Officer Derek Chauvin and D.C. Metro Police Officer Lila Morris each encountered a likely lawbreaker of another race in distress. One attempted to arrest the lawbreaker as peacefully as possible. The other beat the distressed person savagely with a stick.

The one officer became a national pariah and is likely to spend the next 20 or so years in prison. The other officer is unknown to the major media and has not even been reprimanded. Those who insist that America is laboring under a two-tier justice system need no other example to prove their case.

Morris, the D.C. officer, is black. Her victim's name is Roseanne Boyland. She was white. Should race matter in this case? Why not? It certainly did in Chauvin's. Had George Floyd been white, Chauvin would likely still be a Minneapolis cop.
It's telling that Cashill still can't spell Boyland's first name correctly (it's "Rosanne"), suggesting a lack of commitment and overall journalistic laziness. Speaking of which, Cashill lazily peddled his previous defenses of Boyland, this time adding; "As videos by the Epoch Times clearly show, Morris picked up a long stick lying in the tunnel and struck Boyland savagely three times. She attempted to strike her a fourth time, but the stick mercifully flew out of her hand." Cashill doesn't explain why anyone should trust such unconfirmed evidence coming from a biased right-wing outlet like the Epoch Times or why a police officer doesn't have the right to defend herself against a group of violent insurrectionists. Instead, he whined:
Four people died on Capitol grounds Jan. 6. All were protesters. It is possible that all four were killed as a direct result of police action. Ashli Babbitt certainly was. And if Officer Morris did not kill Boyland, there should at least be some repercussion for beating a person already unconscious.

Derek Chauvin did nothing remotely as evil as that. In truth, he did nothing evil at all.
Cashill used his Oct. 12 column to accuse Minnesota officials of not overturning Chauvin's murder convicction beause they fear another riot:
The judges on the Minnesota Court of Appeals will soon be asking themselves the same question the jurors did in the third-degree murder trial of former Minneapolis Police Officer Derek Chauvin.

Do I save Derek Chauvin? Or do I save my own ass?

The judges will inevitably have to consider the effects on the community's well-being and on their own personal safety if they choose to overturn Chauvin's conviction.

The jurors could keep their fears to themselves. The judges will have to confront them head on. In his concise and passionate reply brief filed on Oct. 7, Chauvin attorney William F. Mohrman allows the judges little wiggle room. Says he bluntly and convincingly, "Chauvin did not receive due process."

There were many reasons why this was so.
Cashil lwent on to parrot Mohrman's argument that Chauvin could not have gotten a fair trial in Minneapollis because his trial came after the riots sparked by Chauvin's killing of Floyd: "Not since the federal civil rights trial of the cops acquitted in the Rodney King dust-up has any defendant faced so frightened a jury." As if the video of Chauvin's knee on Floyd's neck for nine-plus minutes. Cashill actually defended the technique: "The maneuver looks bad, but it works, is relatively safely and has been widely used, even in Minneapolis."
Cashill concluded with yet another conspiracy:
Oral arguments, I am told, will be scheduled for January. The normal procedure is for the Court of Appeals to select three of its 19 judges to review the case as a panel.

Morhman suggested three possible remedies: reversal of the conviction, reversal and a remand for a new trial, or a remand for re-sentencing. If justice favors the first option, smart money favors the third.

Smart money also favors an early January outbreak of a new COVID variant at the Minnesota Court of Appeals. "You know I'd love to be on that panel but …"
Does Cashill think that U.S. officials are working with China to unleash new COVID variants to throw off scheduling of court hearings? It seems so.
Posted by Terry K. at 1:44 PM EST