CNS Unsurprisingly Cheers DINO Gabbard Officially Leaving 'Democrat Party'
Topic: CNSNews.com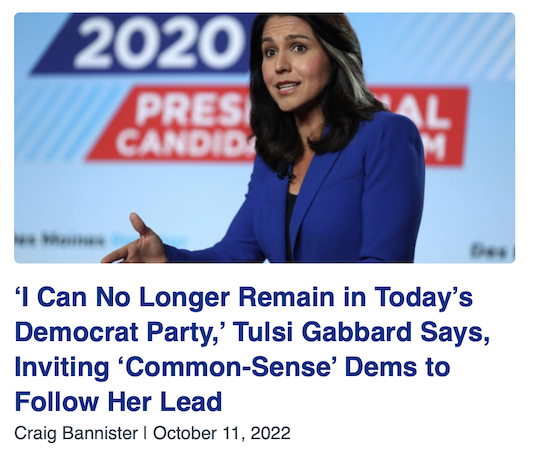 CNSNews.com has long been a fan of Democrat-in-name-only Tulsi Gabbard because it could quote her attacking Democrats while pretending she legitimately was one. We saw that yet again in a July 26 article by Craig Bannister that approvingly quoted Gabbard appearing on Fox News sounding like a Republican:
"Our Department of Justice is being weaponized as a political hit squad," Former Democrat [sic] congresswoman (Hawaii) Tulsi Gabbard said Monday, commenting on how Democrats held in contempt of Congress have not been indicted, but former Trump White House official Steve Bannon has.

[...]

"This is the telltale sign of an authoritarian regime and directly undermines our democracy. That is really what's at the core of what's wrong here," Gabbard warned.

"It's mind-blowing to see this double standard at play," Gabbard said. "And, again, the more serious issue is how directly this threatens and undermines our democracy and the faith that we need to have in these public institutions and public officials."

The one-sided January 6th Committee investigation is further proof of how Congress is more concerned with power than with serving the American people, Gabbard said:
So when Gabbard officially admitted she wasn't a real Democrat by finally disassociating herself from the party, Bannister returned to cheer in an Oct. 11 article whose headline falsely identified her party as the "Democrat Party":
Former Democrat [sic] congresswoman and presidential candidate Tulsi Gabbbard says she has left the radical, "woke" Democrat – and she's inviting other "common-sense" Democrats to do the same.

"I can no longer remain in today's Democratic Party that is under the complete control of an elitist cabal of warmongers," Gabbard says in a Twitter video posted Tuesday, denouncing today's Democrats, who she says:

"are driven by cowardly wokeness,
"divide us by racializing every issue and stoking anti-white racism,
"actively work to undermine our God-given freedoms that are enshrined in our Constitution,
"are hostile to people of faith and spirituality,
"demonize the police, but protect criminals at the expense of law-abiding Americans,
"believe in open borders,
"weaponize the national security state to go after their political opponents."

"And above all," Gabbard warns, the Democrat elitists "are dragging us ever closer to nuclear war."
Note that Gabbard actually said "Democratic Party," and that Bannister deliberately misquoted her for his headline. Bannister didn't mention that Gabbard had long ago given up any credibility as a Democrat by making dozens of appearances on Fox News, many of which were on the show of far-right host Tucker Carlson -- after all, Fox News does not let actual Democrats have that kind of access to its airwaves.
This was followed later that day by an article from intern Peyton Holliday compiling how "many Republicans and conservatives praised her decision and applauded her for her 'courage' and commitment to working for a better America." Like Bannister, Holliday failed to note that Gabbard his been a de facto Republican for years and that no actual "courage" was needed to make the party switch. That article also used the false "Democrat Party" descriptor in its headline.
Bannister and Holliday were also silent on the fact that the same day Gabbard's party switch was announced, one of the few actual Democrats on Fox News, Jessica Tarlov, pointed out not only that Gabbard long ago ceased being a real Democrat, she's also beloved by Russian state media, which went so far as to call her "our girlfriend." She got shouted down by other right-wing Fox hosts, of course. There was also no mention of how, a few days later, Gabbard endorsed far-right Republican Joe -- who pals around with white nationalists like Nick Fuentes -- in a House race.
Posted by Terry K. at 4:02 PM EDT
Updated: Friday, November 4, 2022 4:07 PM EDT