Gaslighting: MRC Pretends Dems Are The Real 'Extremists' On Abortion
Topic: Media Research Center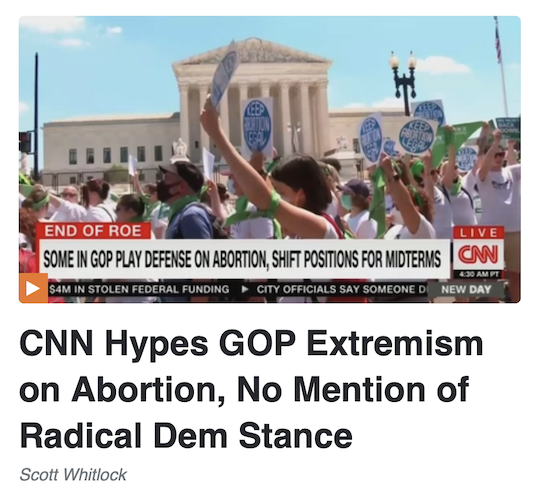 Through this election season, theMedia Research Center has been trying to gaslight readers by pretending that Democrats are the real "extremists" on abortion, not those on the right -- even though the MRC wants to create an Orwellian surveillance scheme to monitor women lest they cross state lines to have an abortion. Kyle Drennen complained in a May 20 post:
NBC, ABC, and CBS were in full panic mode over Oklahoma passing "the most restrictive abortion law in this country." ABC's Good Morning America went so far as to wail that there was "a race among the states to pass the most extreme law restricting abortion." However, none of network coverage examined some of extreme pro-abortion laws in leftist states across the country.

[...]

While the networks were eager to throw around words like "extreme" or phrases like "the most restrictive law in the country" when it came to regulating abortion in red states, the left-wing media never seem to show any concern for pro-abortion laws in blue states going too far.

When Colorado passed a radical law just last month that would allow abortions to be performed right up to the moment of birth, Politifact rushed to defend the measure from criticism and The Washington Postspent it's time exclusively denouncing "extreme" pro-life laws.
The "abortion up to the moment of birth" claim right-wingers like the MRC love to tar pro-choice supporters with is little more than a canard. As Washington Post fact-checker Glenn Kessler detailed, only 1.3 percent if abortions happen over 21 weeks of gestation, and many of those are done as a result of discovery of catastrophic birth defects other fetal anomaly. Drennen did not name a case in which an abortion of a viable fetus was done "at the moment of birth."
Scott Whitlock cheered a CNN anchor who bought into the right-wing narrative in an Aug. 29 post:
The networks are eagerly pushing the idea that support for abortion rights against an extreme GOP is powering a Democratic comeback in the midterms. What they aren't telling you about is just how radical many of the Democratic Senate candidates are. For instance, Tim Ryan in Ohio supports abortion up to the day of birth. And yet this hasn't been a story on the network newscasts. His name has only come up twice in the month of August.

Yet, shockingly, it was CNN and anchor Dana Bash who committed journalism and grilled the Democrat on Sunday. Interviewing the candidate on State of the Union, she demanded, "You're criticizing your Republican opponent for not supporting abortion exceptions. So, I want to ask about your position. What restrictions, if any, do you believe there should be on abortion?"

[...]

Journalists have a responsibility to cover both ends of the abortion spectrum. If Republicans supporting most or all restrictions is extreme, so are opposing all restrictions.
Like Drennen, Whitlock did not cite any case in which a woman aborted a healthy fetus at "the time of birth."
Whitlock pushed the narrative again the next day:
CNN on Tuesday spent over seven minutes hyping Republicans trying to hide their allegedly extreme position when it comes to abortion. Reporter Kyung Lah spotlighted GOP senatorial candidates changing their website now that they have the nomination. But nowhere in the segment was there anything on the extreme stance of Democrats when it comes to abortion.

Host Brianna Keilar parroted the Democratic talking points about radical Republicans: "The Supreme Court overturning Roe v. Wade has energized voters and made abortion rights a flashpoint in the midterm elections. It's given Democrats a boost. Now, some Republican candidates who were strongly opposed to abortion are suddenly softening their stance."
Whbitlock went on to rant in a Sept. 7 post:
In the month of August, Joe Biden's approval rating climbed back into the low 40s and the Democrat/Republican congressional preference poll closed to a statistical tie. The liberal network newscasts are eager to promote a new narrative: Democrats are making a comeback in the midterms and it's all because Republicans are extreme on abortion.

CBS, CNN, and other outlets have pushed the idea of a "flashpoint" over supposedly rigid Republicans holding outrageously severe positions on abortion. But Democrats in Congress this summer supported legislation that would dismantle most, if not all, restrictions.

(According to CNSNews.com, the Susan B. Anthony List denounced a vote on the bill as the "Abortion on Demand Until Birth Act.")

Additionally, Democratic senatorial and gubernatorial candidates hold radical views on the issue, supporting abortion right up until birth. Only 34 percent of Americans support abortion in the second trimester and just 19 percent in the third. So this position is the definition of extreme.
And the Orwellian surveillance state the MRC wants is not?
MRC executive Tim Graham pushed the narrative in a Sept. 12 TV hit: "On Monday's Spicer & Co. on Newsmax, NewsBusters executive editor Tim Graham took on Chuck Todd's softball questions for Vice President Kamala Harris on NBC's Meet the Press. Todd lamely asked Harris if the border was secure, as if everyone doesn't know the answer, and didn't in any way find the Democrats were extreme on abortion." Graham made sure not to mention his employees' extreme advocacy of Orwellian surveillance.
Alex Christy spent a Sept. 22 post attacking Kessler's above-noted fact-check, and his further statement that "the GOP attacks are disingenuous at best. They imply that late-term abortions are common — and that they are routinely accepted by Democrats," huffing that "If Kessler wants to argue for radical and unpopular abortion positions, he should take it the opinion page, because that isn't a fact-check." But like his co-workers, Christy cited no case of an abortion of a healthy, viable fetus "at the moment of birth," and he did not otherwise counter Kessler's facts.
Whitlock played whataboutism to distract from Herschel Walker's abortion stance in an Oct. 10 post:
The leftist partisans posing as political journalists at ABC want you to think that the candidate in Georgia with an extreme position on abortion is Herschel Walker. On Monday, Good Morning America allowed Democratic Senator Raphael Warnock to slam his opponent as the only ideologically rigid candidate. No mention of the fact that Warnock opposes ANY restrictions right up until birth.

Reporter Rachel Scott insisted, "Walker opposes abortion, no exceptions. His opponent, Senator Raphael Warnock making it clear he supports abortion rights." She then played a clip of Warnock attacking, "I support reproductive choice. My opponent, on the other hand, is talking about a nationwide ban."

ABC, yet again, failed to note just how radical Warnock is on abortion. Saying he "supports abortion rights" is an understatement. As noted by the Atlanta Journal-Constitution on June 30, the Democrat refused to mention ANY restrictions he supports:
Whitlock refused to address his hypocrisy in defending Walker's anti-abortion stance while also joining the MRC in shielding him from responsibility for the fact that he paid for a girlfriend's abortion. Instead, he whined that "the networks only want to focus only on the allegations that Walker paid for an abortion in 2009, devoting over 27 minutes by last Friday.
Tim Graham spent an Oct. 22 post complaining that "PolitiFact tried to claim that "codifying Roe" isn't the same abortion without limits. But Barnes was endorsed by NARAL Pro-Choice America and touted he supports the "Women's Health Protection Act." These people really need to absorb the no-limits text of that extreme bill." Like his minions, Graham named no case in which a woman aborted a healthy fetus "at the moment of birth."
Tierin-Rose Mandelburg -- one of the MRC writers who advocates that Orwellian survelliance state for pregnant women -- went full gaslight in an Oct. 28 post:
In today's episode of things that make no sense, people who want laws that permit the slaughter of innocent children are celebrated while those who support someone's right to life are considered "extremists."

The life-affirming group Susan B. Anthony Pro-Life America recently released a video regarding the left's views on unrestricted abortions which furthered the point that the media celebrates pro-abortionists and their views yet likens pro-lifers as villains.

[...]

To help these candidates, the media spends time glorifying people who support unrestricted abortion rights. Whether it's in their approval and promotion of the views of pro-abortionists or their negligence in asking about abortion limits, left leaning media aims to prop up candidates in favor of unlimited abortion.

Unrestricted abortion is barbaric and evil.

Picture this: a baby girl presently weighs 7 pounds, is roughly 19 inches long, is fully capable of breathing on her own, is due tomorrow and is presently just a few inches up the birth canal. People who support unrestricted abortions would have no problem injecting that innocent child with poison to kill her and then ripping out her remains.

That view is NOT considered "extreme" by todays thought police.
Like the rest, Mandelburg did not name a case in which that actually happened -- probably beause it's ridiculous and nonsensical to think that a woman who carried a healthy baby to term would suddenly decide to abort it because, well, who knows what bizarre reason Mandelburg would ascribe to this mythical person for purposes of hate and partisan gain. Instead, she continued to whine:
And then there's the media that has a history of likening pro-lifers to "extremists." ABC's Good Morning America once said that there's "a race among the states to pass the most extreme law restricting abortion." The Washington Post titled a piece "Just how extreme are these new red-state abortion laws?" MSnBC's "Deadline White House" claimed that pro-life laws are from "far-right extremists."

It's obvious that the media has conducted biased reporting. They want to push the narrative that abortion is good and widely accepted. They want abortion supporters to be promoted and glorified while at the same time falsely calling life supporters "extremists."
Remember, Mandelburg thinks creating an Orwellian surveillance state for women isn't extreme at all, so maybe she's a tad biased and her opinion shouldn't be trusted.
Posted by Terry K. at 10:49 PM EDT