CNS Continued To Not Take Biden Speech Well
Topic: CNSNews.com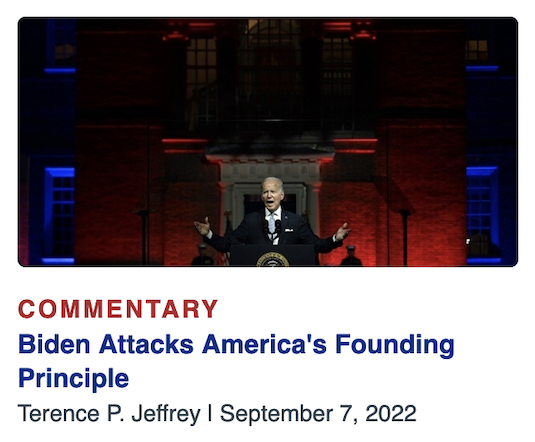 CNSNews.com didn't take President Biden's speech calling out "MAGA Republicans" as the extremists they are very well, and it continued to complain about Biden's assessment of its fellow right-wingers days after the Sept. 1 speech. Patrick Goodenough whined about Labor Day speeches by Biden in a Sept. 6 article:
In back-to-back speeches marking Labor Day on Monday, President Biden again waded into political waters, slamming his predecessor and "MAGA Republicans" and in one instance telling a lone heckler who disagreed with him, "Everybody's entitled to be an idiot."

The speeches, in Milwaukee, Wisconsin, and Pittsburgh, Pa., were billed by the White House as "Remarks by President Biden Celebrating Labor Day and the Dignity of American Workers," but they had the tone of campaign events in the key swing states, two months out from the midterm elections.

[...]

As he did in his prime-time "soul of a nation" address last week, Biden characterized "MAGA Republicans" – or "Trumpies," as he called them in Milwaukee – as a threat to democracy in America.

"They're extreme," he said in Pittsburgh. "And democracy is really at stake."

"Trump and the MAGA Republicans made their choice," Biden said. "We can choose to build a better America or we can continue down this sliding path of oblivion to where we don't want to go."

Although he drew a distinction between "MAGA Republicans" and the "mainstream" party – as he did in last Thursday's controversial speech in Philadelphia – he painted the Republican Party at large as obstructionist, noting repeatedly in both speeches that not a single Republican had voted for the American Rescue Plan Act last year or the Inflation Reduction Act last month.
Editor Terry Jeffrey devoted his Sept. 7 column to nitpicking the speech and indulging in his anti-abortion and obsession, with some homophobia for added measure:
When President Joe Biden stood in front of Independence Hall last Thursday night, he started his speech by inaccurately paraphrasing these words.

"This," said Biden, "is where America made its Declaration of Independence to the world more than two centuries ago with an idea, unique among nations, that in America, we're all created equal."

No, the Founders did not say "that in America, we're all created equal." They said "all men are created equal."

They also said it is our Creator who endows all men with rights, including "Life, Liberty and the Pursuit of Happiness."

Biden did not mention our Creator in this context.

Nor, as Biden claimed, was this "an idea, unique among nations."

The Declaration imposed no geographical or temporal limits on the rights that God had granted all human beings.

Indeed, as this column has noted before, Thomas Jefferson, the principal author of the Declaration, insisted it was based on ancient principles that were broadly embraced by the American people.

[...]

But near the beginning — in euphemistic language — he did talk about a "right" to kill an unborn child and a "right" for two men to marry each other.

He argued that "MAGA" Republicans wanted to take these "rights" away.

"MAGA forces are determined to take this country backwards — backwards to an America where there is no right to choose, no right to privacy, no right to contraception, no right to marry who you love," said Biden.

The problem with Biden's alleged "right" for two men to marry each other or for a doctor to kill an unborn child is that such acts can never be reconciled with the Laws of Nature and Nature's God that our Founders invoked when declaring our independence and that Cicero invoked when defending the rights of Romans.

Killing an unborn child violates the natural law, as does same-sex marriage.

[...]

Biden is attacking the immutable principles of natural law on which this nation was founded — and on which our continuing freedom depends.
The same day, CNS published a column by Pat Buchanan complaining that Biden was "hypocritically denouncing as "backward" moral stands championed by his own Catholic faith — opposition to abortion and same-sex marriage — that he himself held not so long ago." After touting Donald Trump's inevitable criticism of Biden's speech, he added that "In an earlier time, this exchange between the two presidents might have been settled with pistols at dawn."
A Sept. 9 article by Melanie Arter noted that Biden said in a later speech that "Not every Republican is a MAGA Republican. Not every Republican embraces the extreme ideology."
Posted by Terry K. at 6:19 PM EDT