WND Continues To Be Sad About Confederate Monuments Being Taken Down
Topic: WorldNetDaily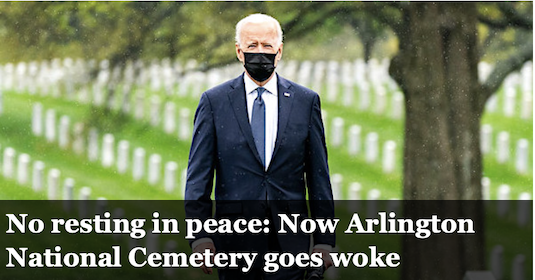 WorldNetDaily has long been sad that Confederate memorials are being removed as it occurs to people that it's a bad idea to honor those who led (and lost) a war against the United States. An anonymous WND writer expressed that sadness again in a Sept. 14 article:
A commission set up to evaluate the political correctness of the names of military bases and other sites around the nation says a memorial in Arlington National Cemetery has to go.

It's because it recognizes the Confederacy.

The Confederate Memorial at Arlington, according to the Washington Examiner, features a bronze woman and the coats of arms of the 13 states, as well as depictions of slavery.

It is "problematic from top to bottom," the commission concluded of the statue put up in 1914.
Because this anonymous WND writer is ignorant of history (or perhaps it's just laziness since the Washington Examiner article this story is lifted from is also ignorant of it), he or she omits the relevant history of Arlington National Cemetery -- namely, that it originaly the estate of the wife of Confederate Gen. Robert E. Lee and was occupied by the U.S. government during the Civil War -- you know, the one that Lee fought on the losing side of -- and used to bury Union war dead. A descendant of the memorial's sculptor has denounced it, saying its suggestion of enslaved people as complicit in the Confederacy is offensive.
The anonymous WND writer went on to complain about the effort to remove vestiges of enemies of the United States from military installations:
The instruction is just part of a report from the commission which wants new names for military bases including Fort Bragg in North Carolina; Fort Benning and Fort Gordon in Georgia; Fort A.P. Hill, Fort Lee, and Fort Pickett in Virginia; Fort Hood in Texas, Fort Polk in Louisiana, and Fort Rucker in Alabama.

The report explained, "The recommendations are part of a larger report by the commission that seeks to propose new names for Army bases and assets that commemorate the Confederacy. The Naming Commission is set to submit a three-part report to Congress by Oct. 1 that includes recommendations for all memorials, awards, scholarships, and 'inactive, decommissioned, or obsolete assets."

It is expected to cost taxpayers about $62.4 million to do the changes the commission is requiring.

Military officials have explained that the various names preserve history, but do not signal support for the Confederacy.
The anonymous WND writer did not any cite specific "military official" making that argument, nor was it explained why the U.S. should continue to honor losers and traitors -- or why ceasing to do so makes one "woke," as the headline claims.
Posted by Terry K. at 4:36 PM EDT