Another Month, Another 'Existential Threat' At WND
Topic: WorldNetDaily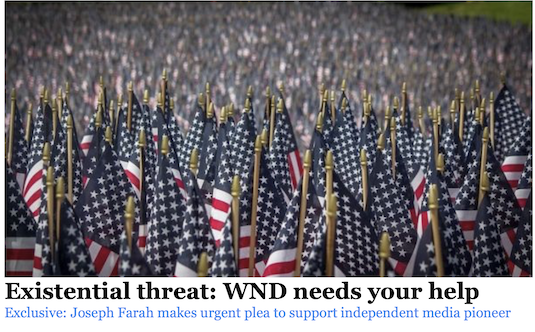 WorldNetDaily is particularly fond of the phrase "existential threat," particularly when it applies to WND:
Which brings us to Farah's Sept. 23 column, which is headlined, yes, "Existential threat: WND needs your help." He went on to write:
For more than 25 years, WND, or WorldNetDaily, has championed the cause of "a free press for a free people," performing the vital job of fearlessly reporting the truth – something the "mainstream media" pretends to do, but, as is now painfully obvious to almost everyone, does not.

It's always been a challenge. Despite what many think, this is a very, very tough business.

While other top-tier alternative media organizations have been supported for years by billionaire backers, we at WND have pretty much always earned our own way – until recently.

The good side of that arrangement is, we've never been beholden to anyone other than the Good Lord. But these are exceedingly rough times in the news business. And right now, it pains me to tell you that not only have all WND's staffers had to accept pay cuts, but making payroll is often delayed as we attempt to overcome multiple crises that constitute an existential threat to the nation's oldest independent Christian online news-gathering company.

I'm asking you to help us in this time of need. It's not easy to make a plea like this to you, our faithful readers, and I do so in all humility.

I'll lay it out for you straight. We need to raise a minimum of $100,000 before the end of October.
We have questions. When WND did a money beg in early summer, he concluded it at the end of June by declaring that "we have been given a blessed reprieve from the urgent and imminent financial crisis we have been facing," citing a "particularly generous donor" who promised "another very significant contribution." But just a month later, Farah asserted that "We need to raise $65,000 by the end of August in order to pay our bills, including payroll." So one has to wonder about how WND is managing its money if it must continually beg for it so soon after claiming its needs had been filled. Honest answers from Farah will certainly not be forthcoming, as he continued:
I can't go into all the details of the problems we are facing – some are global (like the major drop in ad revenues for news websites) and some are specific to WND – but I will mention one thing you may not know.

WND has been completely demonetized by Google and YouTube, which has dramatically impacted our ad revenue.

That's because they see us as "dangerous" for publishing the information you need – such as the truth about the 2020 election, and about the dangerous "vaccines" that were mandated by government, and about the unbelievable way our kids are being mutilated in hospitals nationwide as part of today's youth transgender craze.
Farah is lying, of course. WND spreads lies about the election and about vaccines, and no company wants to do business with a documented liar. He went on to present WND's dishonesty and bias as virtues he thinks people should send himmoney to perpetuate:
I'm asking for the help of those who recognize the unique role WND plays in reaching the God-fearing American audience that, like us, supports limited government, national sovereignty and the traditional Judeo-Christian values that made America truly great.

Donald Trump can't fight this monster alone. The MAGA movement can't either. They need strong voices like WND's to help them accomplish Trump's genuinely pro-American agenda and, at the same time, "drain the swamp." WND played a critical role in the 2016 election, and we are facing a critical election in 2022.

Please, help us to weather this storm by giving as much as you can to support us in this critical hour.

[...]

If this weren't an absolute emergency, I would never suggest it is. We really need your help – and we need it fast.
Yet it's not such an emergency that Farah is going to change his business model and stop doing the things that brought WND to this "esistential threat" -- that is, publishing lies and pushing bias. Why would anyone reward Farah for committing the same missteps and expecting the results to change?
Posted by Terry K. at 7:16 PM EDT
Updated: Thursday, October 13, 2022 7:24 PM EDT