CNS Cherry-Picks More Biden Statements To Mock Him
Topic: CNSNews.com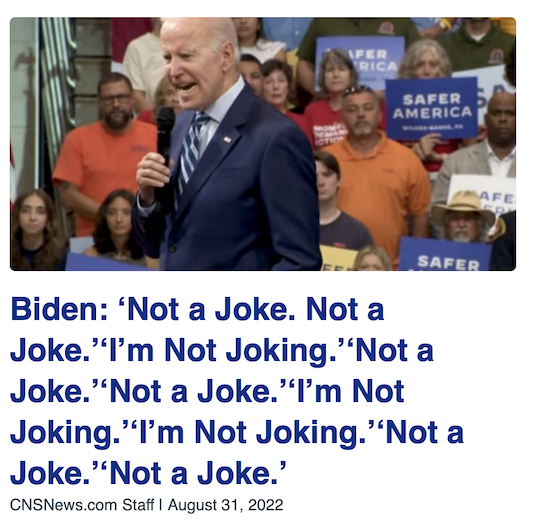 CNSNews.com reverted to an old, dishonest trick to maximize negative coverage of President Biden: cherry-picking out-of-context statements by him that look weird or ridiculous when isolated in order to further its narrative that Biden is cognitively challenged.
Instead of making the core of a Aug. 30 speech Biden gave in Pennsylvania that one CNS writer did concede was about "his plan for increased police funding, training and accountability," CNS made sure not to put that in the headlines of any of the five articles it churned out on the speech, and when the points of the speech do get reported, they are undercut with partisan attacks, something CNS rarely did whwen reporting on remarks by the previous president, Donald Trump. Here are the stories:
Article 1: "Biden: 'There's Bad in Everything … There's Lousy Presidents'" by Craig Bannister:
President Joe Biden laid out his plan for increased police funding, training and accountability in a speech Tuesday in Wilkes-Barre, Pa., and he denounced calls by Democrats to defund the police.

"There's bad in everything," the president said, adding that there are "lousy senators" and "lousy presidents."
Article 2: "Biden Digresses, Talks About 'Tough Neighborhoods'; 'Only White Guy,' 'Basketball,' 'Liquor Store'"
President Biden on Tuesday called for the hiring of more police officers as part of his "Safer America Plan."

"And as we hire more police officers, there should be more training, more help, and more accountability. Without public trust, law enforcement can't do its job serving and protecting all the communities," Biden said in his speech in Wilkes-Barre, Pennsylvania.

Then the president went off-script, describing "tough" neighborhoods, "where the best basketball in the state is." Making his point clear, Biden added that "I was the only white guy that worked as a lifeguard down in that area," and he even mentioned "gangs" and the "liquor store."

[...]

Since Biden became president, crime has moved to the forefront of Americans' concerns, with brazen attacks and carjackings at all times of the day in the nation's big cities, and thieves clearing out store shelves with impunity.

And while Biden advocated more policing as a way to reduce crime, he did not address the poverty and living conditions that give rise to crime.
Article 3: "Biden: 'You Notice How Many People Are Dying of Opioid Overdoses Now?'" by Susan Jones
President Joe Biden told an audience in Wilkes-Barre, Pennsylvania on Tuesday that his crime fighting plan "does something else really important: It addresses the opioid epidemic," he said.

"You notice how many people are dying of opioid overdoses now?" the president asked. "And by the way, laced with fentanyl."

According to the Drug Enforcement Administration, Mexico and China are the primary source countries for fentanyl trafficked directly into the United States.

That drug, and others, are smuggled across the porous southwest border daily.
Article 4: "'How Old Are You, Baby? How Old Are You?,' Pres. Biden Asks Little Girl in Audience" by Craig Bannister
After a child in the audience professed her love for him, President Joe Biden called her "Baby" and asked her age during an event at Wilkes University in Pennsylvania on Friday.

"How are you, baby? How old are you? How old are you?," Biden asked after the child screamed "I love you!"
After she said she was nine years old, Biden joked that she was "almost double figures."anonymously written by "CNSNews.com Staff"
Article 5: "Biden: 'Not a Joke. Not a Joke.''I'm Not Joking.''Not a Joke.''Not a Joke.''I'm Not Joking.''I'm Not Joking.''Not a Joke.''Not a Joke.'"
President Joe Biden delivered a speech at Wilkes University in Wilkes-Barre, Pa., on Tuesday in which he insisted nine times that what he had just said was "not a joke" or that he was "not joking."

"I want to thank your outstanding governor, Tom Wolf. Tom and I have been friends a long time," said Biden. "He's truly one of the best governors in the United States of America. Not a joke. Not a joke."

I mean, we expect you [police officers] to do everything," Biden said. "I'm not joking. Everything."

"My dad used to love to hunt in the Poconos when we lived in Scranton," Biden said. "How many deer or bear are wearing Kevlar vests, huh? Not a joke."

"When we disagreed, we disagreed on principle, but we then went and had lunch together," Biden said. "Not a joke."

"And for those brave, right-wing Americans who say it's all about keeping America—keeping America as independent and safe: If you want to fight against a country, you need an F-15. You need something a little more than a gun," said Biden. "No, I'm not joking.

"DNA to say, 'That's my baby.' What the hell is the matter with us?" said Biden. "No, I'm not joking."

"Folks, when it comes to fighting crime, we know what works: officers on the street who know the neighborhood—not a joke,"said Biden.

"And the crime rate began to drop," said Biden. "For real. Not a joke."
None of these CNS writers explained why they decided that taking partisan and personal shots at the president was more newsworthy than fairly reporting the subject of his speech.
Posted by Terry K. at 1:17 AM EDT
Updated: Thursday, September 29, 2022 10:30 AM EDT