Newsma's Morris Shills for Trump After Mar-a-Lago Raid
Topic: Newsmax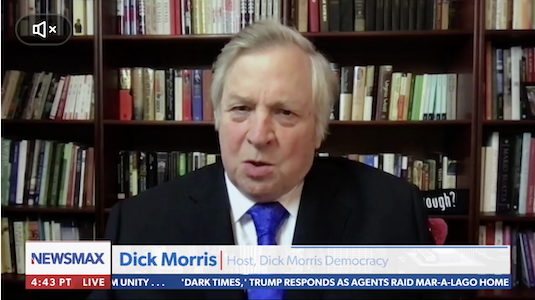 After the FBI search warrant on Donald Trump's Mar-a-Lago compound in search or improperly held classsified documents, Newsmax writer Dick Morris had to shift his narrative from promoting the pro-Trump book he wrote (and Newsmax published) to defending Trump against being held accountable for his own actions and portraying the raid as a motivating incident for die-hard Trump supporters (and hopefully selling a few more copies of his book in the process). An Aug. 8 article detailed Morris' first post-raid appearance on Newsmax TV:
The FBI raid on Mar-a-Lago is not intended to send former President Donald Trump to jail as much as just damage him to keep him from running for president again, according to presidential adviser Dick Morris onRob Schmitt Tonight." "The appellate courts, even if they find the district judge under a rock who will rule that way, the appellate courts would never agree to that.

"But what they are trying to do is to make Trump so damaged, such damaged goods, that Democrats and Republicans look for primary alternatives – and all of a sudden, they see virtue in Mike Pence or Ron DeSantis. Not that they're fomenting it. Those people are being used, but they're being used to try to generate a primary fight against Trump, because the Democrats feel that's the only way they can win."

[...]

Morris hailed Trump as a "ruthless S.O.B.," but one that plays within the rules.

"Donald Trump plays between the foul lines, on the playing field," Morris continued. "He never goes outside of it. He never engages in this kind of underhanded tactic. Even when he controlled the FBI and controlled the CIA, sort of, he doesn't do that. The Democrats do.

"I've worked side by side with Trump; he's a ruthless S.O.B., but on the playing field within the foul lines, not in extraneous stuff."
Not actually true, but Morris is in hard-shill mode here. Morris did get in his usual shilling in another Aug.8 TV hit, declaring that "Republicans could pick up between 5-7 seats in the Senate this November, taking the majority in that chamber."
In an Aug. 11 Newsmax TV appearance, Morris lamented that Trump "will be indicted on a "technical violation" of the National Archives and Records law," just for egregious mishandling of classifed documents:
"The archivist apparently cares whether the archives gather dust in the basement of Trump's house or the archives place, but they're still going to use any excuse they can to try to knock him out of the race," said Morris. "I don't think that will knock him out. It does not legally preclude him from running, but they can get a D.C. grand jury stacked with Democrats to indict [anyone] for anything."

The Democrats, he added, "need to knock Trump out and they will do anything they can."

And the raid at Trump's Mar-a-Lago estate, he added, "was just a brazen example of that, as they clearly see this as a zero-sum game."
After that, though, Morris was largely back to his usual shilling. In an Aug. 15 appearance, he baselessly asserted that "the hiring of 87,000 new Internal Revenue Agents is designed to "intimidate" American citizens into silence instead of criticizing the government." The next day, Morris cheered Liz Cheney's loss in her Republican primary, then tried to tie Cheney's work on the House committee investigating thte Capitol riot to the Mar-a-Lago raid:
But the Jan. 6 committee, of which Cheney is a vice chair, has failed to prove that, so now the Democrats have turned to "Plan B," which was the raid of Trump's Mar-a-Lago home, said Morris, author of the book "The Return: Trump's Big 2024 Comeback."

"This was simply designed to get them in the door to Mar-a-Lago so that they can search for documents to try to prove that this was an insurrection, and that Trump led a revolution, so they can try to invoke the 14th Amendment," Morris said.

The Democrats know the courts likely will block that move, he added, but they hope that the accusation will be enough to keep the Republicans from nominating Trump, which won't likely happen.
Morris ranted in an Aug. 18 TV appearance:
Fearing they can't beat former President Donald Trump, or his movement, in elections, "Democrats have abandoned the political process" to stop him, presidential campaign adviser Dick Morris said on Newsmax.
"In my book, 'The Return,' I make the case that I think is very important: That the Democrats have abandoned the political process and are using criminal justice process and the judicial process to try to stop Donald Trump, and they weaponized the IRS and the FBI to be the enforcement arm of the Democratic Party," Morris, who has advised Democrat President Bill Clinton and Trump's presidential campaigns, said on Thursday's "John Bachman Now."
"The raid at Mar-a-Lago, the pretext was the archives. Who cares about the archives? They are in there to try to find documented evidence — or planted — to frame Donald Trump for the Jan. 6 riot, and to claim that somehow this was a revolution against the United States government, because they want to invoke the 14th Amendment that says that anyone who was involved in an insurrection against the government can't hold public office."
The following day, Morris declared that the raid ""has energized" Trump:
"I've worked with so closely with President Clinton and with President Trump; and with Clinton, if people liked him, it energized him," Morris said during "Spicer & Co." Friday. "With Trump, if he's facing opposition, particularly due to the low-level opposition using dirty tactics, that energizes him, and I think that the effect of the Mar-a-Lago raid ... is energizing. I think he relishes being in a fight, and I think he really feels that his adversary made a huge mistake, and he's determined to capitalize on it."

Morris said he predicted something similar to the raid, some kind of major legal move, in his new book, "The Return: Trump's Big 2024 Comeback" but could not predict the Mar-a-Lago raid.

"It's kind of like Pearl Harbor. They predicted they'd attacked Guam; they didn't realize they'd attack Hawaii," he said. "I knew that they would raid; I didn't know they would raid the president's home.
An Aug. 20 article repeated Morris' claim on TV that "Democrats are giving up on replacing Trump in a 2024 GOP primary, and instead are focusing on using the legal system to preclude him from seeking another term in office," going on to downplay the Capitol riot:
"The Democrats are trying to manufacture the idea that Jan. 6 was such a rebellion because — and the timing of this is very significant to the Mar-a-Lago raid — because it came after Trump had a winning streak in primaries, thereby debunking the notion that he could be defeated by the ballot box," he said. "[The search warrant] was executed precisely 90 days before the midterm elections, so it did not run afoul of the FBI rule that you can't do anything to affect the election within 90 days."
Morris didn't mention that Trump isn't running for anything in the midterms.
Posted by Terry K. at 5:39 PM EDT