MRC Still Hypocritically Exposing Political Donations of Non-Right-Wingers
Topic: Media Research Center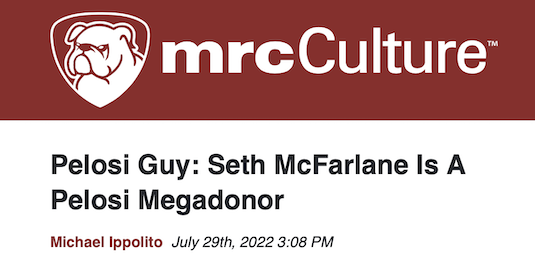 Last year, the Media Research Center threw a fit that video game developer Scott Cawthon was found to have donated money to right-wing and anti-LGBT causes, which was framed as a "left-wing mob" criticizing how the developer "was spending his well earned money," adding, "How dare he donate his money to a cause that he supports!" -- never mind that the MRC has a beat that dedicated to criticizing how non-right-wingers spend their hard-earned money on causes they support.
It hasn't stopped doing that. Jeffrey Clark complained in a May 25 post that "A leftist crypto billionaire is hinting at throwing a billion dollars, give or take, to keep former President Donald Trump from winning the 2024 presidential election." There was no praise of the guy for giving his money to a cause he supports.
Clark returned to huff in a June 29 post under the headline "Big Tech Bias?":
The radical liberal billionaire who became infamous for backing a group that "spread disinformation during the 2017 Alabama special election for U.S. Senate" is throwing money behind so-called "mainstream" Democrats in an attempt to prevent Republicans from winning control of Congress.

LinkedIn co-founder Reid Hoffman is a longtime donor to the Democratic Party. He spent at least $3,835,509 to oppose former President Donald Trump's 2020 presidential re-election campaign and at least $678,703 to support then-presidential candidate Joseph Biden, according to Federal Election Commission (FEC) records. Hoffman already donated at least $500,000 to the Mainstream Democrats Political Action Committee (MDP) in February of this cycle, FEC records show. But the MDP made it clear that it has a special purpose: defeat Trump by supporting so-called "mainstream" Democrats. The MDP even declared war on "far-left organizations" that it claims have attempted a "hostile takeover" of the Democratic Party on its website.

Hoffman's six-figure donation in February made him one of the top contributors to the MDP this year, according to FEC records, and one of the most important players working behind the scenes of Democratic politics, as CNBC noted in a story Tuesday.

Hoffman and MDP are anything but moderate, however. Notorious leftist billionaire George Soros and Hoffman teamed up to tighten censorship and tackle so-called "disinformation" through an organization called "Good Information Inc.," in 2021. But the leftist bias of the site is clear: Fox News host Tucker Carlson and former White House chief strategist Steve Bannon feature prominently on the front page behind banners of "misinformation" and "disinformation."

Apparently, liberals don't perpetuate misinformation.
And Clark didn't prove that Carlson and Bannon aren't perpetuating it.
Michael Ippolito did pretting much the same thing to ah Hollywood creator in a July 29 post:
It's not shocking to see Hollywood loonies shilling for their fellow lefties in power. But sometimes the extent of their support is a bit surprising. Take Family Guy creator Seth McFarlane (please).

According to Breitbart, Seth McFarlane is one of House Speaker Nancy Pelosi's biggest donors.

This is not the only recent donation McFarlane has handed out. FEC records also show he has given $365,000 in May to Democratic Grassroots Victory Fund, $2,900 again to Nancy Pelosi's re-election campaign in June, and $5,000 to the pro-LGBT Equality PAC.

McFarlane also used his Twitter to shill for Democratic politicians.
Neither Clark nor Ippolito fretted that they was criticizing how Hoffman and McFarlane wre spending their hard-earned money on causes they support., and the certainly didn't reference the time they attacked a "left-wing mob" for doing the exact same thing they're doing to Hoffman and McFarlane.
Most of all, they didn't admit their own paychecks are highly dependent on right-wing moneybags like Rebekah Mercer, whom they would never criticize for wasting money and would undoubtedly plraise for giving "hard-earned money" to a cause they support.
Posted by Terry K. at 8:49 PM EDT