MRC Keeps Hurling Lazy 'Meathead' Insult At Rob Reiner
Topic: Media Research Center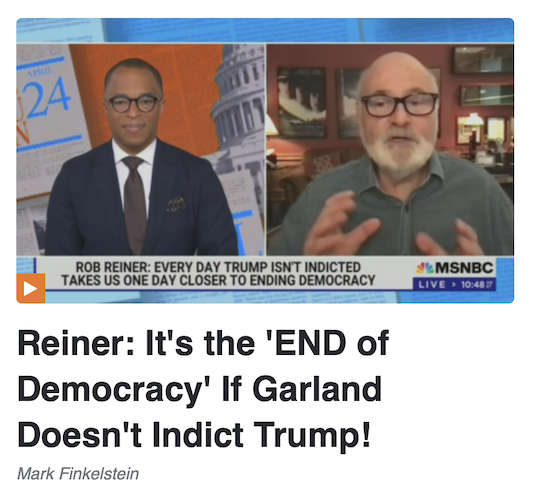 One of the laziest things the Media Research Center does is insist on lashing out at Rob Reiner whenever he says something non-conservative by calling him "Meathead" -- as if he has done absolutely nothing else in the nearly 50 years since he stopped playing that role on TV and that he was explicitly playing himself in that role. That laziness is continuing.
In a July 2021 post after the Supreme Court upheld an Alabama law that banned "ballot harvesting," Abigail Streetman wrote, "American actor and filmmaker, Rob 'Meathead' Reiner, wrote in a tweet that 'Access to the ballot box is being threatened' and 'Democracy is on the line.' Although, we don't live in a democracy so he's obviously confused about more than just our country's voting system." Actually, a republic is a form if democracy, so Reiner is correct.
Mark Finkelstein complained in an April 25 post: "Appearing on Jonathan Capehart's MSNBC show on Sunday, Rob 'Meathead' Reiner said that our country's democracy is 'hanging by a thread,' at that if Biden AG Merrick Garland doesn't indict Donald Trump, it's 'the end of democracy.'" This was repeated in an April 30 post by Geoffrey Dickens under the subhead "From the Mind of 'Meathead.'"
The same day, Joseph Vazquez groused that "Insufferable 'Meathead' Rob Reiner had a conniption over the possibility that a Musk takeover of Twitter could mean the return of former President Donald Trump, whom the platform banned last year."
A tweet from "Director and Actor Rob 'Meathead' Reiner" was included in a June 24 post by Nick Kangadis showing how "politicians, celebrities, activists and other political talking heads have lost their collective minds in the wake of the Supreme Court overturning Roe v. Wade."
A July 30 post by Tim Graham actually tried to justify right-wingers like him slinging the lazy insult at Reiner:
Actor and director Rob Reiner spurred another hearty round of "Meathead" rebuttals on Twitter. But this time, it isn't one of his furious proclamations that Trumpers are a "cult." Instead, Reiner sounded like he was in a cult. He tweeted on Friday that President Biden's "record of accomplishments so far" is unmatched in modern history.

[...]

Reiner is probably referring to Lyndon Johnson passing a bunch of laws in the wake of the JFK assassination with large Democrat majorities in Congress. (We'll only briefly mention he passed the Civil Rights Act in 1964 with Republican votes.) Leftists with their blue-wave emojis loved it (more than 96,000 likes), and then lamely tried to argue that no one called Reiner "Meathead," only fictional Archie Bunker called him "Meathead." This was just as wrong as most Reiner tweets.
Trying to justify a lazy insult doesn't make it any less lazy, Tim.
Posted by Terry K. at 11:44 AM EDT
Updated: Tuesday, September 6, 2022 11:17 AM EDT