CNS' Double Standard On Law Enforcement Officials Following Laws
Topic: CNSNews.com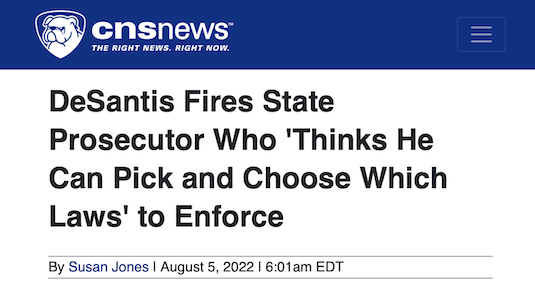 Susan Jones wrote in an Aug. 5 article about a Florida prosecutor who said he wouldn't prosecute people for violating the state's new anti-abortion and anti-transgender laws:
Florida Gov. Ron DeSantis has suspended leftist State Attorney Andrew Warren for "neglect of duty."

In the announcement on Thursday, DeSantis said he replaced the George-Soros-backed prosecutor for effectively nullifying Florida criminal law by refusing to prosecute many crimes, encouraging lawlessness, and usurping the exclusive role of the Florida Legislature to define criminal conduct.

(The governor's executive order removing Andrew Warren from his job is lengthy and includes examples of his neglect.)

DeSantis told Fox News's Tucker Carlson on Thursday that Warren, like other Soros-funded prosecutors around the country, took it upon himself to determine which laws should be followed and which laws should not be followed.

DeSantis said as governor, he has the authority under the Florida Constitution to suspend state officials for reasons of misfeasance, malfeasance, neglect of duty, drunkenness, incompetence, permanent inability to perform official duties, or commission of a felony. The Governor has further authority to fill that office by appointment for the duration of the suspension.
Jones never substantiated her claim that Warren is "leftist," nor did she provide any evidence that Warren is "George-Soros-backed" other than uncritically quoting DeSantis describing him that way. As someone who claims to be a journalist, it's Jones' responsibility to back up everything she claims.
Jones also failed to mention that it used to be cool with people in law enforcement disobeying laws and mandates. In a September 2021 article, managing editor Michael W. Chapman cheered an Arkansas county sheriff who refused to punish his deputies for refusing to get a COVID vaccine as mandated by federal officials:
Cleburne County Sheriff's Office, issued a statement on Sept. 10 declaring that his office "will not mandate the COVID vaccine" for its employees. He also stressed that he was "appalled" by some of the "absolute dictator-like things we are seeing from the Federal Government."

"I am appalled at some of the absolute dictator-like things we are seeing from the Federal Government, and several of the State Governments," wrote Sheriff Brown. "It is absolute tyranny, and completely abhorrent."

"It flies in the face of everything our country has always stood for, and is only furthering the damage and division done to the people of this wonderful nation," he said.

"I am not pro-vaccine, and I am not anti-vaccine," said Brown. "I am pro-freedom, and I am for each person's ability and responsibility to decide for themselves (in conjunction with their doctor) whether or not to get the vaccine."
Chapman did the same thing in an October 2021 article:
Although the Los Angeles City Council passed a COVID vaccine mandate for people entering restaurants, salons, and gyms, Los Angeles County Sheriff Alex Villanueva said he is not going to force his law enforcement employees to get the vaccine shot.

Reading and answering questions from his office, Sheriff Villanueva said on Thursday, "Are you forcing your officers to get the vaccine? As I said, no, I'm not forcing anyone to. The issue has become so politicized."

"There are entire groups of employees that are willing to be fired and laid off rather than get vaccinated," he added, "so I don't want to be in a position to lose 5% to 10% of my workforce overnight on a vaccine mandate, while at the same time we're bare bones with the defunding effort. So, this is like the worst of two worlds right here."

Left-wing radicals, such as Black Lives Matter, and left-wing lawmakers have been pushing to defund police departments nationwide.
Chapman did not provide an example of Black Lives Matter or "left-wing lawmakers" demanding that sheriff's deputies be vaccinated.And in neither article does Chapman explain why it's a good thing for sheriffs to violate laws and mandates and put their own health in jeopardy by refusing a vaccine. And it no point is it explained why it's a good thing for sheriffs to resist getting avaccine as an "absolute dictator-like thing" but a bad thing for Warren to resist DeSantis' political anti-transgender mandate.
CNS has even touted DeSantis -- supposed guardian of law and order -- encouraging law enforcement to skirt laws. An October 2021 article by Melanie Arter hyped how DeSantis "is offering law enforcement from states that have vaccine mandates a $5,000 bonus to move to Florida":
"Maria, these people we've been hailing as heroes, the nurses we've said have been heroes, this whole time they've been working day in and day out. They couldn't do their job on Zoom. They had to be there, and they did it, and they did it with honor and integrity," he told Fox News' "Sunday Morning Futures."

"Now you have people that want to kick them out of their job over the shot, which is basically a personal decision, and you're right, what Biden's doing is unconstitutional," the governor said.
Bcause the goal here was to suck up to DeSantis and not to engage in actual journalism, CNS has ignored this story since then -- which means its readers don't know that Warren has sued DeSantis over his dismissal for violating his free-speech rights, and that DeSantis has been criticized by dozens of former judges and law enforcement officials over the partisan dismissal. Once again, CNS is putting advancing right-wing narratives ahead of practicing journalism.
Posted by Terry K. at 1:23 PM EDT
Updated: Sunday, September 4, 2022 8:18 PM EDT