MRC Loved Bashing (And Insulting) Stelter For Daring To Criticize Right-Wing Media
Topic: Media Research Center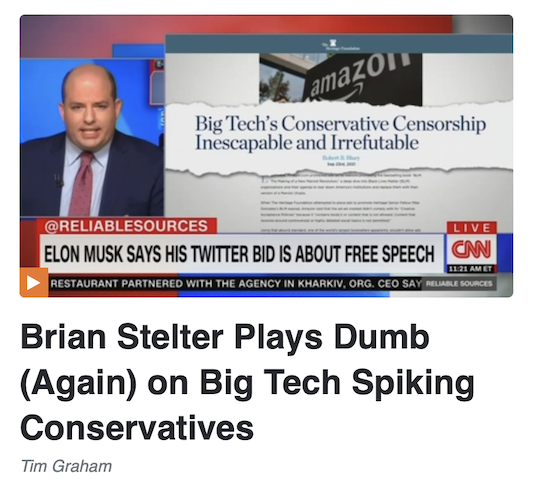 The Media Research Center is glad that CNN canceled Brian Stelter's show "Reliable Sources" -- in large part because he regularly criticized the right-wing media bubble the MRC resides in. That required the MRC to play a lot of whataboutism to distract from said criticism; so apprently personal was that criticism that it felt it needed to be more hostile to Stelter than to most of its delcared enemies. Let's review some of those anti-Stelter rantings from the past several months, shall we?
In a June 2021 post, headlined "C-SPAN vs. Stelter: Enjoy the Verbal Beating the CNN Host Endured," Scott Whitlock cheered how "callers hammered the partisan hackery over at CNN" and posted "video of Stelter sitting through that call." While the show also appeared then-MRC research director Rich Noyes, Whitlock pointed out that they were not on at the same time -- not surprising, given that it's MRC policy to never share an media appearance with a critic of right-wing media.
Also that month, Nicholas Fondacaro guest-hosted Tim Graham's podcast, where he complained that Stelter -- whom he hatefully called "Mr. Potato Head" -- accurately pointed out that right-wing critics like him were not "good-faith actors." But he only had whataboutism to offer in return: "But meanwhile, he's the guy who, in 2017, was among the first to start pushing claims that President Trump was mentally compromised and a danger to himself and others. He also allowed a guest to claim Trump had killed more people than Hitler, Stalin, and Mao combined."
A November 2021 column by Tim Graham complained that Stelter described how the right-wing media machine works; instead of correcting him, Graham served up only whataboutism:
To process Democrats losing the governor's race in Virginia, Stelter quoted from leftist Washington Post blogger Greg Sargent that while Republican Glenn Youngkin campaigned on a softer rhetoric in opposing critical race theory in the schools, he capitalized on right-wing media driving a much more "visceral and hallucinogenic" version of this argument directly to the base. They apparently were hallucinating with "daily propaganda coming from the likes of Laura Ingraham."

The argument here is that Republican candidates can sound more reasonable because they have a media "machine" that provides all the hardcore base-stoking rhetoric. Stelter said it "makes a lot of sense" to think of Fox and Newsmax as "base turnout operations." As usual, Stelter pretends that CNN's hardcore base-stoking rhetoric from Jim Acosta & Co. doesn't allow the Democrats to run milder campaigns.

Stelter complained about all the "propaganda and grifting" from the right about local school-board issues in Loudoun County, Virginia. He claimed there were more than 400 references to the county on Fox News in 2021. But he never mentioned the sexual assaults in high schools there as an issue. Was that "grifting" to mention? This misses the fact that the left makes national news out of local crimes and controversies all the time. See George Floyd in Minneapolis, or Michael Brown in Ferguson.
The whataboutism continued even after Graham noted that Stelter snarked about being criticized by Graham's employer:
Stelter sensed danger from conservatives: "Hold on. My friends at NewsBusters are going to listen to this and they're going to say you're saying that conservatives are dumb. This needs to be simple."

[Author Brian] Rosenwald claimed he wasn't saying they were dumb, but they need radio to be "kind of like a soap opera," because "nuance is boring." He claimed he's talked to Republicans who said "when we talk about the debt ceiling, or the filibuster makes us compromise, that's boring, that's nuance, that's process. People don't want to hear about that. They want to hear something big, bold, exciting, dramatic."

Then these two Brians turned to the arrogant theory that liberals have nothing like Fox News or conservative talk radio on their side. They talked about how liberals listen to NPR's Morning Edition instead of Sean Hannity or Mark Levin, as if that show isn't one-sided propaganda. Oh, but that taxpayer-funded bubble sounds so calm and urbane!

This again completely misses that CNN and MSNBC are the obvious equivalent to Fox News, that they are talk television more than "news channels." Rosenwald actually discussed how liberals could really use a billionaire like Rupert Murdoch to found something like Fox, because there's a "huge imbalance in politics and in political media."
Because Graham is so invested in his own whataboutism, he doesn't date point out that its arguments can be reflected back right on him: If CNN and MSNBC "are the obvious equivalent to Fox News," he should be criticizing Fox News' bias as much as he attacks those at the other channels.
In an April 7 post, Fondacaro cheered a right-wing student who repeated right-wing narratives attacking CNN and defending Fox News at Stelter during a University of Chicago panel:
That airing of the laundry was followed up with two hard-hitting questions. "With mainstream corporate journalists becoming little more than apologists and cheerleaders for the regime, is it time to finally declare that the canon of journalistic ethics is dead or no longer operative," he asked in his first.

And in his second question, [Christopher] Phillips made the astute observation that "[a]ll of the mistakes of the mainstream media, and CNN in particular, seem to magically all go in one direction." And that brought him to wonder: "Are we expected to believe that this is all just some sort of random coincidence or is there something else behind it?"

Stelter was clearly uncomfortable and quipped that it's "too bad" he couldn't answer the questions because "it's time for lunch." And he didn't want to get into a discussion about CNN's lies on camera, telling Phillips, "I'll come over and talk in more detail after this."

Of course, in his bloviating that followed, Stelter didn't actually answer any of Phillips' questions. He initially scoffed, suggesting the student was "describing a different channel than the one that I watch." And he dismissed the facts of CNN's flamboyant bias as just "a popular right-wing narrative about CNN."

[...]

And taking issue with Phillips referring to the Biden administration as "the regime," Stelter tried to suggest he wasn't out to help the White House or the left because "The last time I spoke with a Biden aide, we yelled at each other."

Sometimes allies argue.
Of course, Fondacaro gets paid well to push that "popular right-wing narrative about CNN."
Fox News' Tucker Carlson had the Stelter-bashing student on TV a few days later, and Graham fawningly wrote about how the student had "no apology, no remorse whatsoever" over regurgitating those partisan talking points. Kevin Tober cheered that Fox News' Sean Hannity "mocked CNN's Brian Stelter for his complete dodge to a freshman college student's question about CNN's bias," declaring that the student "was a thousand percent right on every issue fake news CNN got wrong" and going to mock Stelter's looks by calling him "Humpty Dumpty." And few days after that, Graham devoted his podcast to gushing that the student is "now the toast of all conservative media for throwing a rip-roaring hardball question at Brian Stelter at the recent so-called 'disinformation' conference at the University of Chicago."
When Stelter contradicted the MRC's pet narrative that conservatives and only conservatives are being "censored" by "big tech," Graham ranted in an April 18 post:
Brian Stelter played dumb again on his Sunday show Reliable Sources, asking if Twitter was biased against conservatives, which is like asking if CNN is biased against conservatives.

There was zero mention of Twitter's complete shutdown of the New York Post bombshells on Hunter Biden's laptop contents in the closing weeks of the 2020 campaign, which has now been verified by the liberal media elite. There was zero mention of the Wuhan lab-leak theory going from cuckoo conspiracy theory to respectable conspiracy theory.
But a "respectable conspiracy theory" is still a conspiracy theory, is it not, Tim? And, of course, Graham leaves out the inconvenient fact that the right-wingers who first pushed the Hunter Biden laptop story made no effort to provide any independent verification of it that would have made it look less like Russian disinformation or a partisan hit job.
Graham then ranted that Stelter called out the right-wing victimhood narrative: "Stelter then raised the idea that complaints of conservative censorship are 'core to the GOP's identity.' He doesn't seem to realize conservatives would rather NOT have this 'identity.' Would he suggest Black Lives Matter has a complaint "narrative" that's core to their identity?"
Fondacaro spent a May 2 post ranting that Stelter called out right-wing distortions of a proposed government Disinformation Governance Board, which he insisted on falsely calling a "Ministry of Truth" despite the fact that his employer bashed people who called a new Florida law the "don't say gay bill" instead of its actual name:
Over the weekend, the Biden administration rolled out his Ministry of Truth under the Department of Homeland Security called the Disinformation Governance Board. This clearly Orwellian (1984) machination has rightly been the subject of scrutiny, but on Sunday's Reliable Sources, CNN host and chief media apologist Brian Stelter suggested the real problem was the "right-wing uproar" and how they're getting angry at something that they don't have a clue about.

[...]

Now, imagine if former President Trump created a Ministry of Truth and installed a sycophant to run it. Stelter wouldn't be downplaying it as a "basic government bureaucracy." He'd be pulling out what's left of his hair and calling it a threat to reality.
Of course, Trump did (and does) have a "ministry of truth" -- it's called Fox News. And, yes, the MRC lashed out at Stelter for criticizing them too.
Posted by Terry K. at 6:34 PM EDT
Updated: Sunday, August 28, 2022 8:26 PM EDT