MRC Invents 'Secondhand Censorship' To Push Bogus Anti-Social Media Narrative
Topic: Media Research Center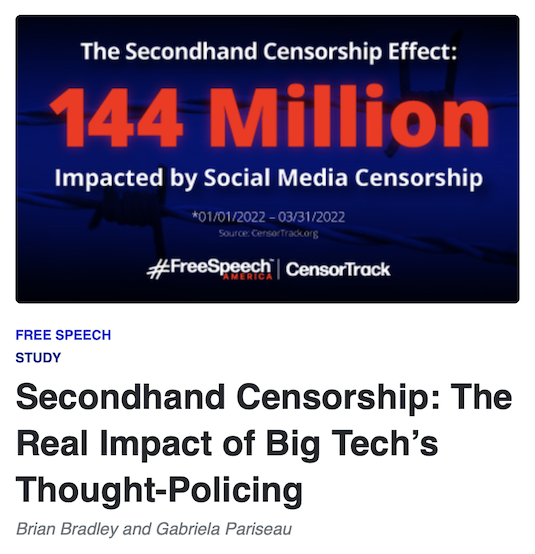 The Media Research Center's campaign to frame private companies enforcing their terms of service on its users as a diabolical campaign to "censor" right-wingers who should be allowed to spread lies and misinformation unfettered has always been dishonest, but it has found a way to expand on that dishonesty, announced in a July 20 post by Brian Bradley and Gabriela Pariseau:
America is increasingly outraged by the manner in which radical Big Tech leftists are censoring conservative and Christian leaders and organizations on nearly every major social media platform.

But what is the secondhand effect of this censorship on consumers – the American people? How much information is being kept from the average social media user?

The answer is an astonishing amount, arguably more information than has ever been purposely withheld from the public in American history.

The Media Research Center's CensorTrack.org has identified and verified over 4,000 individual examples of censorship. For purposes of this study, we looked at only the first quarter of 2022 wherein 172 cases were identified. An analysis of the audiences of those individuals/organizations alone found that in that three-month period, there were no less than 144,301,713 times information was withheld from the American people.

This phenomenon is best thought of as "secondhand censorship." Secondhand censorship is defined as the number of times that users on social media had information kept from them.
This, of course, is a bogus and meaningless metric. It simply takes an instance of purported "censorship" and multiplies that by the number of followers that person or organization has:
The MRC looked at seven platforms – Facebook, Instagram, YouTube, TikTok, Twitter, LinkedIn, and Spotify – to calculate secondhand censorship's impact.

MRC measured the effects of secondhand censorship by adding the number of followers each account had at the time of each censorship case recorded during the quarter.

[...]

MRC identified 172 individual cases of direct censorship logged in MRC Free Speech America's CensorTrack database during the first quarter of 2022. CensorTrack has now logged a total of over 4,000 total cases of Big Tech's direct censorship.

But when Big Tech companies censor an account or its posts, every one of the censored account's followers are unable to see the perspectives of the targeted account, or the account's posts are obscured such that they're suppressed and more difficult to view. The consequences of this "secondhand censorship" are broad authoritarianism, mass thought-control and a restricted marketplace of ideas.
The MRC muddies things further by classifying things that were not actually censored as actual "censorship," insisting that content filters that one must click through to access content is "censorship" even though the content itself is not "censored." There's other dishonesty too, as described in this section:
YouTube placed two content filters on a Fox News video of former Rep. Tulsi Gabbard (D-HI) and Fox News host Laura Ingraham about the Ukraine War, as noted in a March 9 CensorTrack entry.

Gabbard said on The Ingraham Angle that Ukrainian President Volodymyr Zelensky was reportedly open to engaging in negotiations to compromise with Russian President Vladimir Putin to end the war.

YouTube used content filters to chide Fox News subscribers, suggesting that the video "may be inappropriate," and that the YouTube "community" had identified the video as "inappropriate or offensive."

Secondhand censorship translated to Fox News's 9,180,000 YouTube subscribers being prohibited from viewing potentially pivotal news The incident contributed to thwarting a consensus on a viable path out of the war from forming.
But Bradley and Pariseau offer no evidence that Gabbard's claim about alleged "compromise" was the reason YouTube put a content filter over the video (which merely requires a single click to access, no sane person's definition of "censorship"). It might have more to do with Gabbard -- a supporter of Russia and Vladimir Putin -- baselessly blaming the "military-industrial complex" and Hillary Clinton for the Russia-Ukraine war (even though Russia is the one that invaded Ukraine) and even more baselessly accusing U.S. leaders of lying to the American people about the situation there. Ingraham did not allow anyone to rebut Gabbard's views, and Ingraham heartily endorsed them.
Bradley and Pariseau was upset that Joe Rogan couldn't be as racist as he wants to be, going to Bette Midler whataboutism route to do so:
Most race-related secondhand censorship during the first quarter came when Spotify removed approximately 70 episodes of Rogan's podcast "The Joe Rogan Experience" in February. When the streaming platform removed those episodes, the effects of secondhand censorship cascaded across Rogan's reported 11 million per-episode Spotify listeners.

Rogan's past use of the N-word over the roughly 10-year course of his podcast reportedly ignited a furor across Spotify's workforce. The comments even reportedly prodded Spotify CEO Daniel Ek into writing a memo to employees saying that the "hurtful" comments "do not represent the values of this company," according to Axios.

Just after a video collage of Rogan's use of the N-word came out, MRC found that leftist PatriotTakes, the group behind the video's release, partnered with leftist SuperPAC MeidasTouch. MeidasTouch was partly funded by actress Bette Midler, who has a history of unhinged political behavior. She demonstrated this in a May 24 tweet that read, in part: "DON'T SAVE FETUSES ONLY TO HAVE THEM DIE AT SCHOOL BECAUSE YOU LOVE YOUR GUNS MORE THAN LIFE! FOR SHAME!!" This wasn't censored, of course.
If you're defending offensive racism, you're losing. If you're invoking Bette Midler -- who is not racist -- to further defend that rasism, you're losing even more. further, the duo are falsely blaming Spotify for the removal of the Rogan episodes using the N-word; actually, Rogan himself requested that they be removed, so Bradley should really be blaming Rogan himself for "censorship."
Bradley and Pariseau also defended COVID vaccine misinformation and conspiracy theories:
Big Tech censorship of alternate viewpoints on COVID-19 and vaccinations raged ahead during the first quarter of 2022, even as cases declined and local governments loosened masking and vaccination mandates.

Tech platforms sought total control over information related to COVID-19's origins, the usefulness of cloth masks in preventing the virus's spread, efficacy of the COVID-19 vaccines and local government policies on supposed COVID-19 prevention. This Big Tech totalitarianism meant that social media weren't permitted to critically analyze pandemic-related information on a factual basis.

Twitter even censored a news report covering a peer-reviewed study about vaccine materials transforming into human DNA!

Just the News published a story March 3 reporting on a Swedish study that found the Pfizer COVID-19 vaccine can convert to DNA inside human liver cells.

But readers of Just the News were blocked from learning about the study.

All 867,000 of Just the News founder John Solomon's Twitter followers weren't allowed to read a March 3 news story covering the Swedish study. Such censorship potentially jeopardized the ability of readers to seek appropriate medical care for COVID-19. The censored story's subheadline also noted that the Centers for Disease Control and Prevention claimed "the vaccine" could not turn into DNA.
Those readers should be grateful ther story was "censored" because it was full of misinformation. As an actual news operation found:
The study tested whether the vaccine's mRNA could be converted to DNA, and found that this was the case in certain lab-altered liver cell lines under experimental conditions. It did not assess whether the vaccine alters the human genome, or what the effects of that would be, according to experts and the study authors. Experts say additional research is needed because the findings in the lab setting cannot be used to make inferences about what might happen in a human body.
The news operation went on to quote the study's authors as saying that "The results have in many cases been misinterpreted" and "there is no reason for anyone to change their decision to take the vaccine based on this study."Bradley and Pariseau didn't mention that, meaning they're effectively endorsing falsehoods and misinformatoin -- also not a good look for so-called "media researchers."
The duo even tried to reframe clear anti-LGBT hate as "faith-based criticism":
Twitter censored Crisis Magazine Editor-in-Chief Eric Sammons's faith-based criticism of secular norms in March, according to a March 29 CensorTrack entry.

"Just a reminder: Homosexual activity is a sin," the head of the Catholic magazine tweeted. "Transgenderism is a mental illness. Abortion is murder."

Twitter locked Sammons's account for a few days, claiming "hateful conduct," until Sammons deleted the tweet.
Because this bogus "secondhand censorship" metric generates such an wildly and artificially huge number, the MRC can use it for propaganda purposes. And, indeed, MRC chief Brent Bozell ran to Fox News to tout them and hyperbolically declare that this has "never happened in human history," adding, "when was the last time you heard a liberal complain about being censored? It just doesn't happen." He didn't mention that the MRC makes no effort to count them and simply runs up conservative numbers so has talking points he can spout on Fox News.
Bradly then went on the July 22 podcast of his boss, Tim Graham, to promote and rehash this bogus study. Even Graham admitted that Bradley was "coining a term" with "secondhand censorship," though he went on to do his own rehashing the Hunter Biden laptop saga as a prime example of "censorship," even though, as we documented, there was good reason not to trust the story when it came out because it was not independently verified and those pushing it were obvious pro-Trump partisans who could not be trusted. Graham agreed with Bradley's baseless assertion that the Ingraham-Gabbard video was "censored" (it wasn't) because she talked about trying to end the war in Ukraine.
Bradley actually defended Rogan's use of the N-word: "You might not like his use of the N-word, his referential use of the N-word -- i don't think he used it in a mean way at all -- but they couldn't consider the ideas he was putting forward in these podcasts because Big Tech just had to put the political clampdown because of political pressure from the left." Bradley didn't cite any examples of the "ideas" Rogan spent time on that didn't involve his use of the N-word or somehow negated his use of it. Graham responded that "the use of the N-word is allowed by rappers and other things on Spotify, so it breaks down to the usual line that you can't say it -- he can say it, you can't say it."
(The MRC played similar whataboutism with Rogan's embrace of the N-word when the story first broke in the middle of its defense of him.)
Graham worked up a little mock outrage that Rand Paul, "who's not just a senator but who's an actual medical doctor," was "censored" over COVID-related remarks. Bradley then laughably called Solomon "a longtime journlaist, reliable journalist" (um, no, he's not) and insisted that the study was "an academic study" by "some medical professionals in some European country" -- but he hid the fact that Solomon's reporting on the study was misleading. Bradley then went on to portray Sammons' anti-LGBT hate as merely speaking "simple, embedded Christian concepts," and that "censoring" him "is really an assault on the country itself," to which Graham responded by arguing that a Twitter account purporting to be God but actually written by an atheist should be banned for alleged blasphemy.
Tierin-Rose Mandelburg also promoted the bogus numbers in her July 27 CensorTrack podcast.
Posted by Terry K. at 9:12 PM EDT