CNS Intern's One-Source Story Bashes Swear Words In 'Stranger Things'
Topic: CNSNews.com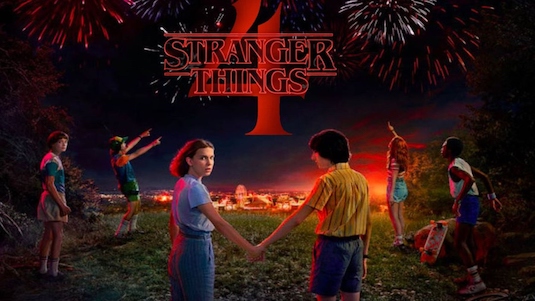 Stephanie Samsel served up yet another example of unbalanced content from CNSNews.com's summer interns in a July 11 article:
During its first four seasons, Netflix's "Stranger Things" aired an overall 217% increase in profanity and an overall 307% increase in violence, despite keeping a TV-14 rating, according to a new Parents Television and Media Council (PTC) report.

While the single use of "f**k" on cable television usually warrants a "TV-MA" rating, Netflix's hit sci-fi and horror series "Stranger Things" has featured it over 20 times from Season 1 to Season 4.

From Season 1 to Season 4, PTC calculated a nearly 740% increase in "sh*t" and a 100% increase in "b*tch," just two of five expletives listed.

There was also a steep spike in graphic violence (756%) across the total four seasons.

Still, "Stranger Things" has a strong reach to younger viewers.
Samsel quotes only the PTC, and doesn't didsclose theorganization 's right-wing ideology or that it was founded by her boss, Media Research Center chief Brent Bozell. Thus, she ignores that real-life teenagers use swear words, and it was important to the creators of the show, the Duffer brothers and their producer, Shawn Levy, to reflect that reality:
According to the brothers and Levy, the authenticity of pre-teens experimenting with cursing was their primary reason for insisting the kids curse. It helps that it's also hilarious.

"Everyone wanted it to feel authentic and so I think once these kids, these words coming out of their mouths, it felt authentic," Matt [Duffer] said. "And then Gaten [Matarazzo] screaming 'shit' is just gold. It's comedy gold."
Given that "Stranger Things" is essentially a horror series, there will be violence. The PTC report doesn't define the differences between "violence," "graphic violence" and "gore," even though it's all meticulously counted and quantified. Instead, the report essentially advocated censorship, criticizing the show's season 4 opening episode, which starts with the aftermath of a massacre that includes children, and even though the show added a disclaimer warning of the graphic scenes given that the episode dropped shortly after the gun massacre at a school in Texas, that wasn't enough for the PTC: "=The shocking depiction of dead children would be insensitive even if the tragedy hadn't occurred. We question why Netflix would invite viewers to be entertained by such a scene, and we decry TV-14 rating Netflix assigned to it."
Samsel was silent about this apparent call to censorship as she was about any view that didn't involve the PTC attacking the show.
Posted by Terry K. at 6:33 PM EDT