CNS Touts Cheaper Gas In Mexico, Censors That Its Oil Industry Is State-Owned
Topic: CNSNews.com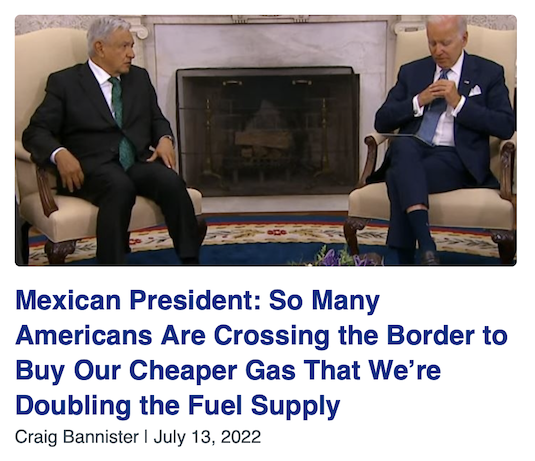 CNSNews.com took another oil-related shot at President Biden in a July 13 article by Craig Bannister:
The president of Mexico says that so many Americans are crossing the border into his country to save money on gas, that he's doubling the fuel supply at gas stations near the border - and putting "over 1,000 kilometers of gas pipelines" at President Joe Biden's disposal.

In a White House meeting with Biden on Tuesday, Mexican President Andrés Manuel López Obrador explained how he's helping out while the American people are waiting for the Biden Administration to do something about high gas prices:

"In the meantime, while we're waiting for prices to go down, we have decided that it was necessary for us to allow Americans who live close to the borderline so that they could go and get their gasoline on the Mexican side at lower prices."

"And right now, a lot of the drivers — a lot of the Americans — are going to Mexico, to the Mexican border, to get their gasoline," López Obrador said, noting that the price of a gallon of gas is more than a dollar and a half less expensive in Mexico:

"Right now, a gallon of regular costs $4.78 average on this side of the border. And in our territory, $3.12."
But Bannister didn't mention the main reason why López Obrador would have the ability to do that, and why Mexico's gas prices are cheaper than the U.S.: Mexico's oil industry has been nationalized and is operated by the Mexican government and has more control over gas prices than the private company-driven U.S.
This was followed by a July 15 article by intern Janey Olohan serving up Fox News stenography:
"The government of Mexico, in the middle of a drug war, is taking better care of its citizens than Joe Biden is taking care of his citizens. And that is shameful," Fox News' Tucker Carlson stated Wednesday on "Tucker Carlson Tonight," discussing the steadily increasing price of gas across the United States.

While the price at the pump at U.S. gas stations remains near its record-high set last month, the average cost of a gallon of gas in Mexico is significantly cheaper – so much so that Americans are now filling up their tanks across the border.

[...]

Carlson questioned the narrative being pushed by the Biden Administration and liberal media that Russian President Vladimir Putin is responsible for the increase in U.S. gas prices:

"So you have to ask yourself: if we're paying more for gas because of Putin's price hike, why isn't Mexico paying more for gas because of Putin, too? Why is inflation up, when wages are down? This doesn't make any sense."

U.S. government policies are the reason gas costs more in the U.S. than it does in Mexico, Carlson said:
Olohan touted Carlson noting that "spent $2 billion in subsidies to keep gas prices lower for consumers," but she failed to note that Mexico's oil industry is state-controlled, which give it much more flexibility to do such things than Biden can.
Posted by Terry K. at 12:04 AM EDT