WND Whines About State Crackdown On COVID Disinformation
Topic: WorldNetDaily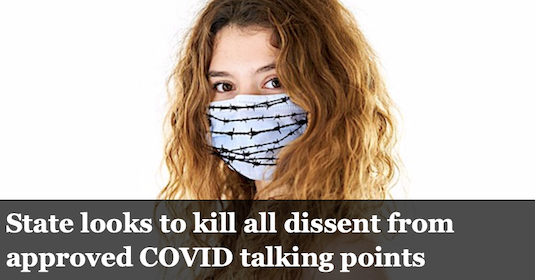 WorldNetDaily's Bob Unruh spent a June 26 article complaining that a state wants to shut down disinformation about COVID vaccines:
California is threatening to punish any physician who dissents from the approved medical agenda regarding COVID, according to a warning from Aaron Kheriaty, a former professor at the UCI School of Medicine and now a senior scholar at the Brownstone Institute.

He explained in an online commentary that he soon will be testifying at a state Senate committee hearing on the legislature's AB 2098.

It would "give the [state] medical board the authority to punish any physicians who challenge the safety and efficacy of COVID vaccines."

Those, of course, have been blamed for countless serious side effects, such as heart problems in young men who take the experimental shots.
Unruh didn't mention why Kheriaty is a former professor at the University of California at Irvine: he refused to get vaccinated as the university system required, and no legitimate medical authority recommends deliberately catching COVID to confer the "natural immunity" Kheriaty claimedwas better than getting vaccinated.It has since been shown that vaccination on top of a previous infection may be better than infection alone. Also, Unruh is lying by continuing to claim the vaccines are "experimental"; both the Pfizer/BoNTech and Moderna vaccines have been fully approved by the FDA.
The Brownstone Institute, by the way, is run by the same folks who put forward the Great Barrington Declaration, the anti-vaxx-adjacent document that pushed dangerous "herd immunity" before COVID vaccines were developed.
Because Kheriaty is a fellow anti-vaxxer, Unruh devotes space to him to spread his conspiracy theories:
He said the plan is to "enshrine in law" those "scientific" conclusions including those about the shots that are "highly dubious."

For example, he cited the claims that COVID has claimed the lives of 6 million worldwide, and the Centers for Disease Control shows "that unvaccinated individuals are at a risk of dying from COVID-19 that is 11 times greater than those who are fully vaccinated."

Third, there's the claim that the "safety and efficacy" of the shots has been "confirmed through evaluation by the federal Food and Drug Administration…"

He warned that all three assumptions are "demonstrably false."
Unruh also gave Kheriaty space to falsely conflate changes in care as doctors learned how to treat a novel virus with his own less-than-credible anti-vaxxer fantasies:
He cited the fact that COVID public health recommendations have changed over and over, sometimes from month to month.

"It was frontline ICU physicians who discovered and spoke out about bad outcomes when patients were prematurely placed on ventilators. This shifted the consensus in the direction of avoiding ventilation as much as possible. Likewise, it was frontline physicians who discovered that placing covid patients face-down in the prone position while they were ventilated could improve outcomes, challenging another consensus. Both of these advances came by way of challenging the way things were currently being done. Other physicians challenged the early consensus, which did not recommend the use of steroids to treat Covid. Eventually, this dissenting opinion gained ground and now represents conventional thinking: corticosteroids for critically ill covid patients are now standard care," he said.
You wil not be surprised to learn that Unruh did not allow anyone to respond to Kheriaty's rantings.
Posted by Terry K. at 5:48 PM EDT