Newsmax Cranks Out Even More Trump Stenography
Topic: Newsmax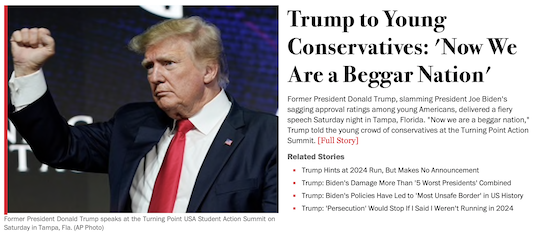 Newsmax has long been a servile stenographer for Donald Trump, and it did so again, and it was quite busy on a period of a few days in July. Trump spoke in Arizona on July 22, and the stenography from Sandy Fitzgerald came hot ahd heavy:
Fitzgerald made no effort to fact-check anything Trump said.
For Trump's July 23 speech at the Turning Point USA convention in Tampa, Newsmax writer Eric Mack dutifully cranked out his share of stenography:
Mack also did stenography for the Trumpier of the convention's speakers, gushing in one article that "Firebrand Rep. Matt Gaetz, R-Fla., blasted abortion activists in a rant sure to raise dander of his political opponents and has raised calls for canceling by liberal activists on Twitter" by "call[ing] abortion activists overweight, unattractive, and very unlikely to need an abortion." No mention, of course, that Gaetz is currently under investigation for alleged sex trafficking and having sex with an underage girl.
Mack followed up with at July 25 article cheering how "Trump (78.7%) trounced DeSantis (19%) by nearly 60 points in the Tampa, Florida, weekend conference's straw poll conducted," taking a shot at the person perceived to be Trump's greatest competition in 2024: "As hard as it is to find a 2024 Republican presidential primary poll that favors Florida Gov. Ron DeSantis, it is equally difficult to find a poll that favored former President Donald Trump more than Turning Point Action's straw poll."
As with Fitzgerald, there were no fact-checks of Trump to be found anywhere in Mack's work.
The apparently unironically named Charlie McCarthy wrote a July 25 article on how Trump "will return to Washington, D.C., on Tuesday for the first time since leaving office" to give "a keynote speech at the America First Agenda Summit," desperately trying to portray Trump as a serious policy guy despite all evidence to the contrary:
While Democrats in Congress remain focused on the Jan. 6, 2021, Capitol attack, former Speaker Newt Gingrich said Tuesday's speech will allow Trump to look forward and explain how a second term as president would benefit the nation.

[...]

Before the 2020 election, Trump's team composed a two-page policy agenda document titled "Vision 2025" — which was reviewed by Politico — that outlined what would be accomplished by the end of 2024, under the subhead: "renewed, restored, rebuilt." The election results, however, ended those plans.

Trump's former domestic policy adviser Brooke Rollins told Politico that Trump's speech would represent a "State of the Union 5.0."
McCarthy devoted a second article to touting how Newsmax was going to air the speech. For the speech itself, Mack again did the stenography duties:
Again, there was no fact-checking to be found.
And if that wasn't enough Trump fawming, a July 27 article by McCarthy uncritically parroted the latest Trump rantings on his social media site. Sadly, we expect nothing less (and nothing more) from Newsmax.
Posted by Terry K. at 1:20 PM EDT
Updated: Tuesday, August 16, 2022 1:34 PM EDT