CNS Attacks Durbin's Change Of Heart On Abortion -- But Censors His Defense
Topic: CNSNews.com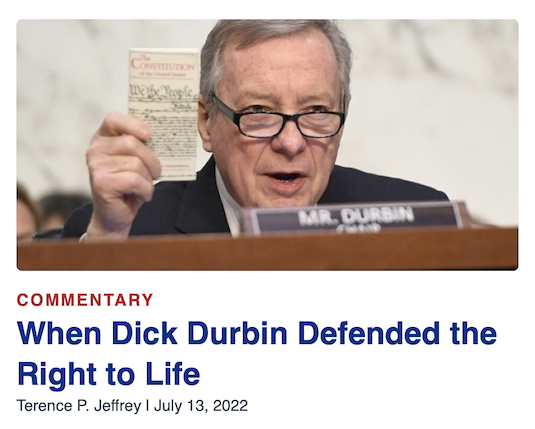 Anti-abortion obsessive Terry Jeffrey used his July 12 CNSNews.com column to attack Democratic Sen. Dick Durbin for having changed from opposing abortion to becoming pro-choice. He first referenced a letter Durbin had sent to a local anti-abortion group in 1989 outlining his opposition to the procedure, then complained:
Since his election to the Senate in 1996, Durbin has voted against the confirmation of each of the four Supreme Court nominees who eventually joined Justice Clarence Thomas (confirmed in 1991) in overturning Roe. These included Justices Samuel Alito, Neil Gorsuch, Brett Kavanaugh and Amy Coney Barrett.

This week, Durbin held a hearing in the Judiciary Committee, where he condemned the court's decision in Dobbs v. Jackson Women's Health Organization.

At this hearing, he euphemistically referred to abortions as "reproductive health care choices" and declared them "a constitutionally protected right."

"This case represents the first time in America's history that the Supreme Court has revoked a constitutionally protected right," Durbin said.

"As a result," he said, "a woman's personal decision to make her own reproductive health care choices is no longer protected or guaranteed by the Constitution."

"We know the Republican plan: win control of Congress and impose a federal ban on abortion," Durbin said. "Democrats have a different plan: protect your rights by enshrining in (to) law a federal statutory right to an abortion.

"A woman's choice to get an abortion is her choice alone," he said.
Jeffrey went on to piously lecture Durbin:
The truth is that choosing an abortion does not involve just one human being. It involves one human being deliberately choosing to take the life of another.

Durbin apparently knew that 40 years ago, when he opposed abortion. He apparently knew it 30 years ago, when he still opposed abortion. Could he have really decided — as a grown man serving in the United States Senate in the closing years of the 20th century — that an unborn child is not really an unborn child?

If anything, technological developments in the decades since Durbin led those anti-abortion demonstrations at the Illinois Capitol have made it more obvious that an unborn human being is precisely that: a human being.

Perhaps Durbin — as a member of a pro-abortion rights political party — has chosen the pursuit of power over the pursuit of truth.
But Jeffrey deliberately censored Durbin's reasons for changing his view on abortion -- even though he brought them up in the very hearing he was quoting Durbin speaking at, as a response to an anti-abortion Republican senator who brought up that letter. As a more thorough journalistic operation reported:
Sen. Dick Durbin (D-Ill.), the chairman of the Senate Judiciary Committee, detailed his change of heart on abortion laws on Tuesday after GOP members of the committee pointed out his past desire to overturn Roe v. Wade.

[...]

At the end of Tuesday's hearing, Durbin told the committee and the panelists that the letter and his past views on abortion were not new but went on to explain how his mind had been changed on reproductive rights during a meeting with young people in Illinois.

"I sat down with two young women who were about to turn 18 — one a victim of incest, one a victim of rape — and they told me their stories. I didn't ask them to, but they wanted to tell me. I left that meeting with a kind of understanding that I had never had before about the complexity of the decision behind the abortion procedure," Durbin said.

"I thought to myself, 'As an individual member of Congress, are you ready to pass a law that applies to every woman in America?' No. It really has to be her decision. And we can regulate it as we should, but at that point I made my break," he added.
So much for Jeffrey's bogus speculation that Durbin changed his views for "the pursuit of power."
CNS wasn't done with Durbin yet, though. Jeffrey sent an intern to pester him about his change of heart for a July 29 article:
Sen. Dick Durbin, who famously switched from a pro-life position to a pro-choice position, was asked if he thought abortion involved moral questions, and he responded that it is "Certainly a moral question when we have a 10-year-old who's being raped and then told to carry the baby to term."

At the U.S. Capitol on Tuesday, CNS News asked Sen. Dick Durbin (D-Ill.), "Senator, you said that you switched from your pro-life position to a pro-choice position in part because of cases of rape and incest. Would you support a ban on abortion that made exceptions for rape and incest?"

Sen. Durbin responded, "I learned a long time ago that this is a decision should be made by the wife, the woman, the doctor and the family."

CNS News followed up, "Do you not think that there's any moral question involved?"

Durbin responded, "There's certainly a moral question when we have a 10-year-old who's being raped and then told to carry the baby to term. Yes, that's a moral question too."
The intern linked back to Jeffrey's column, blandly referring to it only as "a recent CNS News commentary" -- but, unlike her boss, reported Durbin's own words on his change of heart. That's one of the few examples we've seen this summer of CNS interns who actually acted more like journlaists than partisan right-wing narrative-pushers.
Posted by Terry K. at 12:20 AM EDT
Updated: Tuesday, August 16, 2022 12:23 AM EDT