WND Also Whined About Capitol Riot Hearings
Topic: WorldNetDaily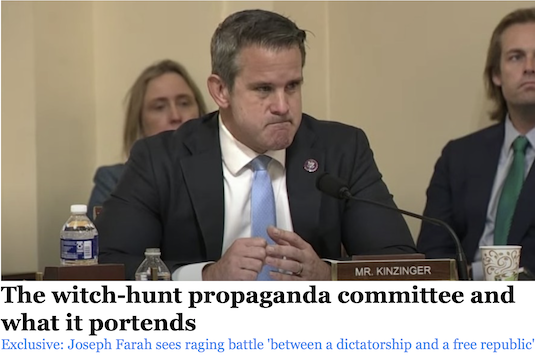 Like other ConWeb outlets, WorldNetDaily has done its share of whing about the House committee looking into the Capitol riot. Here's a few examples of the commentary WND has produced on it around the time of the first hearing:
While Trump-endorsed candidates win stunning primary victories in Ohio and Pennsylvania, Democrats and the liberal media go all out with a propaganda hearing of the Jan. 6 committee to air Thursday evening at 8 p.m. Eastern. ABC, CBS, NBC and every other network except Fox gang up with the same futile goal: to try to stop one man, Donald Trump.

Americans have already heard and rejected the anti-Trumpers' fraudulent spin on last year's Jan. 6 rally at the U.S. Capitol, and the public has long since moved on. More Americans prefer Trump to Biden now, as we struggle to cope with the "Bidenflation," another foreign war and many other problems.

But rather than address real issues facing our country, Democrats and Liz Cheney, R-Wyo., resort to their theater of the absurd. They will present their tedious, biased version of Jan. 6, while Tucker Carlson on Fox will compete with an honest explanation of what happened.

The U.S. Capitol is a public building, and video evidence shows that police officers opened an entrance to welcome the rally-goers inside on Jan. 6. Other video evidence shows uncharged individuals who infiltrated a peaceful crowd and incited confrontations that day, yet government witnesses refuse to explain the active role of government agents and informants.

[...]

The next witnesses at the upcoming J6 hearing should be the many innocent people who entered the Capitol to peacefully exercise their First Amendment rights. The public should hear about the toll the Deep State infringement on their constitutional rights has taken on them and their families.

A real hearing would invite testimony by Trump supporters abused in the D.C. Gulag, who could be brought into the hearing room in shackles and chains. Then the public would benefit from testimony by their family members about how difficult this ordeal has been for them.
-- Andy Schlafly, June 7 column
It's finally done a year and a half later.

The Democrats get a special prime-time to tell all their lies about the Jan. 6 "insurrection" at the Capitol, for as long as it takes.

Great propaganda, oozing with the feel of Watergate – except no meaningful dissent, no explanation of human-rights violations involving locking people up without a key, no discussion of the speedy-trial guarantee under the Constitution. There will be no truth about the coercion used against innocent Americans. There will be no mention of Nancy Pelosi's responsibility in setting up this charade. It will be a show trial – a first for America.

Yes, it will be an unpaid TV commercial for not allowing Donald Trump to run for president in 2024 – even though he was cheated out of a victory in 2020.

Blaming the victim – Trump and innocent Americans.
-- Joseph Farah, June 8 column
It is important to keep Rivera's Capone story disaster in perspective as on June 9 two major networks begin the first of six broadcasts that for all intents and purposes are nothing more than another publicity stunt – this one of a political nature. The broadcasts will focus on the conclusions of a Democratic partisan investigative committee – assisted by two anti-Donald Trump Republican members – from its hearings held on the Jan. 6, 2021, riot on Capitol Hill.
-- James Zumwalt, June 8 column
Now you should be able to see how radical, extremist, fanatic and subversive the Jan. 6 Committee is.

Is this the way America is supposed to be? Is it the way committees of Congress are supposed to act? Is there any precedent for the behavior?

No. The Democrats and their RINO Republicans are desperately trying to hold on to a system of government that doesn't work. It's not supposed to work.

It's the difference between a dictatorship and a free republic on display.

What they won't tell you is the truth – about anything.

[...]

When about a million people came to Washington on Jan. 6 to express their clear convictions that they were robbed of their birthright, they are called "insurrectionists" – all of them.

Some are then enticed by government provocateurs to enter the "hallowed" halls of Congress. Most of then don't think they're breaking the law. They are actually invited in by overwhelmed Capitol Police. (You can view that in pictures and lots of video footage, but not on those carefully selected by the Jan. 6 Committee.)

It's a set-up. Get it?

[...]

What they will not tell the American people, no matter how long is goes on, is that Trump offered Nancy Pelosi and Washington's disgraceful Mayor Muriel Bowser at least 20,000 National Guardsmen to keep order at the Capitol that day. They turned it down! This is PROOF he did not plan the "insurrection." He tried to PREVENT it. Period. End of story,
-- Joseph Farah, June 13 column
Farah dropped several falsehoods in that last column:
Rally attendance was actually much closer to 10,000.
If rioters were "invited" to enter the capitol, why wwere Capitol Police fighting the rioters?

There is no evidence Trump made such an order, which means there is no evidence that Pelosi and Bowser "turned it down."
Meanwhile, a June 10 "news" article by Bob Unruh served up stenography of a Tucker Carlson segment claiming to claiming to identify "lies about Jan. 6."
Posted by Terry K. at 6:07 PM EDT
Updated: Monday, August 15, 2022 6:14 PM EDT