MRC's Double Standard On Sex Scenes In Politicians' Books
Topic: Media Research Center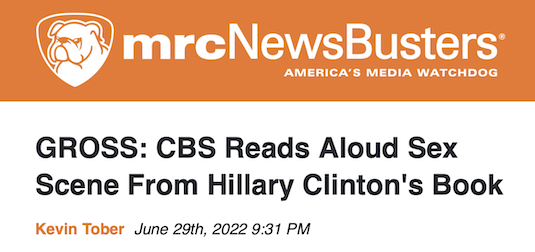 The Media Research Center's Kevin Tober proved that Hillary Derangement Syndrome is still alive and well after all these years in a June 29 post:
You could've gone your entire life without witnessing this and you probably would be better off too. On Wednesday's CBS Mornings, co-anchor Gayle King sat down with former first lady, Secretary of State, and failed presidential candidate Hillary Clinton for part two of a gushy softball interview about her new fiction political thriller called State of Terror. At one moment in the interview, most sane viewers were probably driven to a state of terror and revulsion when King read aloud from a sex scene in the book which Clinton and co-author Louise Penny wrote.

[...]

While King seemed to be having a blast laughing while Hillary cackled and screeched with her friend Louise, it's safe to say that even the CBS audience was repulsed over the thought of a sex scene written by Hillary Clinton.

Yet, the band of leftists at CBS Mornings loved it, and even after the interview was over, couldn't stop swooning over Clinton and Penny like a group of preteens at a Justin Bieber concert.
Yes, the MRC really thought this merited a full-length post from one of its full-time "media reserarchers."
By contrast, a sex scene by another female politician got treated differently by the MRC. Back in 2006, when the MRC and its "news?" division CNSNews.com were trying to smear Democratic Virginia Senate candidate James Webb as a pedophile (and thereby boost the Republican candidate, George Allen of "macaca" fame) by cherry-picking out of context certain passages from fiction novels he wrote and portraying them as his personal beliefs. In response, some folks noted that then-second lady Lynne Cheney wrote a steamy book that included a lesbian sex scene. The MRC dismissed it as whataboutism:
Noel Sheppard whined that "CNN was extraordinarily expedient in finding examples of Republican writings to deflect criticism from Webb" by offering "examples of other Republicans doing exactly what the Democrat is accused of doing."
A couple days later, Sheppard huffily included the sexy excerpt as an addendum to a post about a CNN interview of Cheney: "What follows is a full transcript of this segment. Also, for those that are interested, a blog called OC Chronicle discovered the part of Lynne Cheney's 1981 book that is being equated to the sex-scenes in Jim Webb's novels." Sheppard didn't seem grossed out by it at all.
It's quite entertaining to see the MRC whine about whataboutism when that's pretty much what it runs on these days.
Posted by Terry K. at 10:15 AM EDT