WND Melts Down Over Call For COVID Boosters
Topic: WorldNetDaily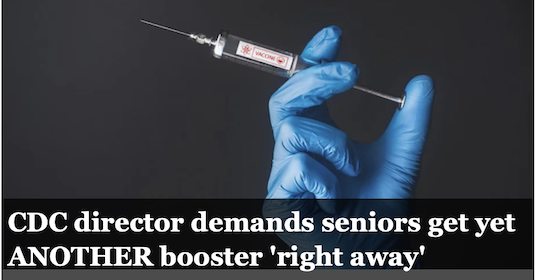 Bob Unruh ranted in a July 12 WorldNetDaily "news" article:
Just when things were getting back to normal, mostly. People could do their shopping without wearing a face covering in most retailers. The masks still are being demanded in doctors' offices, but, heck, that's where sick people are anyway.

In light of that, Joe Biden's director of the Centers for Disease Control, Rochelle Walensky, has unleashed a new demand – for seniors to get their second booster shot against COVID-19 "right away."

"Many Americans are under vaccinated, meaning they are not up to date on their COVID-19 vaccines. Not all people over the age of 50 have received their first booster dose…" she started out.

Of those over 50 only 28% have gotten their second booster after lining up to take their first, she said. Those over 65 are even worse.

"So my message right now is very simple: It is essential that these Americans … get their second booster shot right away."
Unruh appears to be gleefully unaware that the reason "things were getting back to normal, mostly" is precisely because of those vaccinees and booster. Because Unruh lives in WND's world of anti-vaxxer fearmongering, he followed up with anti-vaccine propaganda:
Meanwhile, an MIT study as tied COVID shots to cardiac arrest among young patients. And the CEO of the maker of the Astrazeneca shots was caught saying millions of people should avoid them completely.

Previously, Joe Biden's medical adviser, Anthony Fauci, said he really doesn't know how many shots ultimately will be recommended, but studies have shown they're virtually ineffective for children.

And the FDA has warned Joe Biden may end up demanding annual shots.
First: The AstraZeneca vaccine isn't even available in the U.S. Second: As we've documented, WND and other anti-vaxxers have misrepresented not only the the findings of that study (the study itself states it does not establish "causal relationships" between vaccines and heart problems) but also the link to MIT; two of the researchers were associated with the MIT Sloan School of Management and not a medical organization.
Unruh kept up the fearmongering, declaring that "WND reported earlier this year when New York Times reporter Alex Berenson called for the "dangerous" shots to be withdrawn." In fact, Berenson hasn't worked for the Times in a couple of years, and he too is a documented liar and anti-vaxxer. (Funny how WND hates the "liberal media" but will invoke the Times to put a veneer of credibility on a right-wing narrative.)
Unruh also named checked "renowned cardiologist and medical scientist Dr. Peter McCullough," who "told WND in a video interview the official pandemic narrative is 'completely crumbling' and the vaccines 'should be pulled off the market.'" Calling McCullough "renowned" doesn't wipe away the fact that McCullough too is a dishonest anti-vaxxer whom, of course, WND loves for his lies.
Posted by Terry K. at 6:03 PM EDT