MRC Tries To Deflect From Guns Again After Highland Park Massacre
Topic: Media Research Center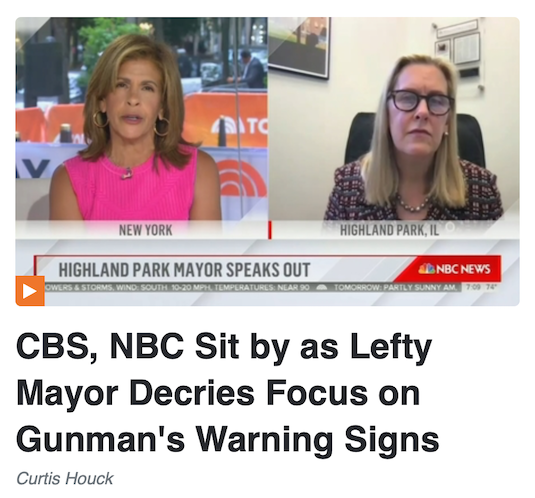 As it did after gun massacres in Buffalo and Uvalde, Texas, the Media Research Center spent the days after the gIndependence Day gun massacre at a parade in Highland Park, Ill., trying to blame everything else but guns for the massacre, even though the shooter would not have been able to kill so many people if he had not had a gun. In a July 5 post, Curtis Houck whined that TV shows had on the mayor of Highland Park to talk about gun regulation:
In the aftermath of Monday's Fourth of July shooting in Highland Park, Illinois that left six dead and dozens hurt, CBS Mornings and NBC's Today partnered Tuesday with Mayor Nancy Rotering (D) as the latter called for the discussion of the suspect's disturbing social media history (and thus the missed warning signs) and instead focus on banning "weapons of war."

Rotering first appeared on NBC and, after being asked to provide an update on the case, co-host Hoda Kotb noted that, nine years ago, Rotering "signed an assault weapons ban that was in place and is in place," >meaning it didn't prevent the shooting.

[...]

Rotering went unchallenged as she lashed out at those who disagree with her city's views on gun control, smearing Americans as having "values" that "are askew" to the point that millions of Americans robbed them of happiness on the Fourth of July.

"[B]ecause of this gun culture, our nation turned its back on us and turned its back on our celebration. We, as a country, have to have a very strong conversation with ourselves...[I]t's one of those things where you ask yourself: If this reflects the values of who we are, then what does that say about us as a nation," she added.

Kotb tried to turn the focus back to the investigation, but Rotering not only dismissed the idea of talking about the warning signs, but she called for discussion of the suspect's social media to "be diminished." What's clear, Rotering argued, was that the deranged individual "had a — a mental breakdown" and "weapons of war" allowed him to escalate his hate.
Houck didn't dispute the accuracy of Rotering's words, instead using his leadline to label her a "lefty" despite offering no evidence to back it up other than her criticism of guns, as if that in and of itself is a reliable indicator of political preference,
John Simmons attacked Australian-born baseball player Liam Hendricks for speaking from experience in his own country and having opinions that didn't conform to right-wing pro-gun orthodoxy by pointing out that "suicide rates dropped drastically, our gun-related homicides dropped infinitely" after the country instituted a gun ban following a massacre:
To be fair, Australia has had only one mass shooting since the government implemented their mandatory buy-back program in 1996 (note the word "mandatory," something Hendricks did not mention). But the low number of mass shootings has come at the expense of Australians being able to defend themselves from an overreaching, tyrannical government.

Australia had some of the strictest lockdown restrictions in the world. They enforced an incredibly draconian stay at home order for several months, and police officers would go to people's houses to make sure they were staying inside. The government could afford to oppress its citizens in large part because Australians would not be able to resist in any meaningful way since they had no access to firearms.

This is why the Second Amendment is such an important right for Americans. Men much smarter than Hendricks saw that tyrannical governments can easily oppress citizens who cannot defend themselves, which is why each American has a constitutionally protected right to own firearms. Of course, mass shootings happen and those are undeniably tragic, but to say that taking guns away to stop them from happening will leave its citizens at the mercy of its government to treat them fairly, which history shows is not a good course of action.

Hendricks really missed the strike zone on this assessment.
Simmons didn't explain why commonsense health measures to try and mitigate a deadly pandemic that has killed millionps of people around the world were "tyrannical"; then again, he is a rabid anti-vaxxer.
Emma Schultz asserted that CNN's Laura Coates "tried to whip the audience into a hysteria" and "pushed her personal overly concerned thoughts and phobias on the audience" by accuirately noting that the masacre might make some people afraid to go out in public.Schulta also claimed that Coates "introduced fabricated data from the anti-gun rights Gun Violence Archive to back up her opinions stating that "there have been 319 mass shootings just this year and 17 in the first four days of July." As we've documented, those numbers aren't "fabricated" at all -- those people are still dead -- they are just counted in a way that the MRC disapproves of because the higher number makes guns look bad.
Nicholas Fondacaro complained that CNN's Alisyn Camerota "proposed Orwellian laws designed to monitor and profile gun owners and bar them from exercising their Second Amendment rights." He didn't mention that his employer has endorsed the Orewllian monitoring of women to make sure they don't cross state lines to have an abortion.
Kevin Tober ranted that coverage of a gun massacre focused on the inescapable gun part and pointed out that right-wingers like him don't want to talk about said gun part:
On Wednesday night's episode of MSNBC's All In, host Chris Hayes and leftist journalist Aaron Rupar admonished Fox News for not covering the shooting in Highland Park, Illinois in the manner they demand. To Hayes and Rupar, if you don't cover mass shootings from the leftist gun control perspective, you aren't covering the story properly. Any solution other than gun control is inadequate according to them.

"There is a ritual that is set in on the right in the wake of the horrifying and regular spectacle of mass gun violence. In the aftermath, Republicans and right-wing media have a series of decisions to make about what to do to take attention away from what is the most obvious source of the problem" Hayes proclaimed.
Tober went on to grouse after red-flag laws were discussed: "As always, the solution to leftist policy failures is more of the same. Double down and when it continues to backfire, blame conservatives and Fox News for pointing out how the left's agenda has failed."
Brad Wilmouth whined that another logical point was made, that cities with tough anti-gun laws are undermined by surrounding jurisdictions where gun laws are much looser, claiming that itwas irrelevant because the shooter's guns were bought in Illinois, further whining that "Journalists and other liberals like to blame the more conservative state of Indiana for crime in Illinois, which has been run by Democrats continuously since after the 2002 elections." In fact, one of five recovered guns used in crimes in Chicago came from Indiana.
Posted by Terry K. at 7:33 PM EDT
Updated: Sunday, August 7, 2022 10:15 PM EDT