CNS Silently Deletes Anti-Abortion Group's False Framing Of Rabbi's 'Silent Holocaust' Reference
Topic: CNSNews.com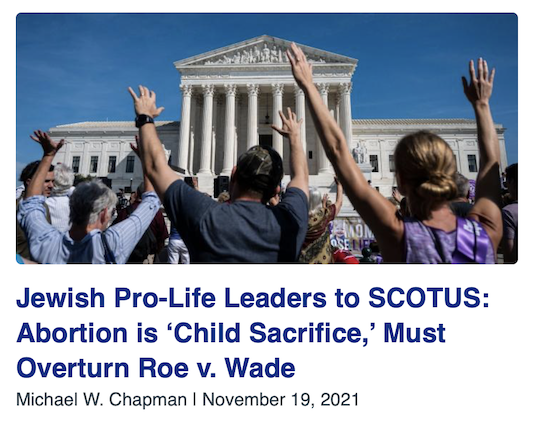 Even though the Media Research Center loves to attack the non-right-wing media for each and every mistake it makes, its "news" division, CNSNews.com, tries to bury its mistakes -- to the point that we notice only when we stumble across them in looking for something else. For instance, managing editor Michael W. Chapman wrote in an article from last November:
In a legal brief filed with the U.S. Supreme Court in support of a Mississippi law case that could upend Roe v. Wade, Jewish pro-life leaders argue that abortion "violates all Jewish ethics and laws," constitutes "child sacrifice," and has created a "silent Holocaust."

The brief calls on the Supreme Court to overturn Roe, and two other pro-abortion decisions, Doe v. Bolton and Planned Parenthood v. Casey.

Quoting Rabbi Ephraim Buchwald in reference to abortion, the brief says, "There is a Holocaust taking place in America right now. We can't hear it, because there are no barking dogs; we can't see it, because there are no goose-stepping Nazi soldiers and no concentration camps; we can't smell it because there are no gas chambers. But the net result is exactly the same. If we fail to act now . . . [t]he 'silent Holocaust' will have done its job, Hitler will have emerged victorious."

[...]

Under the Nazis, who ruled for 12 years (1933-1945), an estimated 6 million Jews were killed. Since the 1973 Roe v. Wade decision, more than 60 million babies have been killed by abortion in the U.S. alone. It is a "silent Holocaust" taking place in America, as Rabbi Buchwald said.
At some point after that -- CNS' search engine suggests that it happened on May 20 -- the Buchwald quote and reference was removed, as was a picture of Buchwald, and an editor's note placed at the top of the current version of the article:
CORRECTION: Rabbi Ephraim Buchwald was misquoted in the original version of this article. His quote has been removed, and CNS News apologizes for the error.
But that's not really accurate either. The brief from which Chapman cribbed the statement did quote him -- and continues to quote him -- saying that exact thing. But the brief lied about the context: Buchwald was talking about the assimilation of Jews into society who then may abandon their religion or simply obsess over the Holocaust, as well as a concern that Holocaust museums emphasize victimhood and not "communicate a joyous and positive message for Jewish life." The place where the ellipsis is in the quote makes that clear (deleted section in italics): "If we fail to act now, if we fail to share with our young Jews the beauty and meaningfulness of Jewish life and Jewish heritage, there will be few Jews left in the next generation who will even know that there ever was a Holocaust of European Jews."
Again: Buchwald wasn't misquoted -- Chapman accurately copied-and-pasted from the brief -- but the brief falsely portrayed the context of his quote and edited it to change its meaning. Weirdly, Chapman did not point out that the error was with the brief and not him, presumably to hide the fact that the brief got something wrong and highlighting it would harm the efficacy of the brief -- as if the brief hyperbolically attacking abortion as "child sacrifice" didn't also diminish the seriousness with which it should have been taken. Of course, as we know, the case in which the brief was filed did, in fact, overturn Roe v. Wade.
And there's something else Chapman was not going to point out: The false framing of Buchwald's quote appears to have originated with the Jewish Pro-Life Foundation, one of the parties behind the brief. A 2019 blog post displays Buchwald's words, dishonest ellipsis and all, under the headline "Why & How Jews Can Help Stop The Abortion Holocaust." The quote is repeated again at the end of the article, where readers are told "Keep in mind the prophetic words of Rabbi Ephraim Buchwald."
Perhaps we should instead keep in mind the dishonesty of this group, which feels that it must lie not only to its supporters but to the Supreme Court to push its agenda. Though Chapman gets a little blame as well for burying his cut-and-paste error.
Posted by Terry K. at 12:43 AM EDT
Updated: Tuesday, August 2, 2022 1:02 AM EDT