MRC Fails In Defending YouTuber's Anti-Biden Tweet
Topic: Media Research Center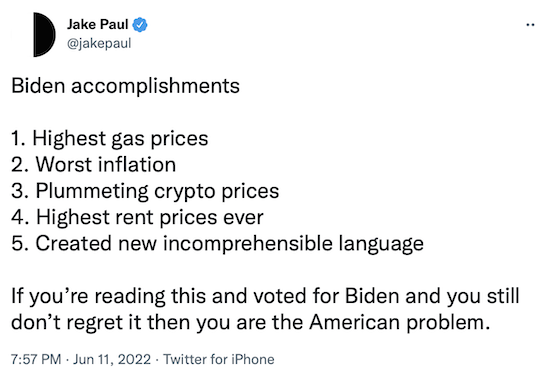 The Media Research Center's Jeffrey Clark declared in a June 13 post:
A 25-year-old YouTuber and boxer seems to have found a new political punching bag: President Joe Biden.

Jake Paul didn't pull his punches when he listed five of Biden's "accomplishments" in a June 11 tweet that went viral with over 130,000 likes and counting:

Highest gas prices
Worst inflation
Plummeting crypto prices
Highest rent prices ever
Created new incomprehensible language.

Paul told his over 4 million Twitter followers: "If you're reading this and voted for Biden and you still don't regret it then you are the American problem."

A fact-checker might have a difficult time refuting Paul's post. On an unadjusted basis, gas prices hit $5 on average nationwide for the first time ever on June 11, The Washington Times. Inflation also spiked to 8.6 percent for the steepest increase since December 1981, and average rent prices surged above $2,000 a month for the first time ever, according to NPR.
Actually, Paul's post is easily refuted, since neither he nor Clark provided any evidence that Biden is solely responsible for all of those things and identified no single policy that resulted in them.Paul andClark are merely invoking the correlation-equals-causation fallacy. But when those refuatations specifically targeted Paul blaming Biden for "plummeting crypto prices" -- after all, the main attraction of cryptocurrency for many people is that it's unregulated and largely beyond the reach of any governemnt -- Clark gamely attempted a retort:
Biden issued a March executive order to empower the government to regulate cryptocurrencies. Sens. Cynthia Lummis (R-WY) and Kirsten Gillibrand (D-NY) have teased legislation for " taxation of digital assets." Former Twitter CEO and crypto proponent Jack Dorsey pushed back on the Biden administration's attempts to control digital currency in a January 2021 letter: "Regulations that unnecessarily restrict the future of cryptocurrency are deeply concerning, specifically in the case of this Proposal which places undue burdens on consumers who seek to use it in their daily life."

After Biden's executive order and amid threat of more regulation, values of cryptocurrencies like Bitcoin and Ethereum have continued to spiral downward in recent weeks, with Ethereum alone "losing almost 20% [of its value] in the last 24 hours alone," according to a June 13 Forbes article.
First: Dorsey's letter was dated Jan. 4, 2021 -- 16 days before Biden became president -- so he could not possibly have been criticizing "the Biden administration's attempts to control digital currency." Second: The Forbes article reporting on plummeting crypto prices did not mention Biden's executive order as a factor, though it did point out that one cryptocurrency provider effectively collapsed and halted withdrawals. Indeed, Clark provides no evidence whatsoever that Biden's executive order -- which simply called for the government to look further into crypto's risks and benefits and investigate the possibility of a digital dollar currency -- had any effect on crypto markets.
Clark impressively failed in his task of defending Paul. Not a good image for his employer.
Posted by Terry K. at 3:47 PM EDT