MRC Plays Whataboutism With Badly Behaving GOP Senate Candidate
Topic: Media Research Center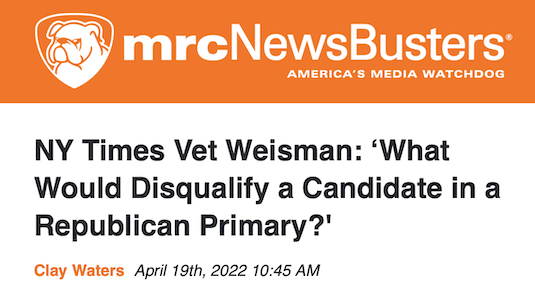 The Media Research Center is incapable of unequivocally criticizing a fellow conservative -- any criticism just be couched in whataboutism to push a narrative of equivalence with Democrats, no matter how foul the deed alleged. Case in point: Eric Greitens, former Missouri governor and current Republican candidate for a Senate seat in the state. We've already documented how Newsmax has tried to rehabilitate Greitens (with the help of columnist Bernard Kerik) despite the fact that he was forced to resign as governor over campaign finance improprieties and, more disturbing, an abusive sexual affair with shades of blackmail.
But in April, Greitens' ex-wife came forward with new accusations of domestic abuise -- something that caused even Newsmax to back off him. Meanwhile, Clay Waters rushed to play whataboutism in sn April 19 post:
New York Times political reporter Jonathan Weisman again singled out Republicans as solely to blame for some trait that is actually a bipartisan sin. Last month, Weisman singled out alleged support by GOP extremists for Russia against Ukraine.

In his Saturday report "As G.O.P. Candidates Face Accusations, Rivals Tread Carefully," Weisman began with the sordid case of former Republican Missouri Gov. Eric Greitens and new allegations of domestic violence.

[...]

The name "Bill Clinton" somehow was unmentioned, a Democrat president who notoriously escaped allegations of sexual harassment and rape thanks to a compliant press that willingly smeared and disappeared his accusers.
Waters further harped on Clinton: "Again, Bill Clinton was credibly accused of rape by Juanita Broaddrick, and of sexual harassment by Paula Jones and Kathleen Willey." In fact, Broaddrick lacks credibility because she spent 17 years denying a rape occurred -- even testifying under oath to that effect -- before flip-flopping as part of Republican wars against Clinton.
When Greitens released an ad in June that effectively advocated violence against RINOs -- Republicans in name only, in far-right parlance -- most Republicans criticized him. The MRC did too ... but also played whataboutism.A June 21 post by Mark Finkelstein spent much more time criticizing a former far-right Republican for not being a Trump toady like him than he did criticizing Greitens:
Joe Walsh is a washed-up Illinois politician and a chameleon. He's gone from being a liberal Republican to a hardcore Tea Partier and ardent Trump supporter, to becoming so fiercely anti-Trump that in addition to voting for Joe Biden in 2020, Walsh even announced, as our Tim Graham has noted, that he would vote for a "socialist" over Trump.

Walsh lasted just one term in Congress. And his 2020 "campaign" for the GOP presidential nomination didn't even last half as long as Kamala Harris' fleeting, failed effort on the Dem side.

So why does CNN regularly invite this loudmouth non-entity onto its air? Because he can be counted on to trash Republicans. On this morning's New Day, co-host Brianna Keilar interviewed Walsh regarding a controversial TV ad from Eric Greitens, who is seeking the Republican nomination for US senator from Missouri.

The ad depicts an armed Greitens saying that he's going "RINO hunting," and calling on voters to "join the MAGA crew. Get a RINO hunting permit. There's no bagging limit, no tagging limit, and it doesn't expire until we save our country."

It's an appalling take after several years of political violence. But Walsh exploited Greitens' misdeed to smear Republicans as a whole.

[...]

Note: as you'll see in the chyron, presumably to give him some credibility, CNN disingenuously still touts Walsh as an "(R)" and a "Former Presidential Candidate." Walsh quit the Republican party more than two years ago. And someone who dropped out after getting about 300 votes in the caucuses in his neighboring state of Iowa, and whose campaign lasted about as long as the half-life of a gnat, can rightly be called a PCINO: Presidential Candidate In Name Only!
That's a highly unbalanced take. Nicholas Fondacaro served up a similarly unbalanced on the same day:
The leading "hot topic" for ABC'sThe Viewon Tuesday, was the disgusting campaign ad put out by Republican Missouri U.S. Senate candidate Eric Greitens where he and a group of gun-toting cosplay soldiers wanted to "hunt" RINOs. This naturally, led the cast to ignore the widespread condemnation from the right and insist the right thought it was "funny" and had become "the party of violence!"

Completely ignoring the assassination attempt against Supreme Court Justice Brett Kavanaugh just two weeks ago by a leftist extremist, co-host Joy Behar began the discussion by declaring "the Republican Party has become the party of insurrection, revolt, and violence. And they don't make any bones about it anymore."

And noting that the Democrats had their "DINOs" in the form of Senators Joe Manchin (WV) and Kristen Sinema (AZ), Behar outrageously suggested they've never had threats made against them from the left. "You don't see us threatening their lives, the Democrats are not the party of violence. [Republicans] have become the party of violence!" she shrieked.

In reality, was part of the uncivil media machine that encouraged the kind of activity that opened Kavanaugh to the attack. And Manchin and Sinema have indeed been the target of hostile confrontations.
Fondacaro eventually conceded that "Republican Lindsey Granger was in hand to school Behar on the fact that there has been widespread condemnation of Greitens, including long before this current run at elected office. Behar couldn't believe the facts." But it's clear that thte MRC cares much more abouty playing whataboutism than serving up a substantive criticism of Greitens.
Indeed, the MRC's aim here is to pretend that Greitens' extremism isn't a substantial part of the conservative movement. Emma Schultz did just that in another June 21 post:
With the January 6 hearings well underway, the media and Democrats want to keep the focus on bashing the Republican Party and portraying them as an extremist party ahead of the midterm elections. So for Monday's Don Lemon Tonight on CNN, Lemon and former Defense Secretary and Senator William Cohen added to the mix stating outright, that these people rely on violence and "write laws which advantage them to the great detriment of health, welfare, and safety of the American people."

Referring to the Republicans supposedly "not condemning" a recent ad put out by Eric Greiten's US Senate campaign encouraging voters to join in the fight for hunting RINOs (Republican in name only.)

Cohen went on to state that "candidates like these do not represent the best of this country," for they "promote violence… promote lies, and dishonesty and dishonorable activity." Completely ignoring the plethora of Republicans and Conservatives that have condemned Greitens.

[...]

Lemon himself has encouraged political violence himself, justifying the Black Lives Matter riots that took place over the summer of 2020, and promoting the Antifa terrorist group. Excusing the extreme violence at the time, Lemon described it as the "mechanism for a restructure of our country or for some sort of change."
By that same definition, Schultz's boss, Brent Bozell, encoraged political violence by justifying the Capitol riot.
Meanwhile, Margaret Buckley couldn't even muster any criticism of Greitens' ad in her whataboutism take in a June 22 post:
The Democrat midterm gambit known as the House January 6 Committee held hearings Tuesday, spurring the host of MSNBC's Morning Joe to trash all Republicans on Tuesday morning. They used the desperate grab for attention by Republican Senate candidate Eric Greitens in Missouri as a way of trashing all Republicans and touting Democrats as the defenders of democracy.

For context, Greitens thought that it would be a good idea to promote his candidacy by depicting himself going into a house armed with a gun and other men in tactical armor. You see, he was "RINO hunting." You can make your own conclusion about whether that tactic is going to work. But it works for MSNBC.

As always, co-host Joe Scarborough led the conversations by using their favorite F-word for Republicans: "Every Republican needs to call this out unless they want fascism to continue to rise in their party." Washington Post columnist Eugene Robinson took it up a level higher by stating: "Yeah, Benito Mussolini would be proud. " He even added that "this is not a legitimate political discourse, as the Republican Party might call it."

[...]

However, the MSNBC show still missed the mark when critiquing the ad, especially when Scarborough stated that "Republicans don't call it out." These people are clearly failing to take a look at the bigger picture. The majority of people on the right do not condone ads like Greitens, and it has been criticized. And they are certainly not fascists.

The way Scarborough and friends described it made it sound like that every Republican is like Greitens and hates democracy. And on a more hypocritical note, it seems like Scarborough has forgotten about all the violence committed by the oh-so peaceful left such as the assassination attempt on Justice Kavanaugh, and numerous attacks on churches and pro-life pregnancy centers. So, branding everyone on the right as violent is downright wrong and absurd.
Needless to say, Buckley didn't mention the anti-abortion movement's history of violence and murder.
Posted by Terry K. at 3:41 PM EDT
Updated: Saturday, July 30, 2022 3:41 PM EDT