MRC's DeSantis Defense League Assembles Over Purported CRT In Math Textbooks
Topic: Media Research Center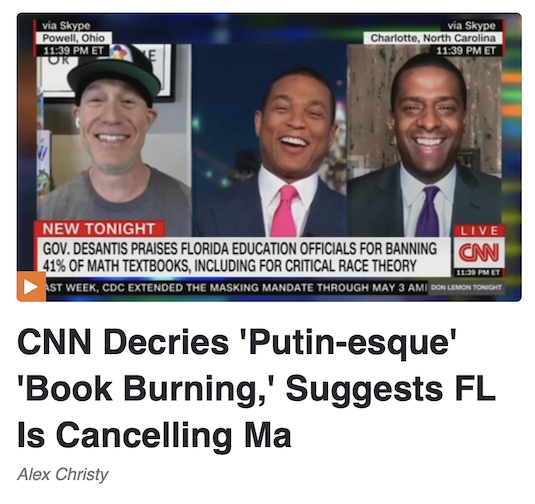 The Media Research Center is eager to defend Republican Florida Gov. Ron DeSantis for pretty much everything he does, so it was unsurprising that it rushed into defense mode over another conspiracy. An April 19 post by Alex Christy complained, as the MRC's "news" division CNSNews.com did, that DeSantis' government was called out for rejecting purported examples of critical race theory in elementary school math textbooks:
On his Monday show on CNN, Don Lemon suggested that Florida is trying to cancel math with its new anti-Critical Race Theory Law while Bakari Sellers suggested that these types of laws are "Putin-esque" and tantamount to book burning.

Lemon led Sellers by implying that the idea that CRT is in math is insulting:

[...]

Using math, it appears that Florida green lit 29% of textbooks, which means young Floridians will continue to be educated in math without any problems. Still, Sellers joked, "Wait until they find out some math is non-binary, right?"
Christy didn't mention the important fact that DeSantis cited no actual examples of purported critical race theory in the textbooks that were rejected.
Christy lashed out again at CNN in an April 23 post:
On his Friday CNN show, Don Lemon and correspondent Leyla Santiago condemned Florida Gov. Ron DeSantis for banning math textbooks that contained Critical Race Theory. When giving examples, including a bar graph alleging conservatives are more racist than liberals, it was still DeSantis that was accused of culture warring.

Lemon introduced a video of Santiago by taking a Democrat's word that CRT is not a real thing in Florida schools, "Florida education officials rejecting dozens of elementary school math textbooks, claiming that they contain objectionable material, including Critical Race Theory, which one Democratic lawmaker points out is not taught in elementary schools. Education officials now releasing four images from math books that they claim prove their point."

At the beginning of her video, Santiago showed four examples released by the state to prove this isn't a made up controversy, "One of the images, which the Department of Education says were sent to them by the public, shows a bar graph measuring racial prejudice by political identification."

What Santiago didn't say, but what the picture showed was a bar graph showing alleged racial bias in different political groups as measured by the Implicit Association Test with conservatives coming across as more racially biased than liberals and moderates.
But as we noted, those examples were released without context, and the graph Christy cited regarding the Implicit Association Test is from a high school textbook, not one for elementary students. Christy, however, didn't dispute that the test does, in fact, show that conservatives are "more racially biased than liberals and moderates," and he didn't that students are not required to take it as part of a math lesson. Instead, he attacked the test itself: "If CNN was a real news network, they would have got a differing perspective that would have informed them that the IAT is junk science that doesn't measure bias so much as reflex times measured in milliseconds, meaning that if you take the test multiple times, you will get different results each time."
Christy then got into slippery definitions of CRT that have been encouraged by its chief right-wing critic, Christopher Rufo: "Maybe CRT is technically not the correct term for the IAT and other examples the state provided, but public schools should not be teaching that one of the two major political ideologies in this country is more racist than the other, especially in a math class. That is indoctrination and CNN never gave any compelling reason why it should be in public school math curriculum."
But like DeSantis and his minions, Christy never actually proved that those things were specifically being taught in those textbooks.
Posted by Terry K. at 2:29 PM EDT
Updated: Monday, July 18, 2022 9:45 PM EDT