MRC Sports Blogger Keeps Spewing Hate At Those Who Don't Hate LGBT Athletes As Much As Him
Topic: Media Research Center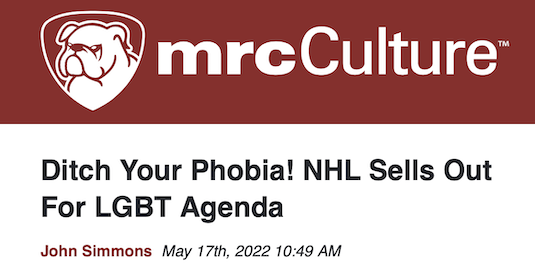 It's apparently a requirement that Media Research Center sports bloggers hate LGBT people, and John Simmons fits that bill -- he's been regularly lashing out at any sports figure or league that refuses to hate LGBT people as much as he does. (We already know he hates women.) He whined in an April 25 post:
For every bill that's passed to protect women's sports from being infiltrated by transgendered women, it seems like there is a sports team that will use its influence to promote the LGTBQIA+ agenda.

The Syracuse Crunch, the American Hockey League (AHL) affiliate of the Tampa Bay Lightning, hosted their annual pride night this past weekend in which the team wore rainbow-themed jerseys for the game while also selling a variety of pride-themed merchandise.

Furthermore, a young man by the name of Tyler Johnson, who came out as gay in 2019 and currently works "to ensure the LGBTQ+ community has equal opportunities and feels comfortable and accepted in any environment," performed the ceremonial puck drop before the game started (the Crunch beat the Laval Rocket 5-1).
Simmons then makes his homophobia and hate all too clear, demanding that only LGBT people effectively banned from public society:
Members of the LGTBQIA+ community consistently say that all they want is to be accepted for who they are and be given chances to operate as equal members of society. But oftentimes, that's not really the end goal of a majority of people in this demographic.

Frequently, the end goal is to make people completely bow down to their ideology and to ridicule people who dare to disagree with it even at a basic level. "Feeling comfortable and accepted in any environment" usually means having complete power over the thoughts and attitudes of those around them, almost to the point where anyone who does not identify with as LGTBQIA+ is viewed as a person whose heart and mind are filled with hatred and bigotry. Just look at our educational system for another example of how this plays out!

Why are we using our sports teams to promote his ideology?

In reality, we shouldn't be, not at the minor league hockey level or anywhere else in sports.
Simmons won't admit that he wants everyone to bow down to his right-wing ideology that looks down on anyone who's not exactly like him as an inferior "other."
Two days later, Simmons attacked an NFL drraftee for committing the offense of having two moms:
It would appear that we can't even joyfully anticipate the NFL Draft without making it a platform to celebrate the LGTBQIA+ agenda.

Colorado State University tight end Trey McBride won the Mackey Award for being the best tight end in college football after amassing 90 passes for 1,121 yards and a touchdown this past season, and he is likely to be the first tight end off the board once the draft starts on Friday.

But his prowess as an athlete will likely not be the main story come this weekend. No, there is a much more important aspect of this athlete that everyone should be focusing on (insert wink emoji).

McBride is set to become the first NFL Draft selectee that has two moms, something NBC's "Today" was all too glad to highlight.

[...]

For once, it would be nice to see the NFL not focus on something woke and just focus on the excitement of adding new athletes to the league. But that's as likely to happen as it is that Aaron Rodgers will stop being a drama queen.
In a May 6 post, Simmons assumed all LGBT athletes care only about sex and insisted that their heterosexual counterparts should be afraid of them:
Of all the topics that Outsports chooses to discuss when focusing on gay athletes, a piece they published on Friday might be the weirdest.

Patrice Evra, a French former professional soccer player who played for West Ham in 2018, said that some of his teammates said aloud they would refuse to shower with any gay teammates, to which he took exception.

[...]

Now, the article actually builds a logical argument in all the ways you'd need: first person sources, points supported by logical explanation, etc. But the tone of the article does something that should never be done in an argument, which is to tear down your opponent for their stance.

Some male athletes have reservations about showering with teammates that are gay, which makes sense. But the article ridicules heterosexual males for having an uneasy feeling about a potentially awkward situation.

"We've heard this idiotic trope for decades, that somehow gay men might pose a threat to straight men in the showers,"the article states. "The idea is that if you're left alone with a gay man and a bar of soap, he may... physically assault you? Stare at you longingly with his eyes? Be left unable to resist your naked body?"

For a community that wants to be accepted, they're not really doing a great job at respecting the people they want to accept them.
Simmons clearly does not respect LGBT athletes by invoking hoary old tropes to smear them. And then he blamed them for being hated by him: "Gay people tend to shame others for being put off by a lifestyle that is contrary to human nature, and basically force them into accepting them out of fear." Note that he invokes another bogus trope, that being LGBT is a "lifestyle."
Simmons spent a May 17 post whining that the NHL also doesn't hate LGBT people like he does:
For most people, today is just another Tuesday in our lives. But for the NHL (and a tiny portion of the population that care), today marks the 19th anniversary of the "International Day Against Homophobia, Transphobia and Biphobia."

In fact, the league released an ad on its Twitter page about fighting "hate" displayed toward the LGBT community that had all the hallmarks of a similar promotion the NFL released last year.

[...]

While it looked for a long time like the NHL was the last largely non-woke sports league, it would appear it's just as ideologically rotten as the rest of them now.
Only in the mind of a twisted, hateful person like Simmons is it "rotten" to not hate someone.
In an echo of his hateful rants against Lia Thomas, Simmons lashed out at another transgender athlete in a May 19 post:
A female skateboarder has vehemently criticized her sponsor company for forcing her to compete against a transgender woman in the Red Stone Cornerstone event.

Taylor Silverman called out Red Bull for allowing Lilian Gallagher (a biological male) to compete in the same division as her. Gallagher took home a grand total of $5,000 dollars in prize money in the qualifying, finals, and best trick categories. Silverman, who finished second in the first two categories, took home $2,750 in total prize money -- which would have been more had Gallagher not been allowed to compete.

[...]

While Silverman might not be getting the chance to talk to Red Bull, it is an encouraging sign that she sees that something is fundamentally wrong with what is happening in her sport and is doing something to try and change that.
And we havent' even made it to Pride Month yet, when Simmons gets really angry.
Posted by Terry K. at 9:39 PM EDT
Updated: Thursday, July 14, 2022 10:00 PM EDT