CNS' Homophobic Managing Editor Pushes Anti-Transgender Attacks
Topic: CNSNews.com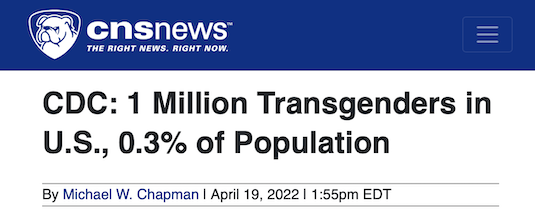 In talking about transphobia at CNSNews.com, we can't ignore the contributions from its notoriously homophobic managing editor, Michael W. Chapman.We've already noted his freakout over a transgender flag being flown outside the building for a federal agency, but there's so much more.
In a March 29 article, Chapman cheered his favorite right-wing homophobic minister, Franklin Graham, for helping to advance CNS' war on Ketanji Brown Jackson by endorsing the gotcha question Republicans asked her regarding the defintion of a woman: "Where are we going as a nation when a nominee for our highest court will not define what a woman is?" Graham also took a swipe at transgender college swimmer Lia Thomas, and Chapman concluded with a series of cherry-picked Bible verses designed to suggest transgender people are evil and going to hell.
Chapman used an April 19 article to try to shove transgender people back into the closet because they're purportedly not enough of them to be concerned about:
Although many liberal activists and lawmakers, including President Joe Biden, use their influence to promote transgender people throughout society -- see sports, modeling, cable TV, public schools, government, military -- the Centers for Disease Control and Prevention (CDC) that nearly 1 million people identify as transgender in the U.S., which is 0.3% of the population, or less than 1%.

According to the Census Bureau, the U.S. population is 331,893,745 (as of July 1, 2021). One million transgenders equals 0.3% of the total population.
Chapman then smeared transgender people as filthy disease vectors:
The CDC also reports that in 2019 (latest data available), there were "36,801 total new HIV diagnoses in the U.S. and dependent areas." Among those diagnosed with HIV, the virus that causes AIDS, 671 people were transgender, about 2% of the total diagnoses.

On a related note, gay and bisexual men made up 69% of the new HIV diagnoses: 25,552 people.

For the transgender women (biological males) newly diagnosed with HIV -- 625 total -- blacks made up 46% of the cases, or 289 people. Hispanic trans women made up 35% of the cases, 221 people, and white trans females comprised 13% of the new diagnoses, 80 people.

For the HIV-positive among trans men (biological females) -- 46 total -- 41% (19 people) were black, 26% (12) were Hispanic, and 24% (11) were white.

According to the CDC, "there are several challenges that place transgender people at higher risk of HIV." This includes transphobia, racism, HIV stigma, and lack of knowledge.
Chapman loves portraying LGBT people as worthless HIV carriers.
In addition to rehashing hic complaint that "Health and Human Services Secretary Xavier Becerra had the transgender flag flown outside HHS headquarters in Washington, D.C. ... the first time in U.S. history that the trans flag had been displayed outside a federal building," Chapman also cited right-wing anti-transgender psychiatrist Paul McHugh as well as the anti-LGBT Family Research Council without identifying the anti-LGBT ideology; he did, however, identify the Human Rights Campaign as "pro-LGBTQ."
Chapman wpent an April 25 article ranting that Notre Dame refused to hate LGBTQ people as much as he does, claiming the school can't really be Catholic unless it does:
Although the University of Notre Dame in South Bend, Ind., is supposed to be a Catholic institution "defined by its Catholic character," it sponsors an LGBTQ+ alumni group that held a campus event this month to honor one of the plaintiffs in the Supreme Court case that legalized "gay marriage." The alumni association also gave an award to South Bend transgender activist Meghan Buell.

[...]

An alumni group of faithful Catholics that oppose the Notre Dame sponsorship of the ARC, the Sycamore Trust, is headed by 1952 alumnus William Dempsey. He told the National Catholic Register that the ARC ND awards event was a "scandal of the first order."

"Notre Dame's official blessing of an LGBT alumni group hostile to Church teaching on sex, marriage and gender has had its predictable result," he said. "The very first act of the new official LGBT organization is sponsorship of an 'LGBT Awards Weekend' to celebrate prominent proponents of same-sex marriage and gender change."

Dempsey also cited a document issued by the U.S. Conference of Catholic Bishops entitled Catholics in Public Life. It partly reads, "The Catholic community and Catholic institutions should not honor those who act in defiance of our fundamental moral principles. They should not be given awards, honors or platforms which would suggest support for their actions."
Chapman doesn't explain where, exactly, it is "Catholic character" to spew hatred at LGBT people as he demands, or why one can only be "faithful" if you spread that hate. And, again, he ended with some Bible verses.
Posted by Terry K. at 11:09 AM EDT
Updated: Sunday, June 26, 2022 11:27 AM EDT