WND Cheers Ruble's Value To Own Biden
Topic: WorldNetDaily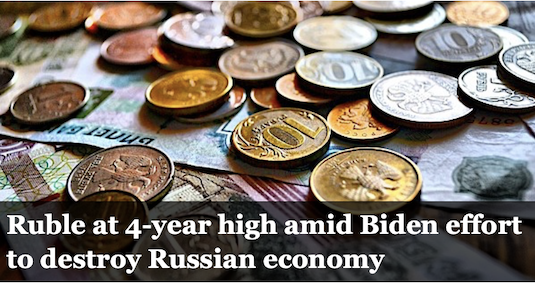 Art Moore was effective rooting against America and for Russia in a May 19 post:
The hard economic figures indicate President Biden's effort to crush the Russian economy in response to Moscow's invasion of Ukraine isn't working.

The ruble hit a four-year high this week.

In March, Biden touted the sanctions and other measures to punish Russia economically.

"You need 200 rubles to equal $1 today. Two hundred," he said.

The president said the "totality of our economic sanctions and controls are crushing, crushing the Russian economy."

Now, it takes about 62 rubles to equal $1.
As a dishonest reporter, Moore made sure not to report on why the ruble is doing so well. Meanwhile, an honest news outlet reported on why -- turns out it's being driven by Russia demanding that foreign companies still trading with it convert its currency to rubles -- which it can do because many countries have no easy substitute for Russian oil and gas -- as well as an initial ban on Russian citizen from transferring money abroad, which has since evolved to a $10,000 per month limit.Even so, Russia just barely managed to avoid a financial default with an 11th-hour bond payment.
While the ruble has continued to do well, financial experts say that's all artificial; one expert says the current exchange rate 'is really a Potemkin rate, because sending money from Russia abroad given the sanctions — both on Russian individuals and Russian banks — is incredibly difficult, not to mention Russia's own capital controls."
The ruble is still a mess but the numbers currently look good, and that's all Moore cares about because hating Biden is more important than reporting facts. He doesn't see that rooting against America to own the libs is one reason his employer is going down the tubes.
Posted by Terry K. at 12:40 AM EDT
Updated: Saturday, June 25, 2022 12:43 AM EDT