Newsmax Actually Asked Zelensky If Trump Would've Stopped Russian Invasion -- Then Buried It
Topic: Newsmax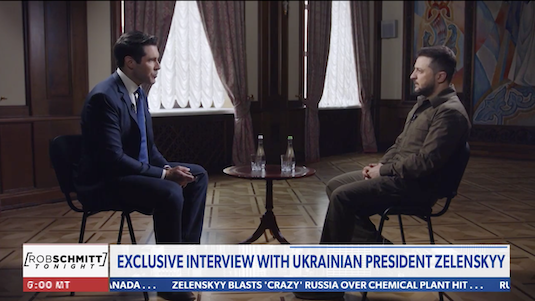 Newsmax has demonstrated one key streak of independence from slavish right-wing orthodoxy by being a (mostly) solid supporter of Ukraine after it was invaded by Russia -- to the ppoint that it sent TV host Rob Schmitt to Ukraine and scored and interview with Ukraine leader Volodymyr Zelensky. Newsmax CEO Christopher Ruddy announced the interview in a May 31 article:
Newsmax CEO Christopher Ruddy met Tuesday in Kyiv with Ukrainian President Volodymyr Zelenskyy at his presidential offices.

Mr. Ruddy expressed his admiration for the courage and tenacity of the Ukrainian people in their fight for freedom and sovereignty.

President Zelenskyy expressed his gratitude to the Newsmax audience for its strong support and for the strong support of the American people in Ukraine's struggle to defend their country from Russian aggression.

[...]

After the meeting, President Zelenskyy sat down with Newsmax primetime host Rob Schmitt for a half-hour discussion about the security situation in Ukraine and across Europe.
But even then, it can't completely stop injecting a pro-Trump viewpoint into it. According to a report from the UK Independent:
Ukraine President Volodymyr Zelensky dismissed the suggestion that Donald Trump could have stopped Russia from invading his country in an interview with Newsmax.

Speaking on Tuesday with anchor Rob Schmitt, the Ukrainian leader said he "cannot predict" what would have happened if Mr Trump was still US president.

Schmitt proposed: "There are many Americans that believe that if somebody like Donald Trump was still in the White House that this invasion would not have happened. What is your position?"

"I am sorry if I'll be saying something that you don't like but for us as the country in war, it doesn't matter whether it's Democrats or Republicans," Mr Zelensky replied." It's the people of the United States that support us".

Mr Zelensky continued by saying that "anybody could become the [US] president", including those who did not like Ukraine and those who were empathetic towards Vladimir Putin, the Russian president.

"Some might like Ukraine more, some less. Some might have respect for Putin, and some might not ...but the values our country is fighting for are definitely the ones shared by the US," Mr Zelensky said.
Meanwhile, Newsmax cranked out several articles about its Zelensky interview:
But it was only in that last one that it was mentioned that Schmitt asked, and then it wasn't mentioned until the fourth paragraph. The article, by Eric Mack, reprinted much of Zelensky's response but not the part where he said to Schmitt, "I am sorry if I'll be saying something that you don't like." That statement still appears in the accompanying video clip.
It seems like Newsmax knew Schmitt's question was dumb and sought to downplay it. That's a sign of self-awareness that we haven't seen from WorldNetDaily.
Posted by Terry K. at 2:24 PM EDT
Updated: Tuesday, June 21, 2022 3:23 PM EDT