MRC Hypocritical Whoredom Watch
Topic: Media Research Center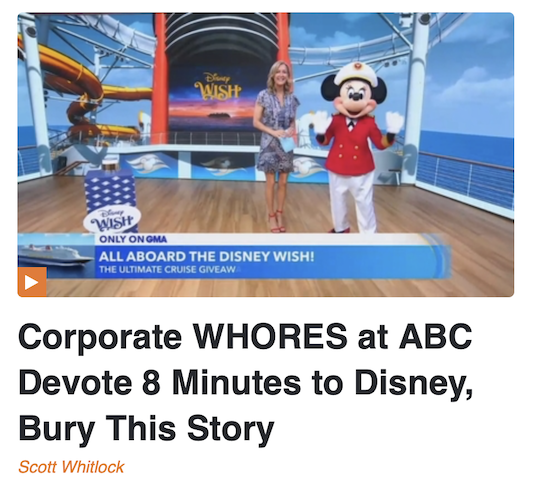 The Media Research Center -- specifically, writer Scott Whitlock -- loves to denigrate other media outlets as being "whores" for its owners by promoting projects by corporate siblings, despite the MRC's own longstanding practice of whoring out its "news" division, CNSNews.com, to promote MRC narratives and other projects. Whitlock did this again in an April 27 post:
If you ever hear ABC News investigate some politician or organization for doing the bidding of corporate overlords, be sure and laugh. Because it's hard to find journalists more compromised than those at Good Morning America. On Wednesday, they devoted a combined eight minutes and 24 seconds to shilling for corporate bosses Disney.

At the same time, however, they have important, tragic stories, like the drowning of Army National Guardsman Bishop E. Evans. He drowned while heroically attempting to save migrants crossing the Rio Grande. ABC's morning and evening newscasts devoted 20 seconds total since last Friday.

Instead, GMA on Wednesday devoted three segments to promoting Disney cruises and one to promote the Disney movie Encanto. Take a look at this clip and see if you can figure out: News story or Disney PR?
As we've documented, the MRC used CNS for a combination of whoredom and logrolling earlier this year around boss Brent Bozell's new book. The whoring began when CNS editor Terry Jeffrey did an extremely softball interview with Bozell to promote the book;' it followed that up with a fawning review of Bozell's book by Craig Shirley, after which Bozell gave Shirley a gushing review of his book, bollowed by Jeffrey tossing softballs to Shirley for a promotional "interview."
Funny how Whitlock is unable to see that ridiculous whoredom happening right under his nose. He must get paid pretty well to be able to ignore such blatant hypocrisy.
Posted by Terry K. at 12:49 PM EDT