WND's Brown Embraces Musk's Bogus Graphic
Topic: WorldNetDaily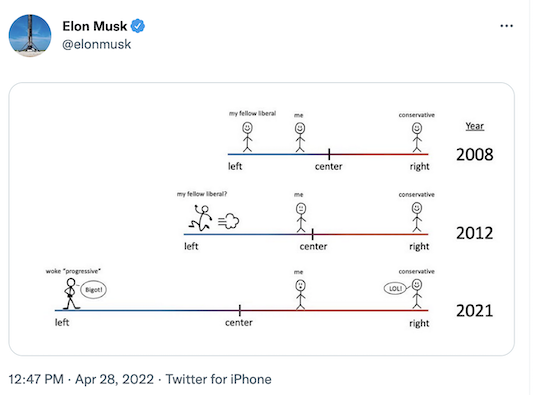 Michael Brown writes in his May 2 column:
What can we learn from Elon Musk's apparent shift to the right in his politics? From his perspective, as illustrated in his stick figure tweet, he has not shifted at all. Instead, the left has veered further left, because of which, by remaining stationary in his own views, it is perceived that he has moved to the right.

His graphic reminded me of an illustration I used for many years while preaching, holding the Bible high in in my right hand and using my left hand to represent the state of the society.

I would then say this: "Because we don't want to appear fanatical or radical as followers of Jesus, we tend to set our standards somewhere between the standards of God's Word and the standards of the world. But as the standards of each generation get lower and lower, our standards get lower as well.

"As a result, within a couple of generations, things are acceptable in our own homes as believers that would have been detestable in the homes of our non-believing grandparents."

Put another way, unless we actively swim against the tide of the worldly culture, we will find ourselves drifting in the wrong direction. We will simply be carried by the current.

Musk's point is similar yet different, especially since is not related at all to a faith standard or a biblical belief.

Instead, it illustrates just how far to the left the "progressive" mindset has shifted. As the saying goes, "Today's Democratic Party is not the Democratic Party of Bill Clinton." (Do you remember when the Democratic mantra concerning abortion was, "We want abortion to be safe, legal and rare"? How would that play today?)

Most of my Jewish relatives and friends from childhood are Democrats today, some of them quite staunchly.

Yet a few of these old friends are not, and when I interacted with them on social media, asking them what happened, their stories were the same.

They began to see what was really happening. They began to recognize how dramatically the "liberal" side was becoming extreme. They began to understand that the policies they once defended were actually indefensible and that the policies they once loathed actually had some merit.

Now, some of them are more conservative politically than I am.
But Musk -- and, thus, Brown -- have bought into a fallacious argument, that only the left is moving while the right has not. But Parker Molloy debunked that claim in a piece for MSNBC:
The argument being made here is a simple one: From 2008 to 2021, the political left moved even more to the left, while the right remained in the same exact spot. This I didn't change! It was the left who left me! attitude is a pretty common trope among center-right types, but it's simply not true. While perhaps comforting, there is plenty of empirical evidence to refute the core claim.

[...]

Look at how quickly the Republican Party turned against2008 presidential nominee Sen. John McCain and 2012 presidential nominee (and now senator) Mitt Romney, who have both been slammed as RINOs ("Republicans in Name Only"). The face of the party is now represented by the likes of Rep. Lauren Boebert, Madison Cawthorn and Marjorie Taylor Greene. Arguably the highest-profile non-congressional Republican right now (besides Trump) is Florida Gov. Ron DeSantis, who has spent the last year passing a dizzying array of bills designed to cater specifically to the far-right.

[...]

And generally speaking, it makes sense that having curated a media diet heavy on the misinformation peddled by Fox News and co. or surrounding yourself with pundits screaming about how trans people are supposedly ruining everything good in the world could warp your perspective. If you spent the summer of 2020 being inundated by Fox News footage of Black Lives Matter protests, you might genuinely think that the left is out of control. This perception, however, simply doesn't match reality.

It's not uncommon for people to delude themselves into believing that their preferred political side is the reasonable one and that it's the other side that's out of control, as Musk has. That being said, if Musk actually believes the meme — which was created last year by Colin Wright, who writes a Substack mostly about gender and earlier this week attacked the Trevor Project, an LGBTQ youth suicide prevention organization, as part of the ongoing right-wing smear campaign targeting LGBTQ adults and children — that's more worrying. After all, Musk is likely to soon control Twitter, a tool which, for all its faults, still wields power.
Molloy added that those "far left" views aren't as extreme as Brown wants you to think:
To take another example, while other countries have government-funded health care, the U.S. remains tied to its private-market insurance industry. As I've written in the past, the positions typically held by Democrats that get labeled by the press as "extreme" or "leftist" — such as bans on high-capacity firearm magazines, universal background checks on gun purchases, support for LGBTQ rights and taxing the ultra-rich — aren't actually that extreme. These policies tend to be pretty popular with the general public, which is something you can't exactly say about Republicans and their crusade to ban books, restrict abortion rights and attack LGBTQ people.
Brown, of course, is quite fond of the latter. He concluded:
It's the same with the continuing shift to the radical left. Over time, it will leave the vast majority of Americans behind, since the left's extreme woke agenda is unsustainable.

As a result, in the end, there will be a lot more people just like Elon Musk. The woke agenda will leave them behind.
It seems Brown is determined to remain oblivious to the fact that his increasingly reactionary and hateful agenda is leaving people behind too.
Posted by Terry K. at 12:14 AM EDT