CNS Still Giving Space To Dishonest DINO Gabbard
Topic: CNSNews.com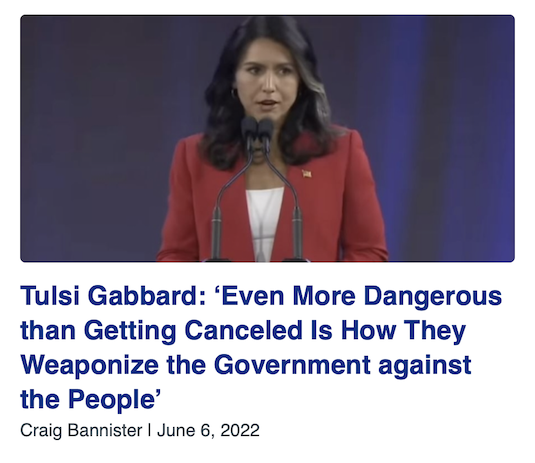 CNSNews.com has been giving a platform over the past several mon ths to Democrat-in-name-only and Russia enthusiast Tulsi Gabbard to push anti-Biden and pro-Russia narratives. That dubious platform has continued; Craig Bannister seved up another on in a May 2 article:
Former Democrat [sic] presidential candidate Tulsi Gabbard says Democrats, and some Republicans, need to do their homework, so they'll remember what "freedom of speech" truly means.

Monday, in a video posted in her Twitter thread, Gabbard calls out Democrats who claim to oppose dictatorships, but don't speak out against the Department of Homeland Security's new "Misinformation and Disinformation Governance Board," which critics have dubbed the Biden Administration's "Ministry of Truth":

"To all the Democrats out there who say, over and over again, about how you stand strong against dictatorships: I'm wondering where your voice is now, condemning this creation of a Ministry of Truth in our own Department of Homeland Security."

What's even more troubling is that even some Republicans actually support the creation of such a government "propaganda board," Gabbard says:
Bannister also let Gabbard fearmonger about the board in a May 19 article that gave her second billing in the headline: "Former Democrat [sic] presidential candidate Tulsi Gabbard issued a similar warning on Thursday, tweeting that Americans need to beware that a new government "Ministry of Truth" might be created, using a different name."
Bannister graced Gabbard with yet another article on June 6:
The Biden Administration is claiming that it alone can determine truth in order to justify using the full power of government to punish dissent, former congresswoman and Democrat [sic] presidential contender Tulsi Gabbard warned on Saturday.

In her keynote speech at the Western Conservative Summit in Denver, Colorado, Gabbard warned of the Biden Administration's use of the Department of Homeland Security (DHS) and Department of Justice (DOJ) to declare what is "true," and not "misinformation" – and, then, enforce its decrees.

"One of the latest tactics that they are using, as you well know, is they claim they want to protect us from 'misinformation,' protect us from that which they claim is not true," Gabbard said.
Bannister went on to write that "'Even more dangerous than getting canceled is how they weaponize the government against the people,' Gabbard warned, noting how President Biden is using the DHS to target anti-authority views and DOJ to go after parents who disagree with school board policies." In fact, as we documented when CNS pushed this same lie, the DHS never targeted -peole for merely disagreeing with school board policies; the target was those parents who engaged in abusive and threatening behavior.
The fact that Gabbard spoke at a right-wing conference -- and that Bannister refuses to spell "Democratic" correctly -- should signal that Gabbard is no actual Democrat, but he has a narrative to push, not facts to report.
Posted by Terry K. at 12:14 AM EDT