MRC Cheered DeSantis' Political Retaliation Against Disney For Engaging In Free Speech
Topic: Media Research Center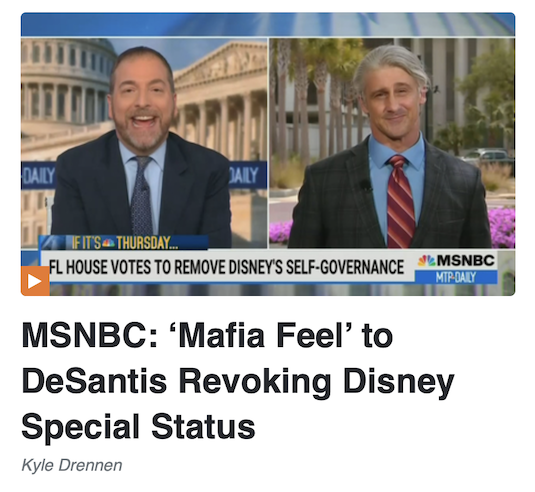 The Media Research Center loves to squeal about purported "censorship" of right-wing political speech, but it's more than happy when right-wing politicians punish political speech they don't agree with. So when Republican Florida Gov. Ron DeSantis punished Disney for taking a political stance against legislation he favored, the MRC led the cheering section. Kevin Tober shouted down complaints of political retaliation in an April 20 post:
After the Florida state Senate passed legislation revoking Disney's special self-governing privileges over their support for sexually indoctrinating little children in schools, ABC's World News Tonight and NBC Nightly News went into meltdown mode.

Muir introduced the segment on the Florida legislature revoking Disney's self-governing privileges as a "political move" that was done "at the urging of Governor Ron DeSantis."

Reporting on the ground in Florida, correspondent Victor Oquendo whined that "the move is an effort to punish Disney for publically opposing Florida's so-called 'Don't Say Gay' law" and bemoaned how "Governor DeSantis has lashed out at corporate America for attacking the law."

[...]

It's ironic that the leftist media is going after DeSantis for standing up to big corporations when the left are the ones who claim to hate the wealthy.
Tober didn't explain when, exactly, Disney lost its constitutional rights of free speech without fear of government retaliation, thoudh he did complain that one reporter "added the left's fake name for the law" Disney criticized, the "Don't Say Gay Bill." He didn't mention that the MRC used its own fake name for it, the "anti-grooming bill."
The next day, John Simmons cheered DeSantis' political punishment of Disney as "smart":
Florida Gov. Ron DeSantis and Disney have been in a long standing battle ever since the governor signed the "Parental Rights in Education Bill," which prevents teaching K-3 public school children sexual material.

This was a smart move by DeSantis, since teachers were using this as a way to indoctrinate children with the LGTBQIA+ ideology. Not having opposed the bill from the outset, Disney came under pressure from LGBT activists among its employees. It belatedly lobbied against the legislation and launched a craven effort to appease the gay community, even going so far as promising to donate roughly $5 million to organizations that fight to support LGTBQ+ rights and removing all gendered language in their theme parks.

But DeSantis now has the potential to forever change the future of Disney thanks to a bill that the Florida lawmakers passed on Thursday.

The House of Representatives approved a bill that the state Senate passed on Wednesday that will dissolve Disney's ability to be a self-governing entity. The entertainment giant has its own special district that was founded in 1967, is 25,000 acres, and allows Disney to collect taxes and provide emergency services to the surrounding counties.
Kyle Drennen spent an April 22 post that DeSantis' bullying behavior was called out and pretended there was nothing wrong with it:
On MSNBC's MTP Daily Thursday afternoon, host Chuck Todd and Florida-based NBC political reporter Marc Caputo wailed that Governor Ron DeSantis preparing to sign legislation revoking Disney World's special economic status in the state had a "mafia feel." The pair ranted that Florida was "only a good place to do business if you're a private corporation that shares the ideology of the Republican governor."

[...]

Caputo then seized on "critics" comparing DeSantis to a mob boss: "This, you know, to a degree, especially when you talk to critics, has a bit of a mafia feel, which is, 'Nice theme park you have there, shame if something happened to it.'"Todd similarly pretended that DeSantis – not the far left – was the culture war aggressor: "Is Florida a good place to do business if you're a private corporation or is it only a good place to do business if you're a private corporation that shares the ideology of the Republican governor?"

"Or if you're a corporation that keeps its mouth shut when the Republican governor wants you to," Caputo interjected.

[...]

That kind of hand-wringing was not applied a month ago when Disney put out a partisan, political statement lying about Florida's Parental Rights in Education Law: "Florida's HB 1557, also known as the 'Don't Say Gay Bill,' should never have passed and should never have been signed into law." The powerful, bullying corporation vowed to do the bidding of Democrats and lobby to get the bill "repealed by the legislature or struck down in the courts."

Do Todd and Caputo think that kind of rhetoric has a "mafia feel"?
Drennen didn't explain why a corporation using the established political process to engage in activism against a law it didn't like has a "mafia feel" but DeSantis using the power of government to punish said corporation for doing so does not.
Kathleen Krumhansl similarly complained the same day:
DeSantis Derangement Syndrome took hold of anchor Juan Carlos Lopez, from CNN En Español Directo USA, as he called out the Florida governor for his 'authoritarian style of government' – and for being an alleged Donald Trump copycat – for ending Disney's special governance and tax status privileges.

The authoritarian label came during a report by Jose Manuel Rodriguez on DeSantis's 'war' against Disney that, as the report clearly mentioned further on, threatened DeSantis with fighting against the Parental Rights in Education Act, in defense of the LGBTQ community. Oddly, the four minute-plus report did not once mention the well-being of children or the true nature of the Parental Rights in Education Act.
Krumhansl did not explain why DeSantis' Disney retaliation wasn't an "authoritarian" move.
Alex Christy got mad that Republican hypocrisy was called out in an April 23 post:
The only thing CNN Newsroom host Jim Acosta and former nominal Republican strategist Ana Navara [sic] know about cancel culture is that Republicans claim to be against it. Their ignorance of the issue was illustrated on Acosta's Saturday show as the duo accused Florida Republicans of hypocritically "cancelling" Disney by revoking its special tax status.

Using the left's false framing of Florida's new parental rights law, Acosta was sure he has seen Republican hypocrisy, "Ana, I have to talk to you about what's going on in your state of Florida. The governor there, Ron DeSantis, is punishing Disney for opposing this so-called Don't Say Gay law. Aren't Republicans supposed to be against cancel culture?"
Christy then justified DeSantis' political retaliation because Disney "wander[ed] out of its lane":
For ill-informed at CNN, Disney isn't cancelled. It still very much exists in Florida and isn't going anywhere, they still have freedom of speech, but now that it has decided to wander out of its lane and advocate for unrelated left-wing causes using false talking points, it can play by the same set of rules as other corporations.
Christy didn't explain why holding views in oppposition to an American politician justifies government-backed retaliation by that politician.
Tober returned for an April 24 post gushing over a conservative endorsing DeSantis' revenge because Disney deserved it for not supporting Republicans:
During CNN's State of the Union on Sunday, CNN analyst Scott Jennings was the only guest on the panel segment that dared to push back on his co-panelists who were trashing Florida Governor Ron DeSantis for punishing Disney over their support for grooming children.

"Republicans are really unhappy with some of these corporations in Georgia, in Florida, and elsewhere who weighed into these issues with aggressive stupidity. And that CEOs of these companies, who call up like Ron DeSantis, like the CEO of Disney did, they haven't read the law," Jennings shrewdly pointed out. Noting that Disney simply parroted talking points provided to it by the left.

Jennings expressed some reservations about the government punishing a corporation but quickly noted that, "somebody needs to be taught a lesson here because what they portrayed the Florida law as was not at all what it really does."

[...]

Jennings made the point that DeSantis "has all the right enemies" and wondered aloud "if it's by luck or smarts. But it doesn't matter because he has picked all the right enemies. And this is the right enemy for him."
Nicholas Fondacaro injected his trademark misogyny into an April 26 post complaining that Disney was being defended by the hosts of "The View," who "went to the mat for their parent company Disney. Together the cackling coven accused Florida Governor Ron DeSantis (R) of behaving like a communist dictator and bigot who's "anti-black"; all because he decided to sign a law to strip Disney of its "special status" over its position to oppose the Parental Rights in Education law and support leftist groomers in the classroom."
Clay Waters used an April 29 article to grumble that a New York Times cited DeSantis' political retaliation to portray Florida "as a hot-headed state throwing a conservative temper tantrum led by a attention-seeking, Trump-adjacent governor." Waters defended DeSantis on other fronts as well; when the article noted that "More than 73,000 Floridians have died of Covid-19, yet public opinion polls have shown that Mr. DeSantis and many of his policies remain quite popular," he huffed in response: "More than 90,000 Californians have died of COVID-19 despite lockdowns and restrictions, and Democratic Gov. Gavin Newsom had to face a recall election. So where's Newsom's hit piece?" In fact, the COVID death rate per capita is much higher in Florida than it is in California, so it appears those lockdowns and restrictions helped save lives.
None of these MRC posts mentioned the financial catastrophe DeSantis' revenge campaign would leave on his state, since the dissolution of the Disney improvement district means that the district's financial obligations would then be forced upon local governments -- and, thus, local taxpayers -- to the tune of $1 billion.
We'll remember all of this the next time the MRC complains that conservatives are being retaliated against.
Posted by Terry K. at 9:15 PM EDT
Updated: Tuesday, June 14, 2022 10:55 PM EDT