Orban-Friendly CNS Censors Story Of CPAC Gathering In Hungary
Topic: CNSNews.com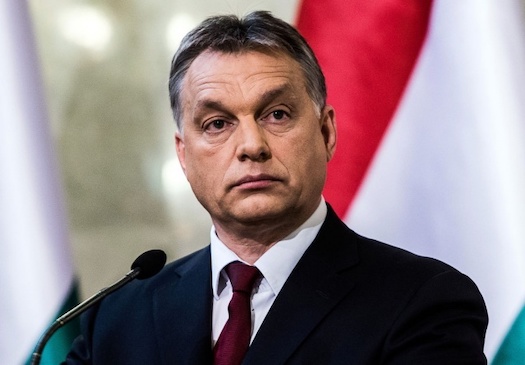 Last year, CNSNews.com repeatedly lashed out at the Conservative Political Action Conference for committing the offense of not hating LGBT as much as it does. This year's main conference in February, there apparently wasn't enough non-hateful LGBT-related contemnt for CNS to get worked up about, so instead it ran two articles doing stenography for CPAC speakers:
In May, CPAC did something that most people would considermore offensive than failing to hate LGBT foplks -- it held a conference in Hungary, which is 1) not the United States and 2) led by a notorious right-wing authoritarian, Viktor Orban.
CNS, however, remained silent about the conference -- not even to report on speakers appearing there, even though they included Fox News' Tucker Carlson, former Trump chief of staff Mark Meadows and a special pretaped message from Donald Trump.
Then again, Orban is one of CNS' favorite right-wing authoritarian leaders for lating immigrants and, yes, LGBT people. But even CNS had to concede that Orban engaged in a power grab at the start of the COVID pandemic. But CNS cheered Orban's additional hatred for LGBT people last year. An article last October noted that "A new natural gas contract between Russia and Hungary has sparked protests from Ukraine, which says that the agreement will undermine its national security.
CNS has since reported a little about Orban's semi-friendliness toward Vladimir Putin despite Russia's invasion of Ukraine. Pat Buchanan cheered in a February column praising nationalism movements how Orban "does not regard Putin's Russia as an enemy of his country, and provides economic incentives for Hungarian families to have more children," while an April column by Ted Galen Carpenter tried to portray Ukraine as less free than Hungary, "which is a frequent target of vitriolic criticism among progressives in the West because of Prime Minister Viktor Orban's anti-globalist stance and his conservative domestic social policies."
So CNS still loves its some right-wing authoritarianism in the form of Orban -- it's just a lot more quiet about that these days.
Posted by Terry K. at 12:34 AM EDT