MRC Gets Mad When Hungary's Orban Is Accurately Described As Authoritarian
Topic: Media Research Center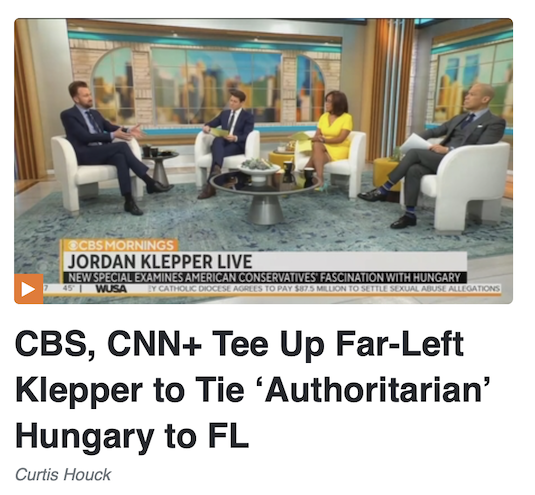 We've already caught the Media Research Center cozying up to Hungary's right-wing authoritarian leader Viktor Orban, portraying his as an avatar of "free speech" despite his history of cracking down on dissent and imposing censorship. An April 20 post by Curtis Houck complained that Orban's authoritarianism was called out:
Wednesday's CBS Mornings and Reliable Sources Daily on CNN+ flashed the profession's virulent hatred for conservatives by giving cushy interviews to Daily Show correspondent and failed Comedy Central host Jordan Klepper ahead of his new special trashing Hungary as a bastion of authoritarianism reminiscent of what Governor Ron DeSantis (R-FL) has done with Florida.

Having established himself as the show's correspondent who paints non-leftists as some combination of dangerous, idiotic, and underdeveloped, Klepper was welcomed with four teases on CBS. In the first, fill-in co-host Vladimir Duthiers said Klepper investigated "an unusual fascination shared by some supporters of former President Trump" in Hungary's "authoritarian government" (under Viktor Orban).

Dokoupil began the piece by touting his recent trip to CPAC 2022 and how that led to visiting Budapest, Hungary to find out "why so many seem to look to Hungary and its authoritarian leader as a model for America's future."

[...]

Dokoupil then remarked how it's been "amazing...how Hungary has declined from a near democracy to what has been qualified as an authoritarian state" with Duthiers wondering "how" Klepper "see[s] the antecedents here in the U.S."

Klepper obliged by explaining that Hungary's made "voting harder," created "a lot of gerrymandering," fostered a media landscape that's "owned by wealthy oligarchs who have connections to the ruling party," and "villified" "the LGBTQ community."
Perhaps knowing that he can't refute Klepper on the facts, Houck instead resorted to lazy whataboutism: "As a side note on the media angle, if it's some right-wing playbook, then how would Klepper explain the executives who run ABC, CBS, CNN, NBCUniversal (aka Comcast), and the major papers?"
Houck only briefly mentioned in passing a discussion about how Klepper and Dokoupil discussed "how it's a farce to argue George Soros is "the boogeyman who controls things," making sure not to mention that this is exactly the anti-Soros narrative that his employer pushes.
Houck continued to whitewash Orban when Klepper appeared on CNN, pretending that his campaign of anti-LGBT hate is merely "refusal to kowtow to the LGBTQ agenda" and indulged in the MRC's usual smear of CNN's Brian Stelter as a "media janitor":
A few hours later, Klepper joined media janitor Brian Stelter for more of the same, including the same condescending dismissal people would mention Hunter Biden's laptop.

Klepper lamented the angle about refusal to kowtow to the LGBTQ agenda, claiming they're being ostracized and thus a country where "progressives...are frustrated" and cities aren't able to be left-wing bastions with "liberties...stamped out" and "a brain drain of young people."

"Hungary was — was progressive 15 years ago. I talked to people who were there, like, it was more inclusive, more open, and now that's changing and changing and changing and the ability to actually change that narrative, it's harder for people with a progressive mindset," Klepper added.

Stelter then commiserated with him about how similar Orban and Hungary are to Republicans and red states given "the anti-trans legislation" and "anti-gay narratives in GOP media."

This gave Klepper the room to argue such legislation that forbids the teaching of sex education and encouraging of transgenderism toward young children is dangerous and will lead to a world in which gay people are seen as pedophiles
Again, Houck didn't dispute the factuality of anything Klepper said -- even when he pointed how conservativfes have "conflated sexuality with pedophila." The goal here is to shout down and dismiss Klepper as an enemy of right-wingers like Houck and the MRC, not engage in any sort of reasoned debate.It's also to pretend that foreign leaders can't possibly be authoritarian if they're spouting the same right-wing rhetoric that the MRC does.
Posted by Terry K. at 3:25 PM EDT