MRC Completes Flip-Flop, Defends Musk Against Criticism Of China Ties
Topic: Media Research Center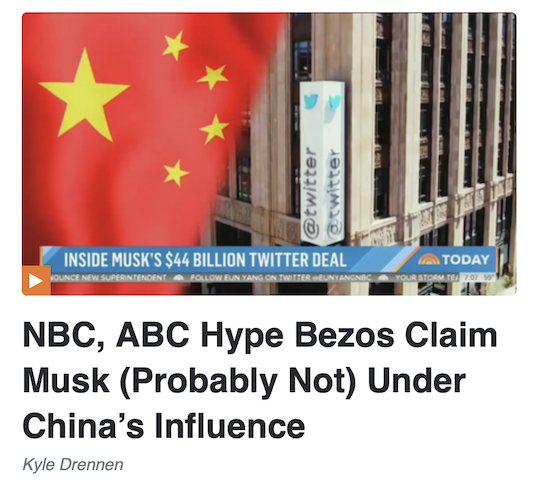 Remember when the Media Research Center soured on Elon Musk when it was pointed out he's quite cozy with China so he can sell Teslas there, which it totally forgot about when Musk got interested in buying Twitter? well, the flip-flop became complete in an April 26 post by Kyle Drennen, who criticized media outlets for reminding people of that fact:
On Tuesday, both NBC's Today show and ABC's Good Morning America hyped a suggestion from Amazon founder and Washington Post owner Jeff Bezos that fellow billionaire and new Twitter owner Elon Musk might be under the influence of China's authoritarian regime given the amount of business the Tesla CEO does in the country. However, neither network mentioned that in a follow-up tweet, Bezos admitted that Musk was "probably not" beholden to China.

"Sold. After weeks of watching and waiting, Elon Musk reaches a deal to buy Twitter for $44 billion," co-host Hoda Kotb announced at the start of NBC's Today show. She then was quick to sound the alarm: "This morning, inside the world's richest man's plans to change the popular platform, the critics who call the move dangerous, and the looming battle of the billionaires as Jeff Bezos raises his own questions about the deal."

[...]

Bezos initially quote-tweeted someone pointing out Musk's business interests in China, speculating: "Interesting question. Did the Chinese government just gain a bit of leverage over the town square?"

However, in a second tweet in the thread, Bezos promptly dismissed the notion: "My own answer to this question is probably not. The more likely outcome in this regard is complexity in China for Tesla, rather than censorship at Twitter."

In the final tweet in the thread, Bezos neutrally observed: "But we'll see. Musk is extremely good at navigating this kind of complexity."
Bezos conceding that Musk is "probably not" under Chinese influence is not the ringing endorsement that Drennen wants you to think it is. Drennen also failed to remind readers that just three and a half months earlier, MRC sports blogger Jay Maxson was cheering then-NBA player Enes Freedom Kanter for calling out Musk because heopened a Tesla showroom in Xinjiang, "the province which contains what many view as modern-day concentration camps," adding that "Fanboy Musk also credited China with its people's happiness, indicating he must have a warped sense of what constitutes that human emotion."
Instead, Drennen played whataboutism with Bezos, complaining that the media reports lacked "an examination of the significant business ties Bezos has with China. That includes the Chinese state-run publication China Daily paying millions to run an insert in the Post for years that spewed regime propaganda."
It will not surprise you to learn that the MRC has never menttioned Musk's coziness with China again.
That wasn't the only flip-flop the MRC performed in service of Musk, however. An April 30 item by Autumn Johnson stated:
Facebook "whistleblower" Frances Haugen said she was "cautiously optimistic" about Elon Musk's purchase of Twitter. Haugen alleged last year that Facebook prioritized its own profits over public safety and encouraged content moderation in her testimony to Congress.

Fox News reported that she said that Mark Zuckerberg has too many people around him who "tell him what he wants to hear." She said that Musk handled feedback better.

"I have a feeling that Facebook is going to rationalize to itself that it can't really do anything different than it already does because of the demands of the market," Haugen said, according to Fox. "I think there's a huge opportunity here for Elon to really demonstrate that there's another way forward."
Last fall, the MRC was trashing Haugen for her whistleblowing -- a script that just happened to be supplied to it by Facebook itself. Johnson didn't mention any of that or concede her employer was acting as a Facebook tool; instead, she uncritically quoted Haugen saying that "maintained her stance about the issues at Facebook."
Meanwhile, the MRC was still busy gushing over his planned Twitter purchase and whatever else he says:
Of course, the MRC was also still lashing out at anyone who dared criticize Musk over his deal:
Needless to say, the MRC made no mention of the fact that, as we've noted, Musk's real-life commitment to "free speech" pales in comparison to the flowery language the MRC has heaped upon him.
Posted by Terry K. at 9:41 PM EDT
Updated: Tuesday, May 24, 2022 9:58 PM EDT