WND Embraces Quack Doctor's Conspiracy Theory About Oscar Slap
Topic: WorldNetDaily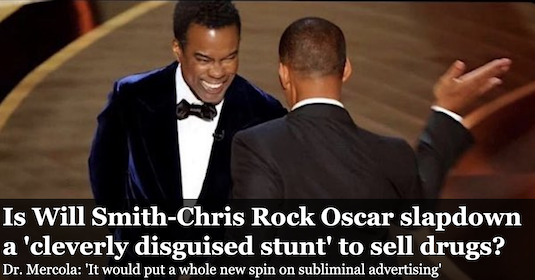 Joseph Mercola is a quack doctor whose conspiracy theories WorldNetDaily is a fan of -- witness its embrace of his his version of "mass formation psychosis." So when Mercola cooked up a new conspiracy theory, WND's Joe Kovacs was all ears in an April 6 article:
One of the theories regarding the slap heard 'round the world at this year's Academy Awards is that Will Smith smacked Oscar host Chris Rock on behalf of Big Pharma sponsors, who are developing new drugs to combat alopecia, the hair-loss condition suffered by Smith's wife, Jada Pinkett Smith.

Among those raising that question is Dr. Joseph Mercola, author of the best-selling book, "The Truth About COVID-19: Exposing The Great Reset, Lockdowns, Vaccine Passports, and the New Normal."

"The Will Smith-Chris Rock drama during the Oscars may have been nothing more than a subliminal publicity stunt for Pfizer's upcoming alopecia drug," writes Mercola in his Wednesday analysis titled: "Big Pharma advertising dollars are at an all-time high."

"Pfizer, Novartis, Eli Lilly, Incyte and Exact Sciences even sponsored the 2022 Academy Awards, which was 'an unusual turn for the industry,' according to some biopharma professionals," Mercola says.

"Jada Pinkett Smith has alopecia areata, which is believed to be an autoimmune disorder. Isn't it amazing, then, that Pfizer, a primary sponsor of this year's Oscars, is working on an alopecia drug? They announced 'top-line results' from a Phase 2b/3 trial in August 2021.

"It's especially curious since three of the other sponsors – Eli Lilly, Incyte (partnering with Lilly) and Novartis – also have alopecia drugs nearly ready to go. Coincidence? Or a cleverly disguised publicity stunt for soon-to-be-released drugs? If the latter, it would put a whole new spin on the concept of subliminal advertising."
Kovacs did eventually get around to conceding -- in the seventh paragraph of his article, after credulously presenting Mercola's conspiracy theory -- that "The self-proclaimed, so-called "fact-checkers" at Politifact, who partner with Facebook as arbitrating what is accurate and what is not, has rated the claim false.
Despite Mercola's conspiracy being proven false to a point that even Kovacs had to concede it, he nevertheless tried to argue that Mercola was right in an extremely general sense:
Irrespective of whether the slap was staged for Big Pharma, Dr. Mercola used the question to examine how the public can be swayed by the industry's vast sums of money it spends on advertising, as he prominently displayed a montage of Pfizer sponsorships in a video posted to YouTube in November.

Mercola says major media are controlled through advertising dollars:

"Big Pharma advertising dominates, making up a large portion of a given media outlet's revenue, and that funding gives Pharma the power to dictate what ends up in the news and what doesn't. While Big Pharma has frequently spent more on advertising than on research and development, over the past couple of years, ad spending has increased to new heights.
And Kovacs spread a different bogus conspiracy theory from Mercola, that "the U.S. government purchased favorable media coverage for a novel and poorly tested gene transfer injection that is now killing and disabling hundreds of thousands of Americans, while simultaneously calling for the censorship of anyone who dared to address the risks of this novel treatment."
The fact that Kovacs falls so easliy to conspiracy theories pushed by documented quacks doesn't bode well for the veracity of the Bible book WND is dishonestly stealth-advertising for him in weekly "news" articles in violation of journalistic ethics (not that WND cared about following them anyway).
Posted by Terry K. at 7:36 PM EDT