CNS Touts Catholic Group's Endorsement, Censors Candidate's Extremism
Topic: CNSNews.com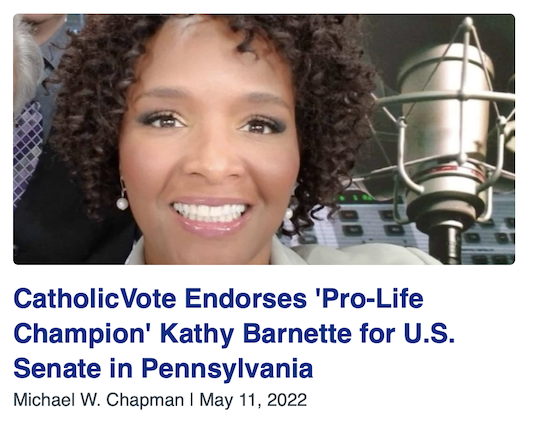 CNSNews.com managing editor wrote in a May 11 article:
Although former President Donald Trump endorsed Dr. Mehmet Oz in Pennsylvania's Senate GOP primary, claiming he is pro-life and pro-veteran -- a decision ridiculed by many conservatives -- the grassroots non-profit CatholicVote endorsed veteran and mother Kathy Barnette for the Republican nomination, stating voters can trust her on "the right to life and other critical issues."

"Catholics don't have to worry whether Kathy Barnette is sincere," said CatholicVote President Brian Burch in a May 10 statement. "The other candidates in the race are working to cover up or explain away their past positions, but Kathy Barnette doesn't have that problem."

"If Pennsylvania Catholics and other faith voters want to know if they can trust Kathy Barnette on the right to life and other critical issues, all they need to do is look at her life story," he said. "Kathy Barnette's life itself is a testament to her convictions. We know she will fight hard for life, family, parents' rights, and our American way of life."

Barnette is a conservative and strong supporter of America First.
Because Chapman is writing a combination of press release and endorsement -- and because it is also prettymuch the extent of CNS' coverage of the Pennsylvania Senate race, even though the race also features Trump-endorsed candidate Mehmet Oz -- he's not going to tell CNS readers the full truth about Barnette's extremism.
Chapman also didn't mention that CatholicVote is a right-wing political group with an anti-Biden agenda.
You'd think a "news" organization would be interesting in reporting such things. But CNS is not "news" -- it's a right-wing propaganda outlet.
Posted by Terry K. at 1:02 AM EDT
Updated: Tuesday, May 17, 2022 10:20 AM EDT