CNS Keeps Up Highly Biased 'News' Coverage Of Jackson Nomination
Topic: CNSNews.com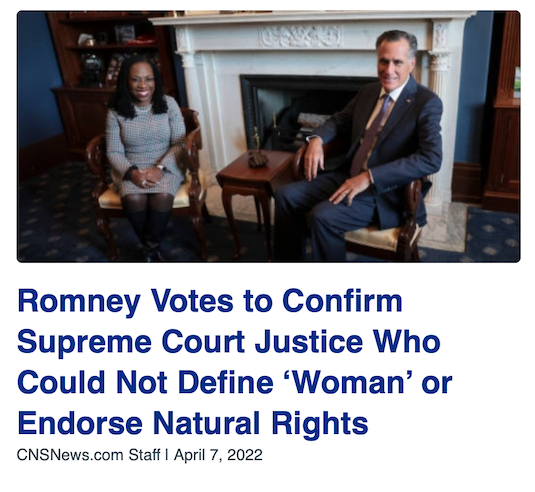 CNSNews.com's wildly biased "news "coverage of Ketanji Brown jackson's Supreme Court nomination continued after the hearing and in the runup to the Senate vote.
Susan Jones used a March 30 article to lament that the ideologically driven Repuiblican blockade against Jackson was broken withone senator defecting:
Sen. Susan Collins of Maine is the first Republican to announce support for Judge Ketanji Brown Jackson's nomination to the U.S. Supreme Court.

She may not be the last. Sen. Mitt Romney (R-Utah) says he's still reviewing her record.

[...]

All 50 Democrats will vote to confirm Judge Jackson, and Collins' vote means they can now describe Jackson's support as "bipartisan."
Jones made sure to add that Brett Kavanaugh "was confirmed by a vote of 50-48 on October 6, 2018. One Democrat, Sen. Joe Manchin of Virginia, made his confirmation "bipartisan" as well.
On April 4, Jones dug up a response by Jackson to a written question she didn't like: "Judge Ketanji Brown Jackson, in response to written questions, has told the Senate she does not hold a position on whether individuals have natural rights that come from God, not the law." This was followed by a couple more attacks on Jackson from Repubican senators, including CNS' most quotable senator, Ted Cruz:
CNS published no articles focused on what a Democratic senator had to say in favor of Jackson.
When Romney similarly confirmed that he would vote in favor of Jackson, an anonymous CNS writer took swipes at him and rehashed its anti-Jackson talking points:
Republican Sen. Mitt Romney, who now represents Utah but formerly served as the governor of Massachusetts, was one of three Republican senators who voted today to confirm Judge Ketanji Brown Jackson to the United States Supreme Court.

The other two Republican senators who voted for Jackson were Sen. Susan Collins of Maine and Sen. Lisa Murkowski of Alaska. The final vote on the confirmation was 53 to 47.

Romney had announced he was going to vote to confirm Judge Jackson in a written statement he released on Monday in which he called her a "person of honor" who "meets the standard of excellence and integrity."

[...]

At her confirmation hearings, Sen. Marsha Blackburn (R.-Tenn.) asked Judge Jackson: "Can you provide a definition for the word woman?"

"Can I provide a definition? No, I can't," Jackson responded.

"You can't," Blackburn retorted.

"Not in this context. I'm not a biologist," Jackson said.

In written questions submitted to her by members of the Senate Judiciary Committee, Sen. Ted Cruz (R.-Texas) asked her: "Do you hold a position on whether individuals possess natural rights, yes or no?"

Judge Jackson responded: "I do not hold a position on whether individuals possess natural rights."
The anonymous writer did not explain the relevance of mentioning in the lead paragraph that Romney used to be governor of Massachusetts.
A Democrat didn't make it into a headline on the Jackson vote until CNS could find somnething to complain about, and Melanie Arter found it in an April 8 article:
In a speech prior to the confirmation of Judge Kentanji Brown Jackson to the U.S. Supreme Court, Sen. Dick Durbin (D-Ill.) on Thursday mentioned "notable moments in America's history" for African-Americans, pointing out the confirmation of Thurgood Marshall, as the first black U.S. Supreme Court justice but omitting the confirmation of Justice Clarence Thomas, who currently serves on the high court.
Another anonymously written CNS article that day seemed to be complaining that too many women were being made judges, including Jackson:
Senate Majority Leader Chuck Schumer (D.-N.Y.) delivered a speech on the Senate floor on Thursday in which he provided a breakdown by race and gender of the people confirmed to the federal judiciary since Democrats gained functional control of the Senate in January 2021.

Super-majorities of confirmed judges, Schumer explained, have been women and people of color.

On Thursday, the Senate voted to confirm Judge Ketanji Brown Jackson, who is African American, to the U.S. Supreme Court.
Yes, CNS seems less than thrilled about all those women in high places -- though apparently not so committed to that opinion that the writer would sign his or her name to it.
Posted by Terry K. at 1:18 AM EDT