Newsmax Keeps Up Trump Rally Stenography, Hides His Screw-Ups
Topic: Newsmax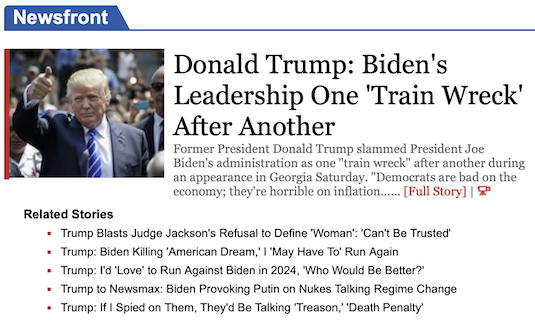 As befits its status as a pro-Trump suck-up, Newsmax is continuing to serve up stenograhy of Donald Trump's various rallies, touting what he says without bothering to fact-check -- so much so, in fact, that Newsmax's TV website has a standing page promoting how "Newsmax will air these rallies live!" while "Most major cable news channels including Fox News have restricted or censored live coverage of these Trump rallies." For his March 26 rjally in Georgia, reporter Eric Mack cranked out stenographic articles, including a couple that summed up an interview Trump did with Newsmax TV host John Bachman:
Mack was silent on the fact that the crowd for Trump's rally was a small one, especially compared to previous rallies. He also refused to report that Trump yet again praised Russia's Vladimir Putin as "smart" and praised other authoritarian leaders like China's Xi Jinping and North Korea's Kim Jong-Un by saying that "the smartest one gets to the top."
The following week, thiere was another Trump rally, and after a preview touting the rally featuring contributions from Mack an another article toting, more stenography by Mack:
Again, Mack censored statements from Trump that were false or made him look bad. He caimed that he was once named Michigan's man of the year -- an assertion nobody in Michigan understands -- and he also mocked the spelling of local businessman and Republican Rep. Peter Meijer, whose challenger for the GOP nomination Trump endorsed because Meijer voted to impeach him. Not only is Meijer crushing said endorsee in fundraising, he's also a member of the family that founded a hugely successful namesake superstore chain with locations in and around Michigan, so everyone at the rally already knows how to spell and pronounce his name.
But Newsmax is not about the truth when it comes to Trump -- its job is to make him happy.
Posted by Terry K. at 1:26 PM EDT