CNS Keeps Up Cruz Stenography To Start The Year
Topic: CNSNews.com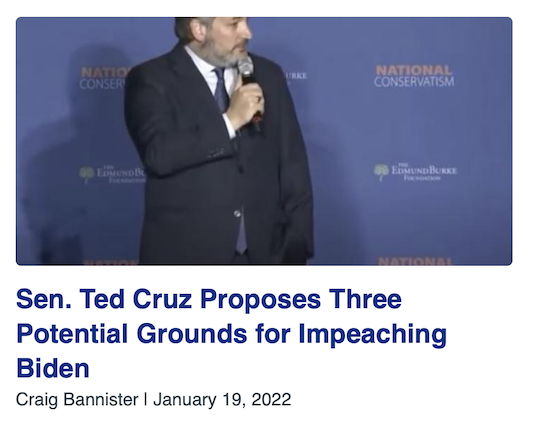 We've documented CNSNews.com's enthusiam for serving as a stenographer for Republican Sen. Ted Cruz -- 46 articles about his pontifications in 2020 and 72 in 2021. That PR effort continued in the first three months of 2022:
That's 17 stenography articles, keeping him on pace to achieve his 2021 total. There was no fact-checking, of course, and Cruz's critics were rarely granted an opportunity to respond to his attacks by CNS writers.
And just as is the case with another favorite CNS stenography subject, Republican Rep. Jim Jordan, CNS rarely reports any criticism of Cruz or anything that might make him look bad. For instance, when Cruz took his infamous 2021 vacation to Cancun while the Texans he represents were suffering the effects of a freak winter storm that knocked out power to many parts of the state, CNS did no article about that. It did get a couple mentions in other articles, though; an article by Melanie Arter about Texas Democratic politician Beto O'Rourke quoted him noting that Cruz "is vacationing in Cancun right now, when people are literally freezing to death in the state that he was elected to represent and serve," and an anonymously written article complained that longtime CNS target Bette Midler "sent out a couple of tweets at the end of last week attacking Sen. Ted Cruz (R.-Texas) for briefly accompanying his wife and children to Cancun, Mexico when a winter storm was hitting his home state of Texas."
Posted by Terry K. at 12:16 PM EDT
Updated: Sunday, April 24, 2022 3:13 PM EDT