Newsmax Continued To Promote Greitens Until New Abuse Allegations Surfaced
Topic: Newsmax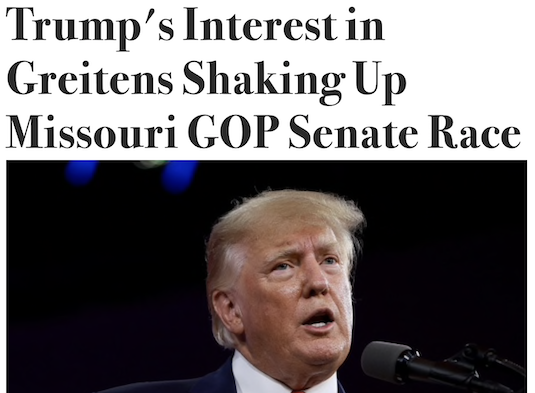 Last year, Newsmax and columnist Bernard Kerik gave promotion to Eric Greitens, who had resigned in disgrace as Missouri's governor over allegations of blackmailing a mistress with sexual photos and election spending shenanigans and is now running for a Senate seat in the state. That promotion continued in the first part of this year.
A March 4 article by Charlie McCarthy hyped how "Donald Trump is telling people he's open to endorsing Eric Greitens in the Missouri U.S. Senate race despite having criticized the former governor over the scandal that forced him from office," adding that "Trump allies say the former president's flirtation with Greitens largely centers on the candidate's opposition to McConnell – something other Missouri candidates haven't expressed." McCarthy did note Greitens' record of scandal and fears he would lose the election if nominated.
Perhaps as a sweetener aimed at Trump, the Trump-fluffers at Newsmax also gave Greitens a March 9 column to rant about a foundation funded by Facebook's Mark Zuckerberg funding election efforts in Missouri in 2020 and that where the money was given"Democratic candidates far out performed their traditional turnout while Republican candidates did not." He cited no source for this claim beyond obliquely and weirdly referring to "the reportage of the present day."
Newsmax's coverage wasn't completely devoid of reality, though. A Dec. 8 article featured right-wing radio host Hugh Hewitt begging Trump not to endorse Greitens because he "will lose the seat," The article noted that Greitens "resigned from the statehouse in 2018 amid a scandal that involved alleged misuse of a mailing list for a charity he founded to benefit fellow veterans and an affair with his hairstylist at the same time he was married to his second wife."
The positive coverage Greitens was receiving, however, came to a screeching halt a couple weeks later when Greitens' ex-wife came forward with new allegations of domestic abuse. Newsmax turned against him quickly after that:
A March 22 article by Eric Mack featured Republican Sen. Ron Blunt, who currently holds the seat Greitens is running for, calling on him to drop out of the race.
An article the next day by Sandy Fitzgerald featured Missouri's attorney general calling on Greitens to drop out, declaring that "Eric Greitens belongs in a prison cell, not on the ballot for U.S. Senate. He should withdraw his candidacy immediately."
A March 28 article by John Gizzi noted that Greitens has dropped in polls since the accusations went public, adding that sources claimd that "Trump — once thought to be leading toward an endorsement of the former governor's comeback bid — would now remain neutral in the primary on Aug. 2."
Gizzi also arote a March 31 article stating that "Two days after St. Louis beer heiress Trudy Busch Valentine entered the Democrat [sic] primary for U.S. senator from Missouri, there were increased calls on the Republican side for controversial former Gov. Eric Greitens to exit the race," adding that "Busch Valentine's surprise entry into the race comes as a just-completed Trafalgar Poll shows the charges against Greitens have taken their toll."
Posted by Terry K. at 5:03 PM EDT