MRC Melts Down Over Russian Disinformation Being Identified As Such
Topic: Media Research Center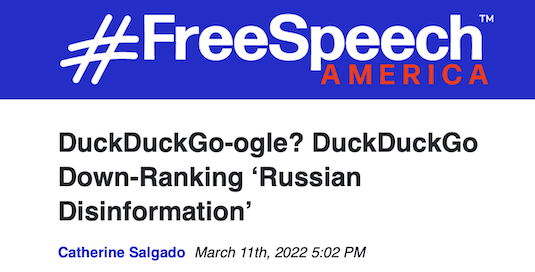 The Media Research Center cheered the death of Russian propaganda channel RT on U.S. television (while censoring the fact that a couple of its fellow conservatives had shows on the channel). That was followed, however, by backpedaling as it freaked out over social media outlets taking similar action against Russian propaganda. Catherine Salgado complained in a March 11 post:
Browsing app and search engine DuckDuckGo, formerly a go-to for free speech advocates sick of Big Tech censorship, is now going to downrank sites it deems connected to "Russian disinformation."

DuckDuckGo CEO Gabriel Weinberg tweeted, "Like so many others I am sickened by Russia's invasion of Ukraine and the gigantic humanitarian crisis it continues to create. #StandWithUkraine." He added, "At DuckDuckGo, we've been rolling out search updates that down-rank sites associated with Russian disinformation." Weinberg did not detail what qualified as "Russian disinformation."

While DuckDuckGo previously defined itself in opposition to Google and pledged "unbiased results," the latest decision seems to make DuckDuckGo just another player in the Big Tech censorship game.
Salgado didn't explain why DuckDuckGo must treat Russian propaganda the same as more credible information -- after all, like any other search site, the company wants to serve its customers by delivering high-quality results without a lot of junk and misinformation. For this commonsense move, however, salgado has decided that DuckDuckGo is no different than the rest of "big tech":
The question remains whether DuckDuckGo will go beyond targeting only Russian "disinformation," and how the latter will be defined. Government entities, for instance, admitted they were wrong about things formerly dubbed COVID-19 "misinformation" earlier in the pandemic, such as the Wuhan laboratory leak theory of the virus's origins. The so-called "misinformation" of today may be widely acknowledged as fact tomorrow, and Big Tech can't be trusted to be objective.
Actually, as we've noted the last time the MRC pushed this, the lab-leak theory has yet to be conclusively proven, and there's still plenty of evidence that discredits the theory.
The next day, Autumn Johnson seemed upset that YouTube cracked down on Russian propaganda on its platform:
YouTube blocked all Russian media outlets globally.

Previously, YouTube only blocked RT and Sputnik's channels in Europe. The channels are state-funded.

"We began blocking RT & Sputnik's YouTube channels across Europe," YouTube tweeted at the time. "Since Russia began its invasion in Ukraine, we've been focused on removing violative content & connecting people to trusted news & information."

YouTube changed this stance on Friday evening.
We thought the MRC liked it when Russian propaganda was called out for what it is. Make up your minds, guys!
Posted by Terry K. at 9:20 PM EDT